DiGiorno trolling Papa John's about losing its NFL sponsorship
DiGiorno seems to be loving the fact that Papa John's is no longer the official pizza of the NFL.
On Wednesday morning, the frozen pizza brand's Twitter account posted a couple of cryptic messages about "official sponsors" and "official pizza," presumably in response to Papa John's and the NFL announcing their "mutual decision" to end the pizza chain's long-running sponsorship of the league on Tuesday.
"We're still the official pizza of your home oven," wrote DiGiorno before admitting that an "official pizza of your home oven" isn't actually a "real thing."
DOMINO'S HAD NO IDEA ABOUT PIZZA-ORDERING SEX TOY: 'THIS IS NEWS TO US'
Less than half an hour later, the brand followed up with a message reading, "We're talking about official sponsors. We're talking about official sponsors. We aren't talking about the pizza. We're talking about sponsors."
DiGiorno later followed up with a tweet directed at the XFL, perhaps to alert the soon-to-return football league that the brand was throwing its hat in the ring as an official sponsor.
A representative for DiGiorno was not immediately available to confirm or clarify its tweets, but DiGiorno has a history of trolling Papa John's on Twitter.
In November — shortly after former Papa John's CEO John Schnatter blamed the NFL's protesting controversies and "poor leadership" for his business' slumping sales, DiGiorno took to Twitter to mock Schnatter's statements. Later that day, the company also tweeted another message reading, "Better Pizza. Better Sales," in an apparent dig at the Papa John's motto.
NUTRITIONIST CLAIMS PIZZA CAN BE A HEALTHIER ALTERNATIVE TO CEREAL
Papa John's CEO Steve Richie — who took over Schnatter in January — confirmed in a conference call that Papa John's and the NFL have made a "mutual decision" to end their sponsorship deal with the league after nearly eight years.
"While the NFL remains an important channel for us, we have determined that there are better ways to reach and activate this audience," said Richie, The Wall Street Journal reported.
Moving forward, Papa John's and the NFL will refocus its marketing on individual sponsorships with 22 NFL teams, rather than the league as a whole. The pizza chain will also sacrifice its title as the "official" pizza chain of the league, as well as any official sponsorships during the Super Bowl.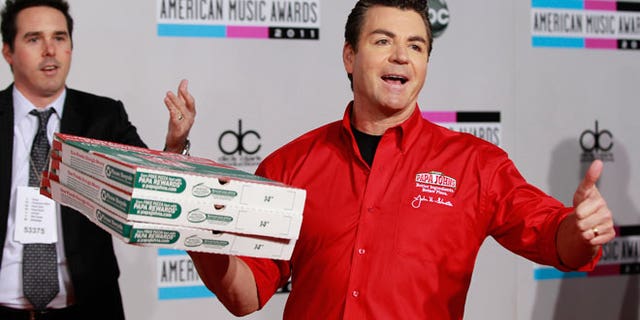 FOLLOW US ON FACEBOOK FOR MORE FOX LIFESTYLE NEWS
The NFL and Pizza Hut, meanwhile, announced on Wednesday that Pizza Hut will take over as the official pizza sponsor of the league.
"We know many of our fans enjoy pizza while watching NFL games and we are thrilled to have Pizza Hut, an industry leader and one of America's favorite brands, as an official league sponsor," said NFL Commissioner Roger Goodell in a statement. "With a focus on family, friends and fun, Pizza Hut has the creativity we are looking for in a partner and we look forward to working together with them to make the at-home NFL experience more exciting than ever for our fans."