Denny's jumps on Sriracha bandwagon with spicy sandwich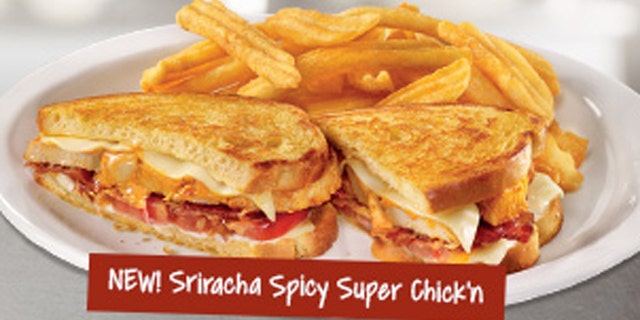 Sriracha is slowly working its way toward world domination. The latest partner on board the hot chili sauce craze is Denny's.
The diner chain just debuted their Sriracha Spicy Super Chick'n—a toasted sandwich with bacon, tomato, Swiss cheese, Sriracha marinated grilled chicken-- all blanketed with a zesty Sriracha mayonnaise.
We're not sure how spicy this new sandwich really is but according to commercial, it really "brings the heat."
Denny's isn't the first fast food joint to incorporate the Huy Fong-inspired sauce into tried and true favorites. Last fall, Taco Bell announced it would start testing a Sriracha infused menu in select markets. And in May of last year, White Castle rolled out a spicy slider topped with a chili sauce.