DC restaurateur won't add Trump to famous mural until inauguration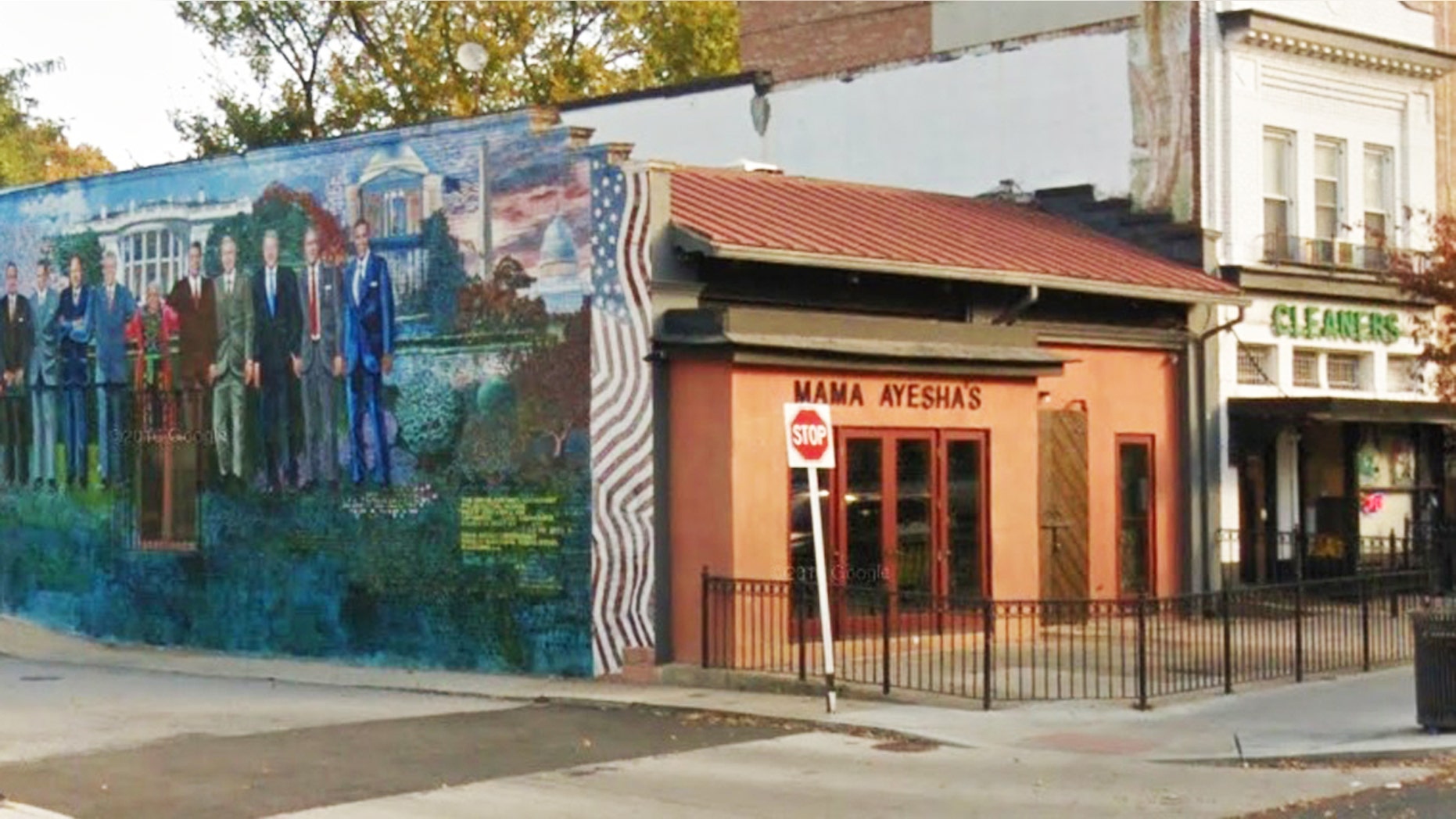 A D.C. restaurant is taking some heat after proclaiming that it wouldn't be adding President-elect Donald Trump to its locally revered mural featuring every U.S. president since Dwight D. Eisenhower.
At least not for the time being, that is.
For the last eight years, Mama Ayesha's restaurant in the trendy Adams Morgan neighborhood has showcased each sitting president on a hand painted mural on the eatery's western side.
WHY ANTHONY BOURDAIN SAYS HE'LL NEVER EAT AT TRUMP'S HOTEL RESTAURANT IN DC
But Trump, who's set to be inaugurated as the country's 45th president on Jan. 20, will not be immediately included in the painting.
"Our official position is that it is not in the budget," Amir Abu-El-Hawa, whose family owns the restaurant, told the Washingtonian.
"While there remains room for two additional presidents to be added, we currently do not have the budget for this addition," Abu-El-Hawa told the magazine via e-mail.
"President-elect Trump has yet to take office and will occupy the oval office for the next four years, when the funds are available and the budget allows for it Mr. Trump will join the rest of the presidents on our wall."
But some have taken the slight as a political stance..
Mama Ayesha's has been operating at the same location since it first opened as the Calvert Café in 1960. The mural shows founder "Mama" Ayesha Abraham with both Democrat and Republican presidents of the past.
"She was the American dream," Abu-El-Hawa, Abraham's great-nephew, told the Washingtonian. "For a Muslim and Arab woman immigrant from Palestine to come here on her own and build this business, is a remarkable legacy."
FOR THE LATEST FOOD FEATURES FOLLOW FOX LIFESTYLE ON FACEBOOK 
Despite the detractors on social media, Abu-El-Hawa insists the decision to hold off adding Trump was not politically motivated.
"This decision is strictly a financial one and not in any way political, as both Republicans and Democrats alike are featured on our mural," he wrote. "Additionally, it is important to note all the presidents featured were added at the same time."
The mural, which was partially supported by the D.C. Commission on the Arts and Humanities, was vandalized in 2015. All figures, excluding Mama Ayesha, were hit with red paintballs. The family was able to raise money through neighborhood donations to repair the mural.