A restaurant just outside the nation's capital found a way to turn an unsavory rumor about President-elect Donald Trump into a golden opportunity-- but not without inciting some serious controversy.
Mark Bucher, owner of Community restaurant in Bethesda, Md., told Fox News.com that hisTrump-inspired "Golden Showers" burger was "completely non-partisan" and says it's "just a joke."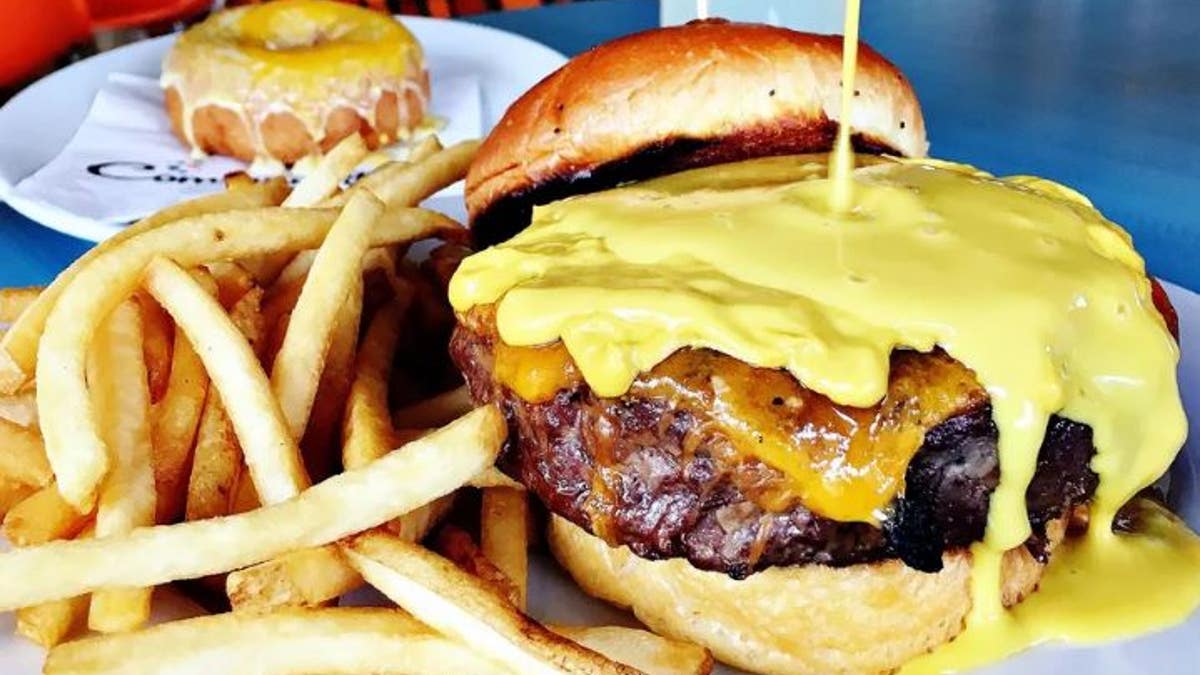 The burger combo, (officially sold for just one day on Wednesday) included a beef patty topped with yellow "self-tanning" cheddar cheese, a heavy dose of yellow mustard-- and a tiny pickle topper. The dish was served with a fresh glass of lemonade.
The idea stemmed from a brainstorming session with Bucher's cookbook partner Nevin Martell, a local food writer. The two are collaborating on a burger cookbook.
"One of the chapters is 'Vanity' burgers, so, we had to take advantage of this mention. It was too out there. We had to jump on it," Bucher says.
The $20 meal included a side of golden fries and a lemon-glazed doughnut, for an "unforgettable happy ending." Additionally, $5 from each sale was donated to Planned Parenthood. Bucher believes the restaurant raised around $100 from the dish.
But he also raised some vehement reactions among pro-life supporters. Many took to Facebook and Twitter to denounce the dish, calling it "disgusting" and "inappropriate."
Students for Life of America also released a statement condemning the restaurant's use of humor to fund Planned Parenthood.
"This restaurant can certainly do as it pleases and serve the food they want to but what a horrible business move to support the nation's largest abortion vendor and not take a second to look at the scandal-ridden non-profit and maybe reconsider that decision," SFL President Kristan Hawkins said in a statement.
"Pro-lifers were right to take the opportunity to use the Community Restaurant's Facebook page to expose Planned Parenthood for the criminal enterprise that they are and publicly force patrons to rethink their support of the abortion giant."
But others found humor in the restaurant owner's culinary stunt.
Bucher says even after the promo ended people were lining up in droves to support the restaurant-- and the burger promotion. The restaurateur says a few people were even asking for the burger Thursday "so, we made it for them."
Bucher has done a few burger parodies in the past. There was the Charlie Sheen burger, offering a free side of coke.
But in this year's highly sensitive political climate, Bucher says the "Golden Showers" burger was more controversial than intended.
"This one kicked back pretty hard. I did it as fun or a parody, but Right to Life supporters mobilized in a millisecond. Just check out our social feeds," he says.
Despite some of the backlash, Bucher is still slated to serve his food at several upcoming inaugural events.
FOR THE LATEST FOOD FEATURES FOLLOW FOX LIFESTYLE ON FACEBOOK
His restaurant will cater a ball and a VIP dinner for the Creative Coalition, a nonprofit advocacy group made up of artists and entertainers. Members include Alec Baldwin, Seal, Sting, and Susan Sarandon.
"It [the backlash from the Right to Life supporters] doesn't scare me or preclude me from doing it again. It's the discussion everyone wants to have," Bucher says.
"I have a feeding ground of opportunities with the Obamas staying in Washington and the Trumps living a block away."