Cronut inventor Dominique Ansel creates Chocolate Chip Cookie Shots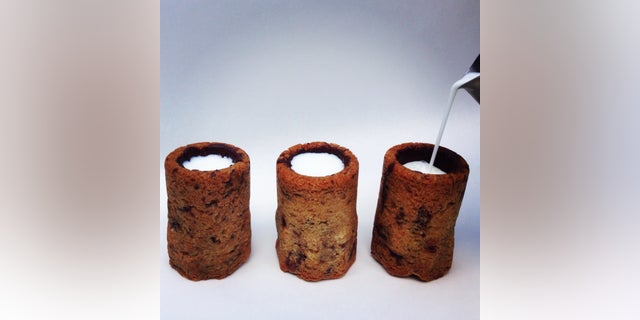 Famed pastry chef Dominque Ansel, inventor of the Cronut, has come up with an ingenious treat that gets at the heart of what's great about being a kid.
The Chocolate Chip Cookie Milk Shot is pretty much what it sounds like: a chocolate chip cookie shaped as a glass with a nice shot of cold milk inside.
Ansel told FoxNews.com he was inspired when he ate his first Oreo a few weeks ago (OMG, how can that be?), and people kept telling him it tasted good with milk.
He needed something for the hungry tech geeks at South By Southwest in Austin, so he thought of making a cookie that came with the milk.
"I wanted to create something fun for the fans in Austin and SXSW since it's my first time visiting. We're hosting a late night saloon and so the shot glass inspiration came from that," he said.
This latest creation follows other delicious treats, like the Cronut, where crazed fans still wait in line for hours to get a taste, frozen s'mores and the DKA.
The shots will be available on Sunday at South By Southwest festival, so if you're going to be there, you better start lining up now.