Famous pastry shops around the world
The moment you step in, sweet smells of sugar and chocolate overwhelm you as you stare in awe at glass cases displaying rows of colorful treats intricately designed that look almost too pretty to eat — almost. An éclair, sprinkled with just the right amount of powdered sugar and filled with green tea custard, is set before you — a pretty pastry to satisfy your sweet tooth.
A moment like this can be had at Patisserie Sadaharu AOKI in Tokyo, where Japanese pastry chef Sadaharu Aoki makes cross-cultural creations, like macarons filled with Earl Gray cream and "Japanese smores" made of marshmallow cream, thin chocolate wafers, and azuki red beans.
Sticky cinnamon buns, torte cakes, salted caramel cronuts, banana split waffles — are you drooling yet? These are just a few of the elaborate pastries made at some of the world's most famous pastry shops. And every one is well worth the long-distance trip.
At Adriano Zumbo in Australia, you can taste Zumbo's 40 shades of zumbarons — what pastry chef Adriano Zumbo calls his colorful macarons — including, you better believe it, a "Vegemite on Toast" zumbaron. Pierre Poilâne's pâtisserie (the name for a French pastry shop) in Paris, is famous for its "Punitions," — small, butter cookies that pair perfectly with tea or coffee. Valhallabageriet, a small pastry shop with seating for just about eight people, is said to serve possibly the best cardamom bun in Sweden that is baked with sweet dough, flavored with fresh ground cardamom, and smothered with butter and cream.
For someone who melts over all things sweet and sugary, a trip to any of these pastry shops is a treat. Read on for more famous, extravagant, sweets-filled pastry shops around the world.
1. Adriano Zumbo (Australia)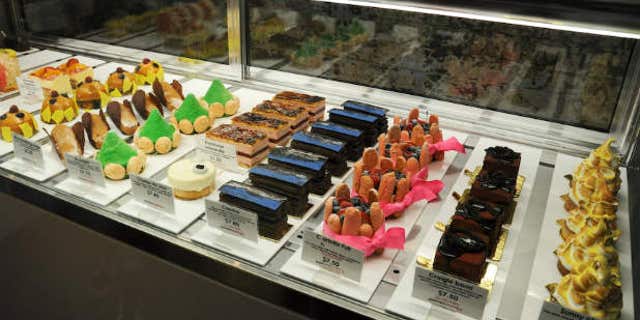 Taste 40 shades of "zumbarons," — what pastry chef Adriano Zumbo calls his colorful macarons — including, yes, a "Vegemite on Toast" zumbaron, at Adriano Zumbo — where the décor is modeled after Adriano's philosophy on food: that it should be fun, textural, and appealing to the eye and should taste incredible. His decorative pastries like passion fruit tarts, salted caramel "zonuts," coconut cream lamingtons, and apple maple cheesecake can't be beat.
2. Bear's Paw Bakery (Canada)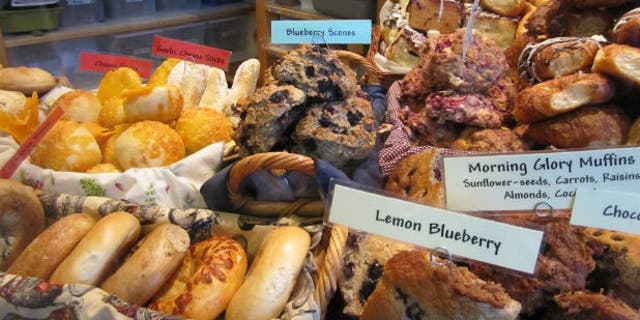 When it's cold outside, Bear's Paw Bakery, tucked away in the mountains, serves warming pastries, including sticky cinnamon buns, chocolate raspberry and apple cranberry muffins, and cookies and croissants. Bear's Paw is known for its Granny Smith apple pie and carrot cake.
3. Demel (Austria)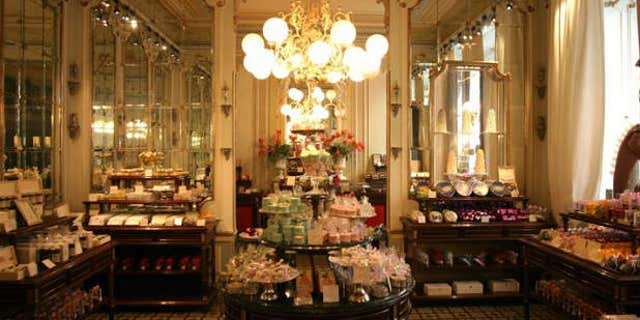 The wait staff at this historic pastry shop, which dates back to 1786, still serves its iconic desserts, including candied violets, cat tongues, and the Eduard-Sacher torte cake from a glass display. Tea biscuits, fruitcakes, chocolates, and other desserts can be purchased in decorative boxes or ordered to-go from Demel's downstairs pastry shop.
4. Max Brenner (Israel)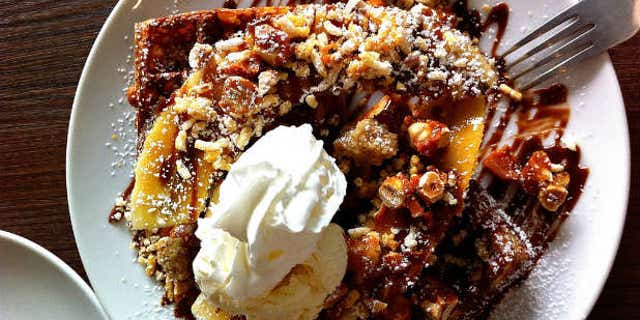 Founded by Max Fichtman and Oded Brenner, Max Brenner invites you to "experience [their] chocolate love story." Everything on the menu, from fresh fruit and pastries to waffles and cookies, is topped with layers upon layers of melted chocolate. Whether it's the chocolate hazelnut milkshakes, banana split waffles, or the s'mores fondue, these treats are likely to make you drool.
5. Panella (Italy)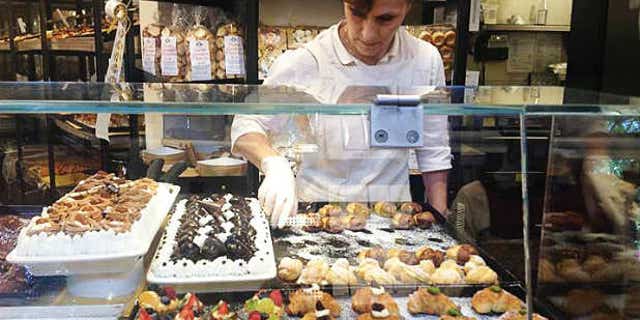 Traditionally a bread bakery, Panella also bakes gourmet Italian pastries — some of which aren't made anywhere else — including pistachio cream-filled pastries, sfogliatella, brioche, and mixed berry muffins.
See more famous pastry shops at The Daily Meal
More from The Daily Meal
Candy Stores You Didn't Know Existed (But Certainly Should!)
What Cookies Look and Taste Like Around the World
10 Surprising Reasons Hot Chocolate is Good for Your Health