Cronut contender: Enter the Crookie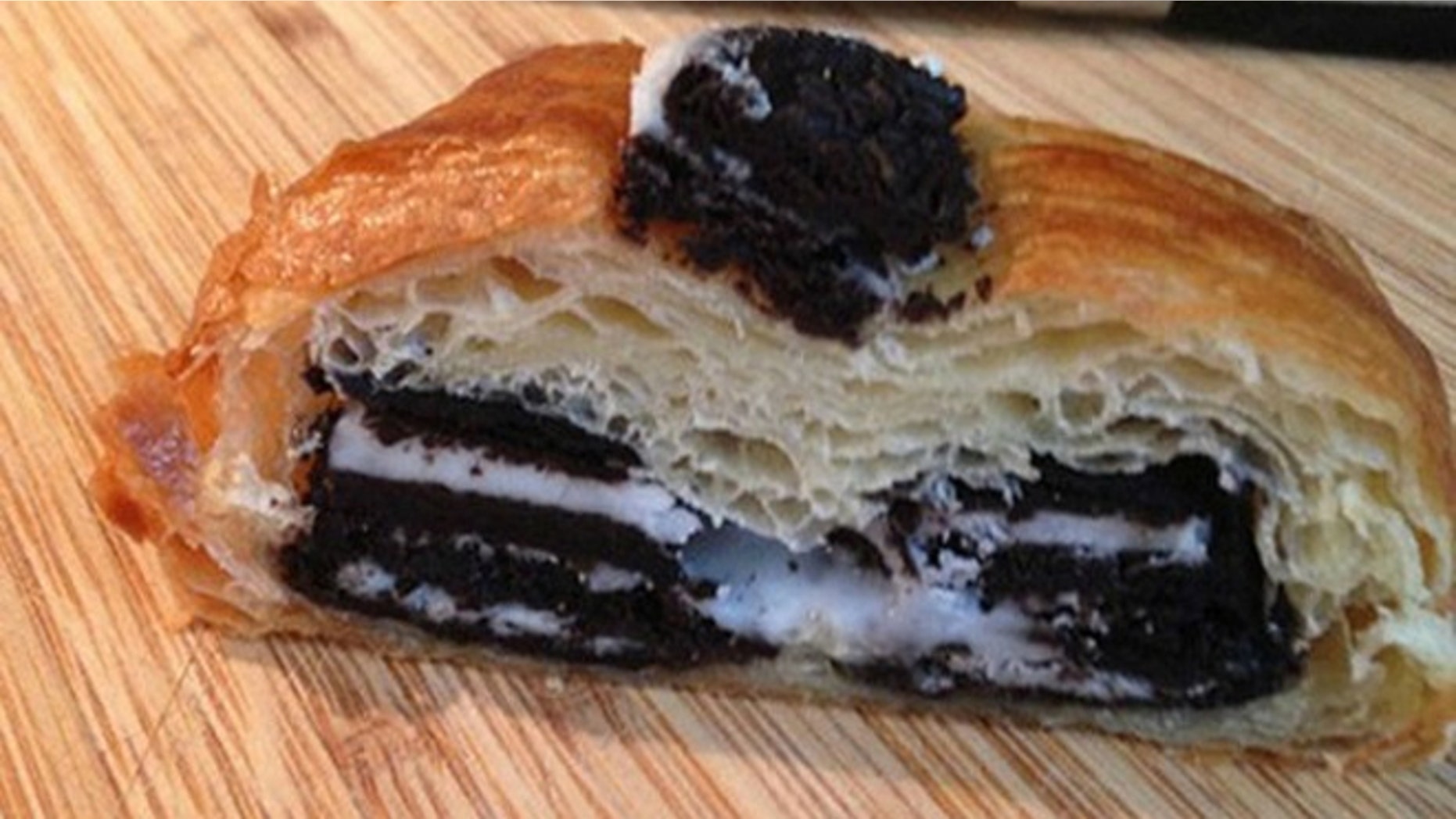 If the Cronut is the love child of a doughnut and a croissant, the Crookie, which is a mix of a croissant and an Oreo cookie, is a chocolate-filled kissing cousin.
"I had to Google what a Cronut was."
The pastry's flaky layers are stuffed with crushed Double Stuff Oreo cookies, then topped with another melted Oreo on top.
This tasty treat is the brainchild of Toronto pastry chef Olivier Jansen-Reynaud, owner of Clafouti Patisserie & Cafe, who insists he didn't get his inspiration from Dominique Ansel's wildly popular pastry. In fact, he swears he'd never even heard of the Cronut before a local blog, The Grid, asked him and other bakeries to come up with inventive dessert mashups.
"I had to Google what a Cronut was," Jansen-Reynaud told FoxNews.com. "I think they're both two different products."
Jansen-Reynaud says his inspiration for the Crookie was all his. "I just sat at home and put my thinking cap on. My wife said you're always good with croissants."  Mix that with his kids' passion for Oreos, and the Crookie was born.
The Grid writeup didn't mention any likeness to the Cronut, calling it "part classy French pastry, part trashy American junk food."
But things changed when Jansen-Reynaud posted a picture of his Crookie to Instagram, and things took off from there.
Now, many food blogs and websites are suggesting the Crookie could be a real Cronut contender, and possibly even a step above other Cronut imitators.
Since Dominique Ansel unveiled his Cronut in May, chefs around the world have been coming up with their own Cronut-like concoctions, with some pretty imaginative names, such as "Doissants," "Crognets," "Dough'Ssants" and "Cro-Nots." And why not, when people are prepared to wait hours in long lines for the original.
But the Cronut craze is taking its toll on more than just those standing in the sweltering heat to get a taste of the elusive pastry.  Ansel, who trademarked Cronuts, is now considering legal action against those who may be infringing on his trademark.
When asked about the Crookie, Ansel says he wasn't aware of the treat or comparisons.
"I haven't heard of the Crookie. Would love to try though," says Ansel, who added that 'Crookie' isn't a trademark infringement.
Meanwhile, Jansen-Reynaud, who sells his Crookies for $2.70, is doing brisk business. He says he sells about 100 pastries a day, which are typically sold out by noon. But Jansen-Reynaud doesn't cap the number of Crookies a person can buy, unlike the Dominque Ansel Bakery, which limits the sale of Cronuts to two-per-customer.
"I think it's going to be a permanent thing, unless people stop asking for it," says Jansen-Reynaud.
If you want to get a taste of the Crookie, you'll have to go to Toronto for now. Like Cronuts, Crookies are too fragile to make the trip. But at least you won't have to wait in a long line.