Creamy Butternut Squash Pasta with Kale Chips and Hazelnuts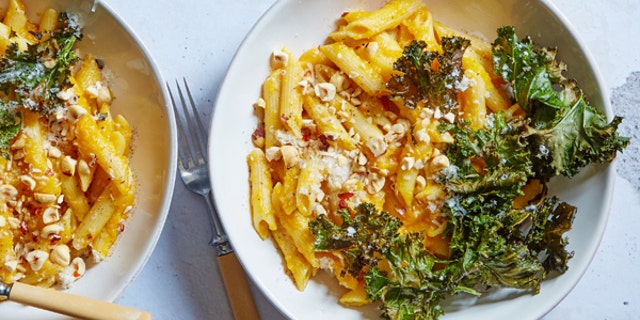 Move over marinara, there's a new sauce in town! Butternut squash transforms into a silky sauce by using an immersion blender. No immersion blender? No problem. Use a regular blender or food processor to achieve super smoothness. Martha & Marley Spoon paired it with crunchy kale chips and toasted hazelnuts to add even more crunch and contrast to the creamy pasta. Cook, relax, and enjoy!
Cook Time:30 min
Prep Time:20 min
Total Time:50 min
Servings: 2
Ingredients:
1 medium yellow onion (6–8 oz)
1 large clove garlic
12 oz diced butternut squash
1 oz roasted hazelnuts
? oz Parmesan (0.75 oz)
8 oz curly kale
? tsp crushed red pepper (0.02 oz)
1 packet vegetable broth (0.34 oz)
1 lb penne (use ½)
coarse salt
olive oil
freshly ground pepper
Preparation:
Preheat oven to 400ºF and bring a large pot of salted water to a boil. Halve, peel, and chop onion. Peel and finely chop garlic. Cut butternut squash cubes into ½-inch pieces. Coarsely chop hazelnuts. Grate Parmesan.
Remove stems from kale and tear leaves into large pieces. Spread out on a rimmed baking sheet, drizzle with 2 tablespoons oil and season with salt. Bake until crispy, about 15 minutes
Heat 1 tablespoon oil in another large pot over medium-high. Add onion and sauté until golden, 3–5 minutes. Stir in garlic and half to all of the crushed red pepper (depending on your heat preference) and cook until fragrant, about 1 minute.
Add squash, 1 cup water, vegetable broth concentrate, and ½ teaspoon salt to the pot and bring to a boil. Reduce heat to a simmer and cook, covered, until squash is tender, 12–15 minutes. Remove from heat and process with an immersion blender (or in a food processor or blender) until smooth. Season to taste with salt and pepper.
Add half of the penne (8 oz) to the boiling water (reserve remainder for another use) and cook, stirring occasionally, until almost al dente, about 10–12 minutes . Reserve ½ cup pasta water and drain.
Return the pot of squash purée to medium heat. Add pasta, ¼ cup pasta water, and ¾ of the grated Parmesan and toss until sauce coats penne. Add more pasta water if needed to loosen, and season with salt and pepper. Divide pasta between 2 bowls and top with kale chips, chopped hazelnuts, and remaining Parmesan. Enjoy!