Cracker Barrel employee gets run-over in parking lot after cutting off driver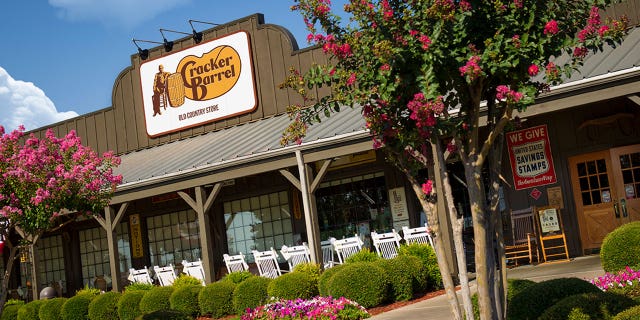 Police in Osceola County, Fla., are asking for the public's help identifying a Nissan driver who assaulted a Cracker Barrel employee with his car.
The incident occurred on July 19, in the parking lot of a Cracker Barrel on Bronson Memorial Highway in Kissimmee. Anthony Luis Cruz, a 29-year-old employee of the restaurant, had just pulled into the lot at 5:30 p.m. when a Nissan Versa pulled up closely beside his vehicle. After Cruz exited his car, surveillance footage shows the operator of the Nissan accelerating and running Cruz over, then driving over a strip of grass and leaving the scene of the crime.
WENDY'S PRANKSTERS SET OFF FIREWORK BEHIND EMPLOYEE, BLAST HOLE IN RESTAURANT'S WALL
"He just floored it right at me and ran me over," Cruz told WFTV, adding that a passerby came to his aid and called for help.
Cruz was then taken to the Osceola Regional Hospital in Kissimmee, the Osceola County Sheriff's Office reported. He suffered broken ribs, a shattered pelvis and a collapsed lung, added WFTV.
5 CRAZY CRIMES TAHT WENT DOWN AT FAST CASUAL RESTAURANTS
According to Cruz, the driver was retaliating after Cruz had accidentally cut him off on the way to work, but he's in disbelief over the lengths to which the other driver went for revenge.
"How can somebody do this to another person over something so petty?" he remarked to WFTV.
Cruz identified his assailant as a white man between 40 and 50, weighing approximately 210 to 225 pounds. Police say he was driving a white Nissan Versa with tinted windows and a "light blue tint" strip across the windshield.
A representative for the Sheriff's Office has also confirmed to the Orlando Sentinel that Cruz is currently at home in stable condition.
Police are now asking for anyone with information to contact the Osceola County Sheriff's Office at 407-348-2222, or its Crimeline at 1-800-423-8477.
FOLLOW US ON FACEBOOK FOR MORE FOX LIFESTYLE NEWS
Cruz, however, is confident his attacker will pay one way or the other.
"[God will] find a way to get you," he told his assailant, via WFTV. "Just know, karma's coming."
This date of the hit-and-run also comes exactly two weeks after several young men threw a firework into a Wendy's restaurant in Deerfield Beach, Fla. Police in nearby Broward County are also hunting for the suspects in that particular case.