Couture condiment: Shop sells high-end mustard selected by America's first sommelier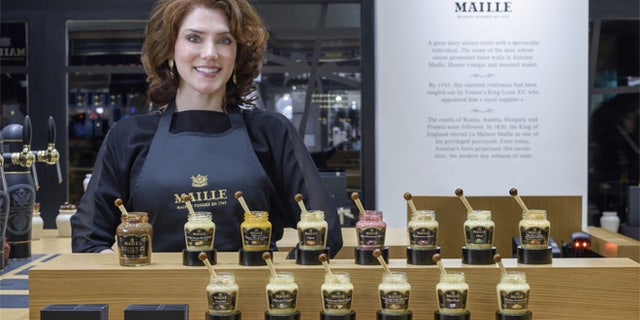 Earlier this month, Maille opened its first American store on New York City's Upper West Side, offering many of the same mustards available in the original store in Dijon (which opened in 1747) as well as at the newer boutiques in Paris and London.
We caught up with Pierette Huttner, the store's mustard "sommelier" — a first in the U.S. — to get the inside scoop.
How did you train to be a mustard sommelier?
I started with Maille earlier this year in Paris, Dijon and London. I trained with the London sommelier (the only other one in the company) as well, and learned to lead clients through tastings and describe the aromas, flavors and notes in a way that resonates with clients. We still use stoneware jars that are filled to order. We have the mustard bar, which has five types, including the Chablis and black truffle, which is our holiday flavor. Everything here is meant to be sampled or tasted.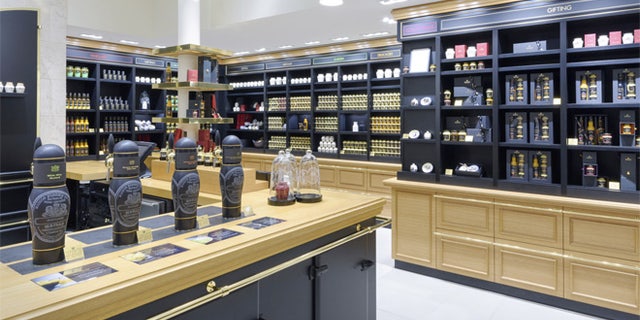 What products are available outside of France only at this store?
Classic products are widely carried in gourmet stores in the U.S. — the horseradish, rich country, honey Dijon and honey balsamic. But we have more than 20 varieties in the store, and we ship all over the country.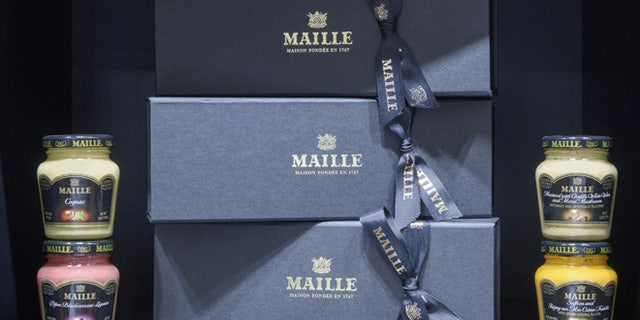 What products are available only for the holidays?
The special holiday edition is the Chablis white wine and black truffle mustard. It is very rich, decadent and great in holiday cooking. My favorite way is to use a tablespoon in a family-size bowl of mashed potatoes.
How do you help customers pick the right mustard?
I ask them a lot about what they're cooking, what types of flavors they enjoy and what their palate is like. For someone traditional, we would go with the white wine. For someone with an experimental palate, we might go with fig and coriander and apricot and curry.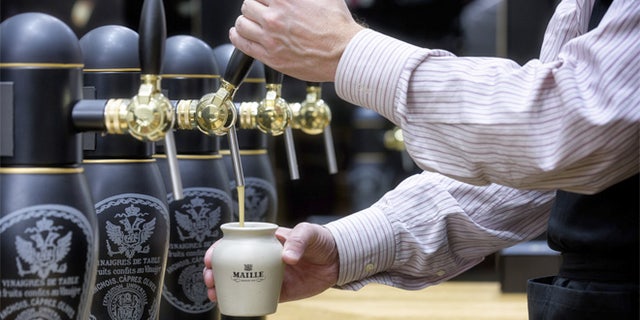 Apricot is one of my favorites for cooking. I have used it in chicken stew, and it gives it a lot of flavor and depth. Certain mustards you can use as a side, but others are best as an ingredient, like in a marinade. When you use a small amount, it's not necessarily a discernible flavor, but it tastes fantastic.
Have you noticed ways in which Americans are different consumers from the French?
On the Upper West Side there is a sophisticated palate, and there are a lot of food lovers. A lot of the Europeans are asking for the classics, but the Americans are more experimental … so far! We've only been open a week and a half.
What's the best question you have gotten so far?
If they can bring a hot dog into the boutique. They asked what I would recommend for a hot dog, and I said white wine, and they asked if they could bring one into the shop to try it!
What sort of "pairings" do people ask you about?
We get a lot of questions about hors d'oeuvres. I suggest the black truffle in canapés with prosciutto. For other clients, they ask which to use in a vinaigrette. My favorite is the whole grain chardonnay, which is on tap. It has a tangy, nutty flavor and it isn't particularly hot.
Which mustard do you suggest with holiday ham?
My favorite for ham is our cognac mustard. It's very well balanced. You pick up the flavor of cognac, but it is well balanced with the heat of the mustard.
What about with soft or hard pretzels?
I recommend the blue cheese with the pretzels. It can be a bit intense, but you only need a small amount of it.
Which is your spiciest mustard?
The white wine, which is the mustard on tap, is the hottest. It gets more bold the longer in your mouth.
What's your best introductory mustard for a Dijon "newbie"?
I like Parmesan cheese and basil as a gateway mustard. It offers very familiar flavors in a surprising setting. It's my favorite to add for any pasta dish, such as in a cream sauce or a marinara. It adds more flavor and dimension to the sauce.
What's the best gift in the shop?
The mustards that are on tap are served in stoneware, corked with a bouchon and finished with a wax paper seal. They're refillable, and we've been making them for 267 years.