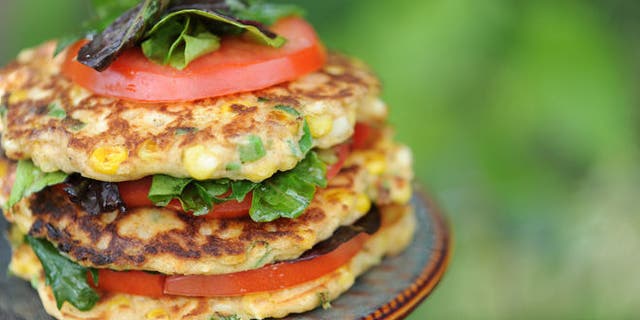 This recipe is from Donna of Apron Strings via Meatless Monday. Corn is grilled and seasoned with green onions and cayenne sauce in these tasty spiced flapjacks. The grilled corn fritters make an ideal base to this salad stacked with alternating layers of tomato slices and arugula dressed in a red wine vinaigrette.
Cook Time:
Prep Time:
Total Time:20 min
Servings: 4
Ingredients:
1/2 cup all purpose flour
1 teaspoon baking powder
1/3 cup nonfat milk
1 Egg, beaten
3 cobs corn, grilled
1/3 cup green onions, sliced
1 teaspoon cayenne pepper sauce
A little oil or nonstick cooking spray, for preparing the skillet
1/4 cup olive oil
2 tablespoon red wine vinegar
Salt and pepper, to taste
8 cup arugula
4 Large, ripe tomatoes, sliced 1/4 inch thick
Preparation:
Cut the grilled corn kernels off of the cob to make about 1 1/2 cups grilled corn kernels. Set aside.
Place the flour and baking powder into a large bowl. Stir in the milk, egg, corn kernels and green onion. Season with the hot sauce and stir until all ingredients are thoroughly combined.
Prepare a large skillet with a light layer of oil or nonstick cooking spray. Drop 1/4 inch mounds of batter into the pan and flatter into 1/2 inch thick cakes. Cook for 2-3 minutes on one side, or until bubbles begin to form. Flip and cook for 1 minute more on the other side, or until the corn fritter has cooked through. Set aside and repeat until you are out of batter.
Whisk the red wine vinegar and the olive oil together in a small bowl. Season with salt and pepper to taste.
Place 4 corn fritters on 4 plates. Top with layers of tomato and dressed arugula. Repeat with alternating layers of fritters, tomato slices and arugula. Enjoy!