Cooks Grill Record Breaking 777-Pound Hamburger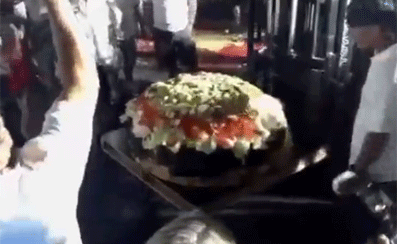 PLEASANTON, Calif. – A team of caterers have cooked what is believed to be the world's largest commercially available hamburger, a whopping 777-pound sandwich that stole the show at this past weekend's Alameda County Fair.
Nick Nicora of Ovation Food Services and Brett Enright of Juicy's Outlaw Grill spent 15 hours cooking the massive patty, topping it with 50 pounds of cheese, 30 pounds of lettuce and 20 pounds of onions.
The Daily Mail reports that the burger contains 1,375,000 calories, enough to feed one person for nearly two years. A forklift was used to place it on the scales.
If it is certified by the Guinness, Nicora and Enright's creation has smashed the current record, held by Chef Events Canada, by 187 pounds.
According to The Sun, pieces of the burger were sold at the fair for 99 cents each, with all proceeds going toward charity.
Enright says that he came up with the idea during a month off from work. He tells FoxNews.com that the record-breaking burger will be available for purchase at his traveling food service, Juicy's Outlaw Grill, as it crisscrosses the country this year, stopping at fairs and automotive events along the way.
The price? $5,000, and you have to order it 48 hours ahead of time. That's how long it takes to cook the bun.