Controversial McDonald's opens in Vatican City amid cardinal protests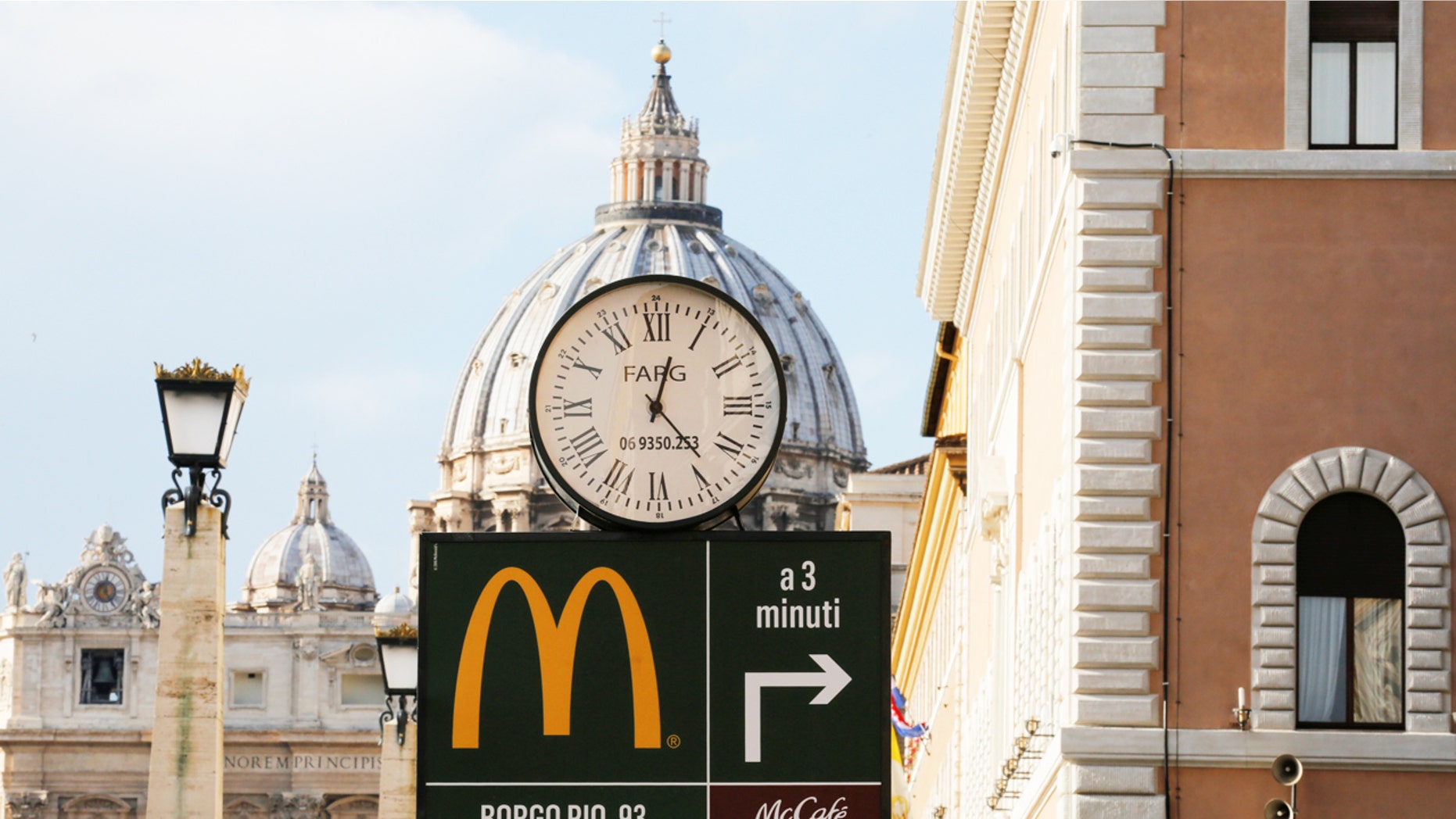 Ronald McDonald has officially joined the Pope in Vatican City.
Despite a very public battle waged by locals and religious officials to keep the fast food chain out of the Papal headquarters, a branch of the golden arches chain restaurant opened for business on Friday-- just feet away from Saint Peter's Square.
The establishment, open six days a week from 6:30 a.m. to 11:00 p.m.,  is located on the ground floor in a Vatican-owned building about 100 yards from the Pope's home. Some cardinals complained about not being consulted prior to the restaurant's construction live directly above the new Italian home of the Big Mac.
MCDONALD'S SUED OVER 'OVERPRICED' VALUE MEAL
"It's a controversial, perverse decision to say the least," said Cardinal Elio Sgreccia in an interview with La Repubblica in October.
Opening a branch of the popular fast-food chain, Sgreccia argued, is "by no means respectful of the architectural traditions of one of the most characteristic squares which look onto the colonnade of Saint Peter's."
Now that the restaurant is open, Sgreccia hasn't tempered his views. He said the new, 5,800-square foot location is a "perversion" and "aberrant."
"I repeat, selling mega-sandwiches in Borgo Pio is a disgrace," Sgreccia told the Mirror, suggesting the money could be better spent on helping the area's homeless population. "The area's needy...and suffering, as the Holy Father teaches."
FOR THE LATEST FOOD FEATURES FOLLOW FOX LIFESTYLE ON FACEBOOK 
The Vatican is set to collect a monthly rent of 30,000 euros (or $33,000) from McDonald's, according to La Repubblica. The Vatican's real estate is controlled by the Administration of the Patrimony of the Apostolic See.
There are already two existing McDonald's outposts close to the Vatican, in addition to a Burger King, but the new McDonald's is the only restaurant located in a building owned by the state.
This isn't the first time McDonald's has had to fight for space in Italy.
CREATOR OF THE ICONIC BIG MAC DIES AT 98
In July, thousands of Italians signed a Facebook petition objecting to a proposal to build a McDonald's in the historic Piazza del Duomo. The International Slow Food Movement, a grassroots organization opposed to fast food, also protested the opening of a McDonald's near the Spanish Steps.
The fast food chain later sued the city of Florence after its application to build the site in the Piazza del Duomo was rejected.