Chuck E. Cheese hosting 'sensory-free' Sundays for autistic children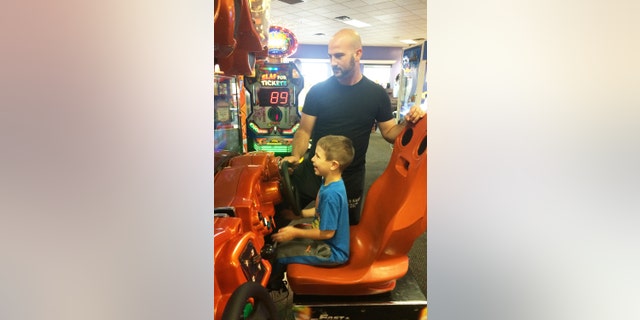 Chuck E. Cheese, known for its singing animatronic critters, flashing lights and overexcited patrons, is getting a little bit quieter to accommodate special needs guests.
Now, on the first Sunday of each month, several locations the kid-friendly restaurant-gaming chain will host "sensory-free" hours from 9 a.m. to 11 a.m. for kids with autism and other disabilities.
Instead of the usual flashing lights and blaring music, 54 locations across New England, New York and New Jersey will be dimming the lights and turning down the tunes, allow outside food to accomodate kids with dietary restrictions, and have specially trained staff on hand. The restaurant also says its usual costumed characters won't be roaming the floors during the 'sensory-free' hours.
FLASHBACK: CHUCK E. CHEESE UNVEILS NEW MENU FOR YOUNGER DINERS
The move to provide a modified atmosphere for autistic children and other special needs families follows a growing trend among retailers.
A Target store in Pennsylvania recently started providing quiet early morning shopping hours for autistic customers by turning off the store music, dimming the typically bright lights and keeping the general store activity to a minimum, according to Consumerist.
And efforts to help disabled customers have been taking places overseas, too with grocery stores in the U.K. also offering "quiet hours" for autistic shoppers.
FOR THE LATEST FOOD FEATURES FOLLOW FOX LIFESTYLE ON FACEBOOK
Asda, a British grocery store chain owned by Walmart, started providing quiet times at a Manchester location in May 2016. For the first hour of business, electronic screens and music were turned off, escalators were shut down and store employees were banned from using the public announcement system.
The Asda store's general manager, Simon Lea, said he decided on the idea after viewing an autistic child and his mother struggle while shopping in the busy supermarket.
The National Autistic Society (NAS) of the U.K. praised the move. According to NAS, supermarkets, busy stores and restaurants can be "extremely challenging" for autistic customers because of the bright lights, unfamiliar smells and crowds.
As for Mr. Chuck E. Cheese, here's a full list of locations participating in 'sensory-free' Sunday.