Chrissy Teigen's kitchen secret that will save any ruined dish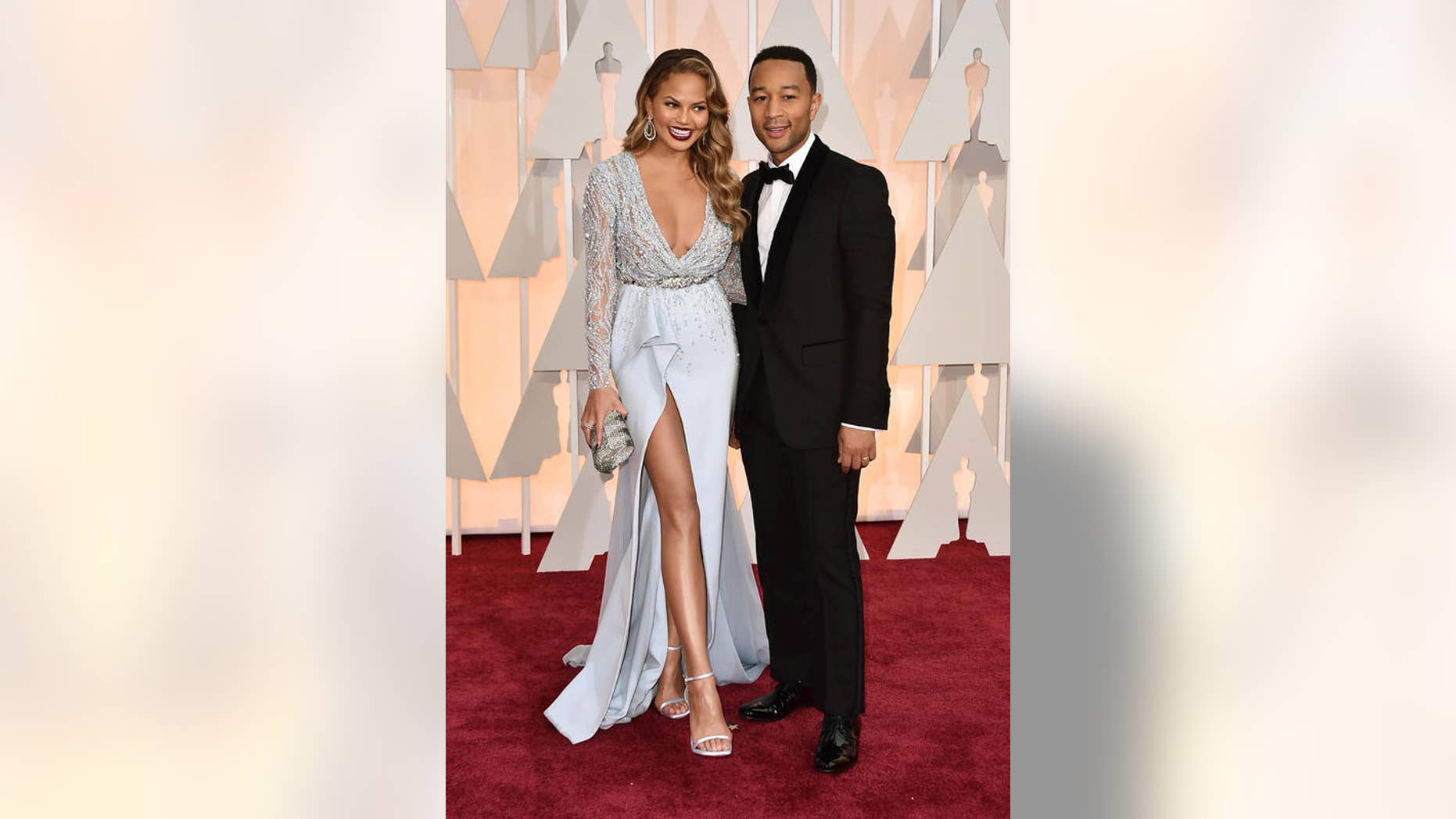 We knew model and cookbook author Chrissy Teigen refused to be one of those "dead-inside laughing-with-a-salad chicks."
But we didn't know that she could go toe-to-toe swapping stories about all the times she effed up hosting dinners, just like the rest of us. In between visits to her favorite New York haunts (and taking care of her newborn, Luna), Teigen, also a spokesperson for Lawry's Seasoned Salt (which she says she sprinkles on her fried chicken), filled us in on what she serves to friends with dietary restrictions and how to save dishes gone wrong.
What's your general hosting style?
I'll never cook for a double date. Either I need a lot of people or just John and I. I make dinner for at least 10—maybe 20 or 30. I like serving family-style or setting up a buffet. Everyone just goes to town, scoops their own food, and mixes their own drinks. You know how people love to come and watch you in the kitchen now and talk your ear off?
If you give them something to do, and something to drink, they don't do that as much. It's like, you're all going to build your own spring rolls! Everyone gets drunk and thinks it's cool, but I'm just being lazy.
What's your signature dish?
John's fried chicken or mac and cheese. John brought this recipe into my life. We kind of juice it up for the [cook]book by adding a honey butter hot sauce to it. I also love serving a tahini and fettuccine noodle salad. You just buy one of those rotisserie chickens from the grocery store, rip it up, and throw it in. It's easy, and it feels cool, because of the tahini. I like things that are big crowd-pleasers but also easy to pull off.
How do you deal with guests with dietary restrictions?
I still have to Google whether something's gluten-free or whether an egg is considered dairy. Usually it's fine, though, as long as I offer around 15 things. One of those is always soup, because I don't know what diet you have to be on to not enjoy soup.
Serving for a large group is hard. Have you ever messed anything up?
All the time. I always leave the bag [of giblets] in the chicken. My mom is Asian, and loves all of the throwaway parts of the animal, so she actually thanks me for saving her the neck and other parts. I just respond with, "RIGHT, I SAVED IT FOR YOU!" instead of telling her it was a mistake. But that's why I try not to do any quick dishes for parties.
What's a good quick dish for parties?
I would never make my own pasta for the masses. It's just too scary. The timing on it is a quick 7 to 9 minutes. While it's cooking, I'm talking to people and trying to prepare other dishes—pasta needs just too much baby-ing for me. And then it doesn't even sit well when you serve it. People love to mingle and that takes time. I also always buy a cake or pie, because I accidentally leave the parchment on my cakes when I take the out of the pan—every time. People end up eating paper.
At what point do you decide you have to scrap the cooking plan and just order in?
Well, my friends usually know we're going to be eating late. But I invite people over around 8 p.m. and then liquor them up. The other thing about serving dinner late is that everything tastes good when you're starving.
More from Bon Appetit
24 Recipes Everyone Should Know How to Cook
35 Make-Ahead Breakfasts so You Can Sleep in and Eat Well All Week
Our 50 Favorite Weeknight Dinners
58 Delicious Dishes to Bring to an Outdoor Party
Has anything ever gone wrong on a big holiday?
One year, we tried to deep fry a turkey. It must have been really humid outside, because the temperature of the oil got thrown off. It ended up being slow-cooked in oil—black on the outside and raw on the inside.
Were you able to save it?
We carved it, doused it with canned gravy, and then twice-roasted it, as we called it. It was actually unbelievably good. Turns out there's a save for everything, and the save is usually canned gravy, as I've learned.