Chick-fil-A's first New York City restaurant to give away free meals for a year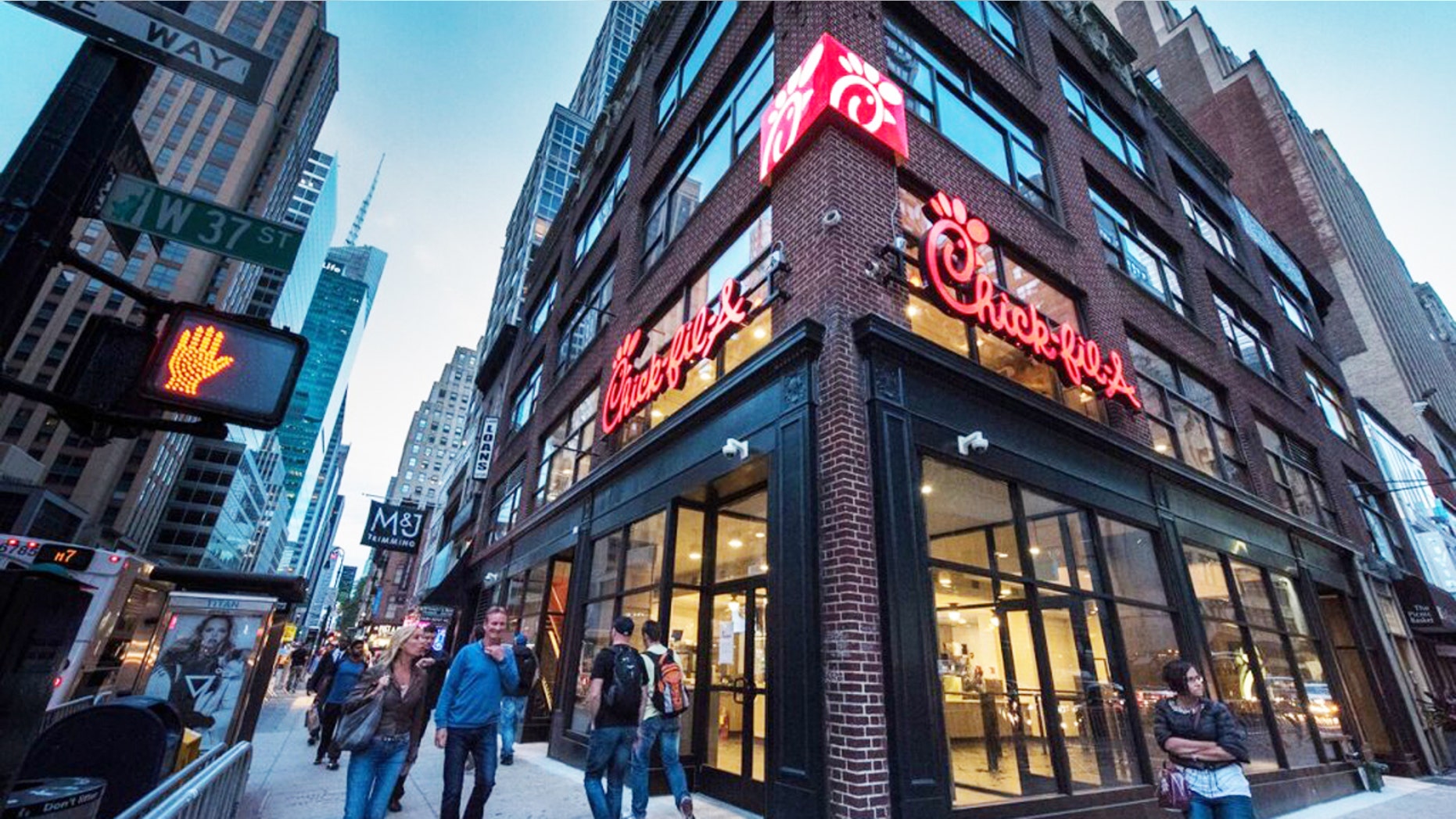 Chick-fil-A's first New York City location is opening this weekend and to help win over the Big Apple, the chain is giving away a year's worth of fried chicken sandwich meals to the first 100 customers who line up outside the store.
The popular chicken restaurant, known for its conservative roots, made news when it announced plans this summer to open its first Manhattan franchise -- part of a larger push into big liberal cities.
Helping win over fans is the "First 100" grand-opening promotion, which has already been used at several of its locations. But in the concrete jungle, nothing is ever won without hard work and determination--and free food always helps.
Here's how the promotion works: The first 300 people who register in line will receive a ticket and are entered into a lottery style drawing where 100 people win gift cards good for one sandwich meal a week for a calendar year.  That means the first person in line could technically be out of luck if the drawing doesn't go in his or her favor.
The restaurant, which is located in midtown Manhattan at 37th Street and 6th Avenue, recommends that people start camping out on Friday night Oct. 2 at 6 p.m. The new location will open promptly at 6 a.m. this Saturday. And they're promising to "provide you everything you need from food, shelter and entertainment."
But before you start packing up your overnight bag, check out the promotion's website for official rules. Since Manhattan receives a ton of visitors, only residents in certain zip codes—with certain caveats like full time students—are eligible for the promotion. You also can't leave the line during the 12 hour waiting period.
Last week, a Minnesota Chick-fil-A location ran a similar grand-opening promotion, and gave away a free meal every day for year for the lucky winners. Obsessed chicken sandwich lovers showed up 24 hours early for a chance to win 365 deep fried meals.
If you miss the grand opening at 37th Street, the company has already announced it will open another location next year at 46th Street and 6th Avenue.
And in case you think New Yorkers don't really care about Chick-fil-A, take look at this video a New Yorker filmed in August of people lining up to snag a free Chick-fil-A sandwich from a food truck. Multiply that by 52 for this weekend --impending hurricane and all.