Canadian zoo slammed for taking bear cub to Dairy Queen drive-thru
One Canadian zoo is in hot water for a cold stunt, and is now being charged after one of its employees took a captive Kodiak bear cub to a Dairy Queen drive-thru for a quick treat.
Discovery Wildlife Park, a private zoo in in Alberta, intends to plead guilty for failing to "to notify the provincial government prior to the bear leaving the zoo," The Guardian reported.
Earlier this year, footage of one-year-old Berkley sitting in the passenger seat being hand-fed an ice cream cone through the Dairy Queen drive-thru window went viral.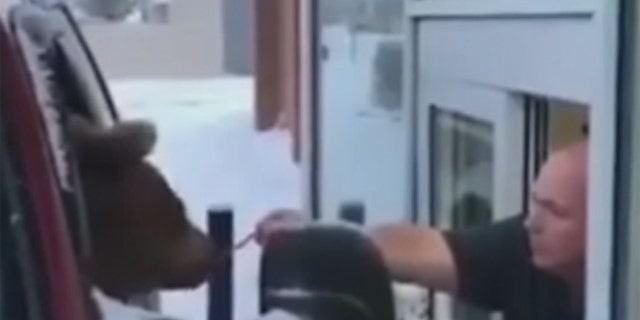 Though the video has since been taken down from the platforms amid widespread backlash, Discovery Wildlife Park officials claim they never meant any harm.
FAST-FOOD FLASHER: STREAKER TARGETED BUFFALO WILD WINGS, TACO BELL, WAFFLE HOUSE, COPS SAY
"We made a mistake. I'm embarrassed about it," Doug Bos, the zoo's owner, told the outlet, elaborating that officials "forgot" to notify Alberta Fish and Wildlife Enforcement ahead of the jaunt.
Bos said the video was intended to be educational.
"The message was: Don't feed the bears. Don't stop on the side of the road. If everybody would listen to the video, that's what the message was — don't do this," he told CBC in January.
Zoo trainer Serena Bos similarly agreed that the zoo team took precautions before filming, as Berkley was kept on a chain and the scene was shot while the Dairy Queen was closed to the public.
FREAK ACCIDENT AT DAIRY QUEEN DRIVE-THRU LEAVES 74-YEAR-OLD CUSTOMER DEAD
"There was never any public present. Berkley is a captive bear, so not a wild bear in any way," Bos told CBC.
According to the Huffington Post, the Discovery Wildlife Park is also being hit with a second charge for failing to inform officials that Berkley was taken home with a staffer at night for a bottle feeding. At the time, the Kodiak cub was an orphan.
In years past, animal welfare group Zoocheck Canada has found the private zoo guilty of multiple standards violations, including insufficient shelter for its animals and enrichment, Huffington Post reported.