Can a Makeover Save the Twinkie?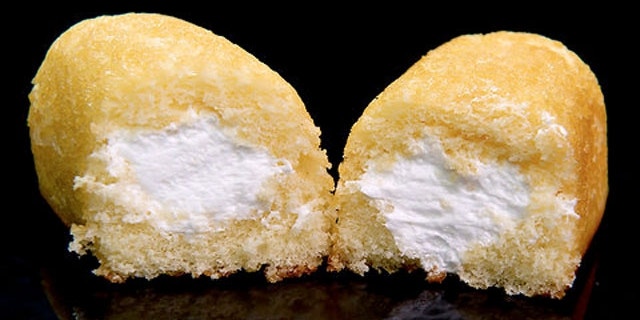 After 82 years of cupboard dominance the Twinkie, a snack most likely to survive a nuclear attack, could be relegated to the dustbin of culinary history as their maker Hostess has filed for Chapter 11 bankruptcy.
While Hostess vowed to keep stores stocked with Twinkies and their other quilty pleasures --Ding Dongs, Ho Hos and the like --during the reorganization, it just may be time to think about a makeover, once and for all.
If only Hostess had thought to reinvent America's long beloved sponge cake with creamy filling -- perhaps making it both healthier and sexier for a 21st century audience, things could have gone differently.
"In the 21st century, with the rebirth of artisanal cooking, let's just make a Twinkie with real ingriedients," argues Katzie Guy Hamilton, executive pastry chef at the Grand Hyatt New York and contestant on "Top Chefs Desserts."
Hamilton suggests substituting the Twinkie's copious amounts of butter with a natural cream and making that artificial white center something a little more natural.
"Perhaps a yogurt mousse. A nonfat Greek yogurt is still robust without the extra calories, lightened with a meringue, which of course is made of egg white. Perhaps throw in some segments of Texas grapefruit tossed in fortified wine and you have a spa twinkle," Hamilton says.
A twinkle instead of a Twinkie. Sounds good to us.
Some of the ingredients in the original Twinkie include corn syrup, niacin, high fructose corn syrup, dextrose, cellulose gum, polysorbate, dextrin, in addition to artificial flavors and perservatives. They're high in both saturated fat and sugar and contain 150 calories per cake. But still, people love them.
Ashton Warren, the pastry chef at Restaurant Marc Forgione in Manhattan has been searching for the perfect twist on the nostalgic Twinkie updated for a new audience long before Hostess called it quits. She experimented with some variations to the vanilla sponge treat.
"They never actually made it into our menu, but in the process I had to eat a couple to get the flavor just right. When you take that first bite, even as your teeth start to hurt, you are instantly brought back to your childhood," Warren waxed.
To make the old recipe a little sexier she likes to add some instant coffee and almond extract to the cake, mixed with some toasted chopped nuts or a liquor to combat that chalky vanilla sponge that is just filled with preservatives.
Click here for Ashton Warren's Perfect Twinkie recipe.
Roland Mesnier, the long-time White House pastry chef for five presidents, and the man who once said that President Bill Clinton had a "scary" appetite sees nothing scary in the Twinkie. In fact the Frenchman told Fox he would change very little about the recipe of the Twinkie. He would just try to make it a little bit sexier.
"When I came to this country it was the first thing I wanted to taste," Mesnier said. "With the cake part, there is nothing to change. It is good, but to modernize it I would make it with different flavored filling."
Hostess has tried to mix things up with different flavored fillings several times to no avail. In 1988 the company tried a strawberry filling that was soon dropped, and in 2007 a banana cream version (similar to the original Twinkie) also had a short shelf life.
But Mesnier's re-do would be two variations on the the Twinkie that would make it a little more rich. "I would coat the outside of the Twinkkie with chocolate. You would have the crunch of the chocolate on the outside and the soft filling," Mesnier said. "Then I would fill it with the flavors that people are going after these days. I would fill it with pomegranate. That would bring the Twinkie back like never before."
So much for the healthier option. After all, it is a Twinkie we are talking about here.