California man sets Guinness World Record for eating Caroline Reaper peppers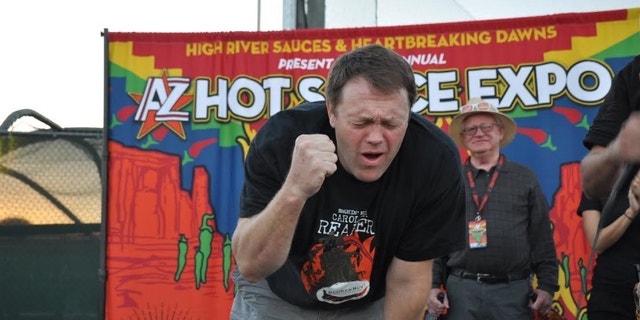 NEWYou can now listen to Fox News articles!
It's a pepper so fiery and explosively hot that it's sent people to the hospital.
But for Greg Foster, a professional spicy-food eater from California, eating a few Carolina Reapers was just another challenge.
On Nov. 13, Foster set the world record for consuming the largest amount of the famously hot pepper during the Arizona Hot Sauce Expo. The previous record, 119 grams held by Wayne Algenio, was set just six months ago at the New York Hot Sauce Expo in April. Foster got down 120 grams in a minute.
WE TRIED THE WORLD'S SPICIEST TORTILLA CHIP
Guinness World Record judge Christina Conlon was on hand to tally the results. By the contest's official rules, Foster had to keep the peppers down for an additional minute post consumption. In a YouTube video from the event, his face starts turning bright red and he immediately asks for a trash bucket once his time is down.
"This is truly an amazing feat," Ed Currie, creator of the Carolina Reaper who is also the founder and president the PuckerButt Pepper Company-- which produces the lethally hot nightshade.
"The Carolina Reaper is bred for heat and taste. Eating even one Carolina Reaper pepper challenges the most daring of Pepperheads."
EATING SPICY FOODS MAY HELP YOU LIVE LONGER
PuckerButt Pepper Company, based in Fort Mill, S.C., is only the company that produces the Carolina Reaper. It's held the record for the world's hottest pepper ince 2013.
The average Reaper, which has inspired a myriad of other foods and challenges, measures 1,569,300 on the Scoville Heat Scale-- 300 times hotter than a jalapeno. Some individual peppers have measured over 2 million units—about as hot as industrial grade pepper spray.
Foster's new record was no easy feat but the man knows a thing or too about heat. He grows peppers for a living at his farm in Irvine, Calif.