Cafes declare war on Wi-Fi squatters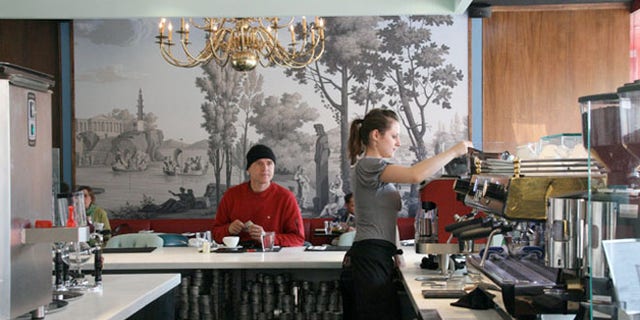 When café owners began offering free Wi-Fi to their coffee-drinking customers, they did so with the best of intentions --by trying to provide them with added value in the hopes of bringing in more business.
But with the proliferation of smartphones and mobile offices, Wi-Fi squatters – those who set up shop for interminable hours gobbling up the café's bandwidth and available seating -- are negatively impacting business. As a result, owners have declared war on Wi-Fi squatters -- with some going to such extreme measures as to set Wi-Fi time limits, require an access code to the wireless network (available only with purchase), or prohibit the use of laptops in cafés.
"It frees up space. We don't want people sitting there all day long while we have people who want to come in, get a coffee and eat their food."
Last month, the San Francisco Chronicle reported that Luigi Di Ruocco, owner of San Francisco's Coffee Bar, set 30-minute time limits during peak times and created "laptop-free" seating so lunch customers would have somewhere to sit. NBC News reported that Brooklyn's Gorilla Coffee now covers some of its electric outlets in order to discourage laptop users.
Jane Shihadeh previously owned Shoe's Cup and Cork in Leesburg, Virginia, a café by day and full fine dining restaurant and wine bar by night.
"It's difficult to generate profit from coffee sales alone," she says. "Ultimately it's more about your average check in general. You really need people coming in to eat."
She wanted to balance the restaurant with a relaxed coffeehouse vibe, and offered free Wi-Fi to encourage that. "What we found was that there were lots of people that would come in – if you were lucky they would maybe order a large coffee but sometimes they would just demand water – and would sit there for hours."
She found that these customers were also the most demanding, and some would even use her café to solicit business from her other customers. Eventually she sold the café (it is now operating under new ownership) and opened a much more straightforward Wi-Fi-free sandwich shop, Philly Rabe's.
In the hipsterific Los Angeles neighborhood of Silver Lake, LAMILL Coffee Boutique, called the "white-tablecloth restaurant of coffee shops" with its thoughtful wine, beer, and sake selection, along with breakfast, lunch and dinner service, has a two-hour time limit on its wireless access.
Manager Dave Alfaro told FoxNews.com, "It frees up space. We don't want people sitting there all day long while we have people who want to come in, get a coffee and eat their food."
Alfaro said that coffee squatters aren't just taking up space and bandwidth (he has noticed many use the café's free Wi-Fi for large file downloads), but are actually turning away non-Wi-Fi customers who have nowhere to sit.
One of the biggest challenges for owners is to provide an inviting environment, while making sure customers don't get too comfortable.
At Abraco in New York, which also serves a selection of house-made small plates and baked goods, it is standing-room-only – meaning there's no seating. The café is arranged in a way that encourages customers to drink, eat and then leave.
Also, in small cafés that have limited seating, squatters feel more self-conscious about taking up one of only a handful of seats.
Verve in Santa Cruz, Calif., which has limited menu of pastries and doesn't offer table service, has password-protected Wi-Fi service, but the password is given out freely and there is no time limit for usage. Ashley Epia, a manager at one of its locations, she says that Wi-Fi squatting isn't really a problem and that people cycle out pretty well. But Verve is also a roaster with a strong wholesale business to support its cafés.
Yet, some café owners just want to avoid that whole scene where you walk into a café and see table after table of laptop zombies --faces bathed in blue from the glow of their screens.
New York's Café Grumpy doesn't offer Wi-Fi or allow laptops in four of their five locations.
"For us, yes, it's a space issue, but it's also about the atmosphere it creates," says Café Grumpy owner Caroline Bell.
Though the cafés only serve their own house-made pastries and don't face the same challenges as full sit-down restaurants, Bell wanted to create an atmosphere that was "more inviting," allowing for actual conversation to occur rather than the pitter-patter of laptop typing being the dominant sound.
That's a much different experience than walking into a café buzzing with excited conversation, whether it be about politics or the latest episode of "Breaking Bad."
"It's less about turnover and more about the experience. People appreciate it," Bell said.