Butternut Tagliatelle, Mushroom-Pecan Ragout with Pine Nut Parmesan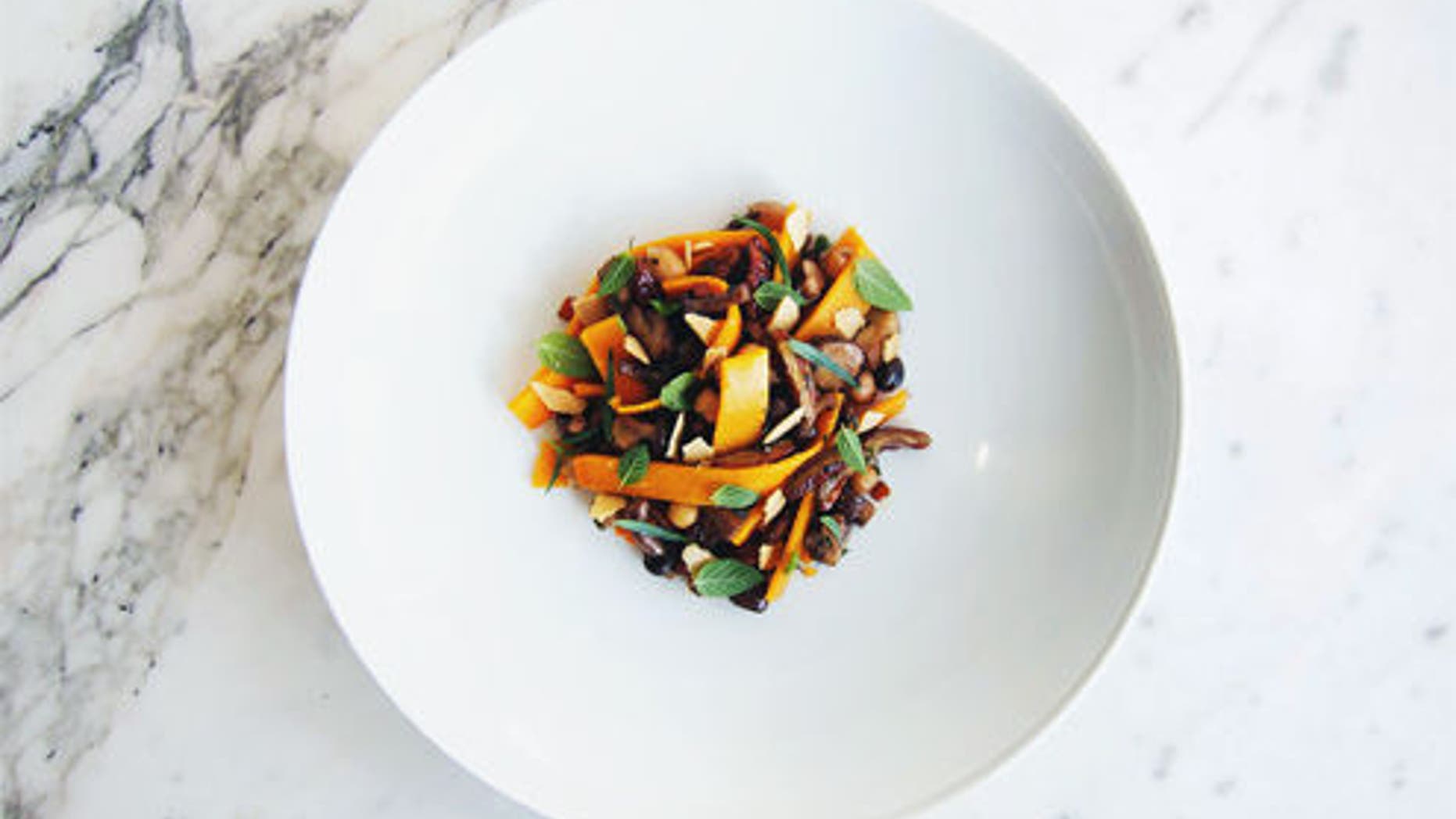 With the quick rise in vegetarian/vegan trends, Executive Chef Scott Winegard of Matthew Kenney Cuisine created this delicious, healthy and veggie-focused dish. The Butternut Tagliatelle with Mushroom-Pecan Ragout with Pine Nut Parmesan is perfect for any palate whether your crowd consists of vegans or carnivores – this plant-based dish is sure to keep guests pleased.
Cook Time:10 min
Prep Time:10 min
Total Time:20 min
Servings: 6
Ingredients:
1/4 Cup extra virgin olive oil
2 Shallots, small dice
2 Large carrots, small dice
2 Celery stalks, small dice
2 Cups button mushrooms, cut in quarters
2 Cups beech mushrooms, chopped OR shiitake, diced
2 Cups cooked chick peas
1 Tablespoon sea salt
1/4 Cup dry white wine
2 Cups raw pecans, rough chopped
1/4 bunch thyme, leaves
6 large sage leaves, minced
1 3 inch sprigs worth of rosemary leaves, minced
Preparation:
In a large sauce pan heat oil and add shallots, carrots and celery. Sweat on low heat, being careful not to burn, for about 5 mins until they begin to soften. Add mushrooms, chickpeas and salt and increase burner heat slightly, cooking for an additional 2 minutes. Add wine and raise heat even more. Stir and let wine cook down for a few minutes, until reduced by half. Add pecans, stir and reduce heat. Add herbs and stir; let simmer, check for seasoning; add a few grinds of fresh cracked black pepper to taste.