Burger King settles with customer who sued restaurant for reneging on free food offer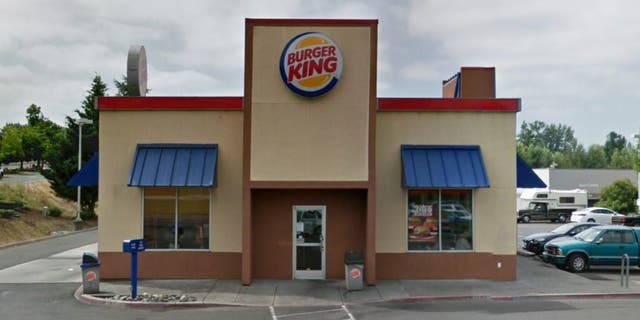 That's a whopper of a deal.
An Oregon man who claims he was offered free Burger King meals for life after getting locked in the fast-food restaurant's bathroom sued after the chain reneged on the agreement.
The chain has now settled the case, paying Curtis Brooner the $9,026 he sought, his attorney Michael Fuller told The Oregonian.
Brooner's lawyer filed the suit in January and the case was settled Monday, the paper reports. Despite the result, Burger King denies liability and disputes Brooner's claims, according to his lawyer.
FITNESS INFLUENCER UNDER FIRE FOR ALLEGEDLY SCAMMING CLIENTS
"Burger King did the right thing. They could have dragged this out for years and we're glad they didn't. (Brooner) still likes Burger King, he just doesn't go to their bathroom anymore," Fuller said.
The money, which he'll receive within 30 days, should be enough to buy a Whopper meal once a week for at least the next 22 years.
Brooner was trapped for over an hour at a Burger King in Northeast Portland on Dec. 15 due to a faulty lock, Willamette Weekly reports.
Employees allegedly slid a flyswatter under the door for Brooner to pry open the lock, which caused him to cut his hand. He also claims the employees were laughing at him, according to the lawsuit.
FOLLOW US ON FACEBOOK FOR MORE FOX LIFESTYLE NEWS
After Brooner finally escaped, he was left shaken by the event, which he said triggered his PTSD and left him too upset to drive.
"The cleanliness of the place was less than desirable. Highway bums use it as a changing room. It's not a pleasant smelling place. Being locked in there for over an hour, you smell like that when you get out," Brooner told Willamette Weekly.
Brooner said that before he left the restaurant, an employee came over and made him the offer. "While I was sitting in their lobby trying to calm down, the manager came over and said, 'Anytime you come in here, it's free meals on us.' I eat at Burger King almost daily, and so I was grateful for the offer."
CLICK HERE TO GET THE FOX NEWS APP
After two weeks of taking advantage of the deal at least once a day, Brooner said the restaurant stopped comping his food after allegedly being instructed to by the district office.
Brooner said he's suing because a deal's a deal. "It's an honor issue. They could have said, 'The next meal is free,' and that would have ended it. But that's not the deal they made."