Burger King raises awareness about 'Pink Tax'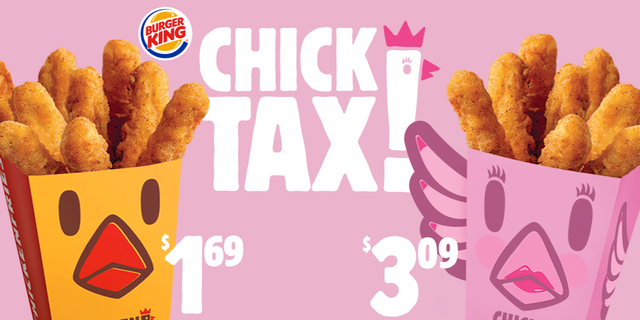 NEWYou can now listen to Fox News articles!
Burger King is tackling gender inequality in a new campaign featuring "Chick Fries" aimed at women.
Beginning on Thursday, July 26, Burger King will be serving "Chick Fries" in a pink box in select restaurants while supplies last in an effort to raise awareness and counteract the "pink tax" tax.
The "pink tax" is a tax that targets female consumers and marks the price of products made for women significantly higher than the male equivalent of those products.
CHICK-FIL-A ANNOUNCES PLANS FOR FIRST INTERNATIONAL LOCATION IN TORONTO
Some examples of products affected by the pink tax include personal care items such as razors, dry cleaning, toys, and vehicle repair. The "pink tax" is used to mark-up female-geared products about 42 percent of the time.
Burger King released a short video to explain the problem with the tax.
In the video, unsuspecting female customers are charged $3.09 for "Chick Fries," which is 83 percent more than the price of "Chicken Fries" at $1.69.
The only difference between the two is that the "Chick Fries" are in a pink box.
STEAK 'N SHAKE THROWS SHADE AT WENDY'S ON TWITTER, GETS PROMPTLY SHUT DOWN
On average, products made for women or girls cost 7 percent more than comparable products for men and boys, according to ListenMoneyMatters.
Personal care products for women cost 13 percent more, toys made for girls cost 7 percent more, and female clothing costs 8 percent more.
With this campaign, Burger King is joining the fight toward financial equality between men and women and hoping other brands to will join in on eliminating unequal pricing based on gender.