Bradley Ogden: Tried and True for Christmas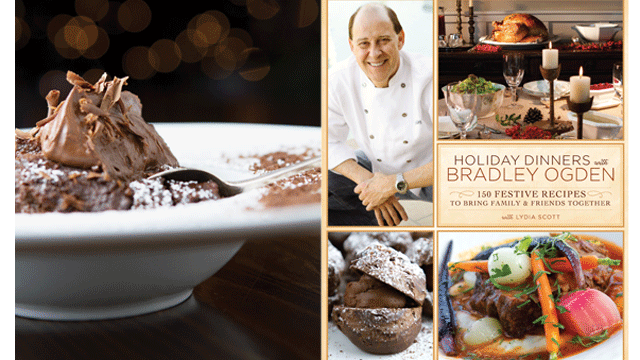 Bradley Ogden's family Christmas gatherings left him with a holiday desire for plenty—of food and family.
"Back then my dad owned a rock 'n roll joint," says the James Beard Awarded chef.
About eighty "aunts, uncles, cousins, from all over the state of Michigan" showed up. Those Christmases from the ages of 12 to 16 formed a lasting basis for the "food-shows-love" philosophy that guides his holiday menus.
Odgen's come a long way from those snowy December days in Traverse City, Mich. He didn't realize he could cook until he stepped into a kitchen at 18, comparing it to someone sitting at a piano for the first time and realizing he can play.
The Marin-based Lark Creek Inn was named one of the country's top restaurants when he helmed the stove. He's earned a James Beard Award for Best Chef in California, runs a successful restaurant group, and is probably best-known for the multi-awarding winning Bradley Ogden at Caesar's Palace. Despite the culinary hullabaloo, Ogden is a man of simple tastes.
He's "in the zone," he says at a farmer's market. The process of picking out meats and vegetables at and thinking creatively about what he can do with them is like "being a basketball player shooting 100 points in a game."
When it comes to food, Bradley Ogden is that guy.
Most people overcomplicate their holiday menus by trying new, fancy dishes. Game over, says Ogden: "it induces pure anxiety." Buh-bye Beef Wellington with homemade puff pastry. Hello, simple and delicious. Focus on foods that you know your guests will know and that you know you can make.
His ideal menu: prime rib (tradition); baked potatoes (crowd-pleaser); chocolate bread pudding (the ultimate comfort food).
He goes simple in Holiday Dinners with Bradley Ogden (Running Press) but not simplistic, sourcing ingredients from farmer's markets—as much as possible—and infusing food with layers of familiar flavors and ingredients.
Ogden likes prime rib because he likes to cook what he likes to eat. Know your crowd, he says. If yours isn't a red meat-one, do roasted game hens, chicken or capon.
He rubs the prime rib with espresso, chili powder, garlic, salt and pepper. (Great tip: If a guest's portion is too rare, place it in the pan with the drippings and cook on the stovetop for 30 seconds on each side.)
Recipe: Coffee-Spiced Prime Rib Roast.
You won't need eggnog (a holiday must for him) if you make his Double-Stuffed Baked Potatoes with crème fraîche, egg yolk, chive, garlic, shallots, heavy cream and Camembert. Mound into crisped potato skins and top with Parmesan.
Recipe: Double-Stuffed Baked Potatoes.
Stick a "Contents Under Pressure" sign on your belly, take a break and then dive into bread pudding.
He alternates layers of brioche, a sweetly, buttery yeast-based bread with a cream-based chocolate custard (enlivened with bourbon, cinnamon and vanilla) and chocolate ganache (chocolate melted with heavy cream) for Chocolate Brioche Pudding. It's more like a soufflé than bread pudding, he says, and don't count the calories. "Counting the calories at Christmas, that would be sacrilege," he chides.
Recipe: Chocolate Brioche Pudding.
Spread things over a few days so you don't get overwhelmed, he says. Set aside a few hours once day to go through recipes and sort out equipment, a few hours on another for shopping, another for prepping foods that can be made ahead of time, and an entire day for cooking. This makes the actual cooking the least stressful part of the holidays. Further ease your burden by farming out side dishes to family.
Because he's been cooking for the holidays for 30 years Ogden helpfully points out at what point you can prepare a recipe ahead, i.e., the prime rib can sit for two days after applying the rub, ditto for the potatoes after mixing in the cheese and cream, one day for the brioche pudding. The sour cream in his pie crust recipe eliminates the fear of overworking the dough. Roll it over and over, he says, and it'll still come out great.
Asking Ogden to pick his favorite recipes is like asking a parent to pick a favorite child. When pushed, he does a dream New Year's meal with a Dungeness crab with lemon and drawn butter appetizer, steak chili, soft pumpkin cookies with lemon cream cheese frosting or espresso double-chocolate soufflé brownies.
Most importantly, make sure you must have "sufficient quantity of wine, champagne and adult beverages," he says, so if you tank in the kitchen, no one minds.
There's a hangover cure on page 207. Really.