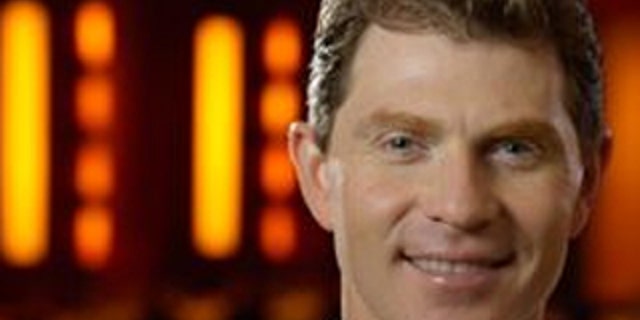 You'd think people would get enough to eat at an event called The White House Correspondents' Dinner, but like any good party there's always an after party where guests can continue stuffing their faces while they get some quality face time. This year's shindig at D.C.'s famous Mayflower Renaissance Hotel is being catered by Bobby Flay, and the celebrity chef shared a few of his recipes exclusively with Fox News. So break out the tuxedo - and the apron - and get ready rub your virtual shoulders with the celebs and politicos, not to mention this year's Master of Ceremonies, Jay Leno.
Pineapple-Chile Margarita:
Serves: 4
2 cups fresh pineapple juice
1 cup coarsely chopped pineapple
1 Fresno chile, coarsely chopped
6 ounces reposado tequila (we use Hornitos at Mesa Grill)
Ice cubes
Combine the pineapple juice, chile, and tequila in a blender and blend until smooth. Serve over ice.
Cornmeal Crusted Oysters with Mango Vinaigrette & Red Chile Horseradish
Serves: 4
Mango Vinaigrette
1 ripe mango, peeled, pitted and coarsely chopped
3 tablespoons fresh lime juice
3 tablespoons coarsely chopped red onion
2 cloves garlic, coarsely chopped
1 teaspoon chipotle pepper puree
1/4 cup canola oil
Salt and freshly ground pepper
Place all ingredients in a food processor and process until smooth; season with salt and pepper to taste.
Red Chile Horseradish
1/2 cup prepared horseradish
1 1/2 tablespoons ancho chile powder
Mix together in a small bowl.
Cornmeal Coated Oysters
20 oysters
2 cups fine yellow cornmeal
2 teaspoons cayenne powder
Salt and freshly ground pepper
3/4 cup canola oil
1. Shuck the oysters, reserving the best 20 half shells.
2. Mix the cornmeal with the cayenne, salt and pepper. Place 5 oyster shells on 4 plates and place 1 teaspoon of the mango vinaigrette in each shell.
3. In a small sauté pan over medium heat, heat 3 tablespoons of the oil. Coat the oysters on both sides with the cornmeal mixture and sauté 5 at a time for 45 seconds on each side. Repeat with the remaining oil and oysters.
4. Place a tablespoon of the mango vinaigrette in each oyster shell and place 1 cooked oyster on top of the sauce. Top each oyster with a small dollop of the red chile horseradish.