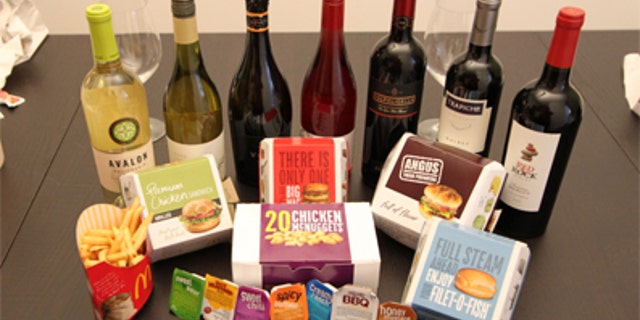 "The faintest soupcon of, like asparagus, with just a flutter of, like a, nutty Edam cheese," is how wine-obsessed Miles Raymond describes a rosé in Sideways. Sure it's a movie, but it's that type of gratifyingly pointless, standard-issue, wine-tasting jargon that makes the world of wine seem elitist, uppity and irrelevant. That is unless you're familiar with Gregory Dal Piaz's series pairing fast food and wine.
Texture is one of the tricks when pairing fast food, he says. "These foods have surprisingly creamy textures. There's not a lot of bite. They're dominated by softness." Also, fast food burgers have so much going on that they're less about meat and more about a mixture of "meat-based flavors and soft textures," he says. Generally, softer wines, meaning fruitier ones, with enough acid to cut through the fat, work best.
Big Macs, he says, "help merlot's fruit really pop." KFC lovers should consider a trio of whites—Pinot Grigio, Verdejo or Vouvray—with their next bucket from the Colonel.
Fast food and good wine isn't an oxymoron to Dal Piaz. It's an uncharted wine and food nexus, a new frontier, virgin territory, but exploring it offends critics who say his series is a mockery of food and wine pairings. They say he he's denigrating the winemaker's art and that his efforts are a perfectly good waste of wine.
Dal Piaz, Editor-in-Chief of Snooth.com, a ginormous database for wine-lovers, is also a former chef who spent twenty-five years tasting and cellaring wines. "I wouldn't call myself a 'wine expert. 'Wine expert' sounds like someone who's a little bit of an ass. Self-proclaimed ones anyway," he says.
There's been a lot of talk about the "democratization of wine" says Dal Piaz. "But most of that "democratization" involves pairing wine with forty-day-aged beef, which excludes the forty million people a day who eat fast food." The whole point of pairing the right wine with the right food is to improve and enhance the flavor of each. And that holds even when food is fast.
His audience is anyone who occasionally eats fast food, especially harried parents who love its convenience. Just because you're loaded down with kid-friendly take-out it's not a stretch to think that you might want an adult beverage to quaff with it. Dal Piaz discusses specific wines but says you're free to choose your favorite labels. Just pay attention to the type, i.e. Chardonnay, Riesling.
Something big and simple, like a California merlot stands up to a Big Mac's intensity, rush of flavors and creamy textures, he says. Prosecco, a dry, sparkling white wine is perfect for plain McNuggets. The wine doesn't overpower the nuggets and the nuggets' fat tempers the wine's acid, making it creamy. It's also his go-to wine for McDonald's fries. The wine's slight sweetness balances the fries' salt while the bubbles cleanse the palate.
Chardonnay's simple fruit and bright acid perfectly balance the flavor and texture of regular KFC. KGC (Kentucky Grilled Chicken), though, is a great showcase for pinot grigio. It's a simple, straightforward wine and, "KGC's subtle flavor doesn't obscure its fruit."
A crisp, fresh rosé works well with Chipotle's Chicken Burrito, but a Riesling, a German white wine is best. "The Riesling's rich and smooth and really stands up to the burrito," he says. "The intensities are well-matched."
Taco-type matters big-time. Riesling scored again with the Crispy Pork Taco, as the corn tortilla's sweetness matches the wine's sweetness. But the less-sweet Soft Pork Taco goes better with a pinot noir as, "it's not really sweet wine but its exuberant fruitiness gives the impression of sweetness."
A Whopper and an oak-y Chardonnay are a match made in heaven. "A total shock," says Dal Piaz. The mayo, fat and soft bun create a creamy texture that overpowers the meat but the chardonnay cuts through it all.
The richness, beefiness and smokiness of Burger King's Double Stacker with Bacon and Cheese, works especially well with Australia's Stump Jump. It's a big, jammy blend of Grenache, Shiraz (aka Syrah), and Mourvèdre grapes that "stands up to the Stacker's intense, simple flavors."
That there's a perfect wine for every dish is part of food and wine pairing dogma. Dal Piaz prefers to think that there's a perfect wine for every person. The only person you need impress is yourself. So go ahead and pair wine with whatever you want. And make even the simplest meal, a happy one.