Best pizzas in America 2012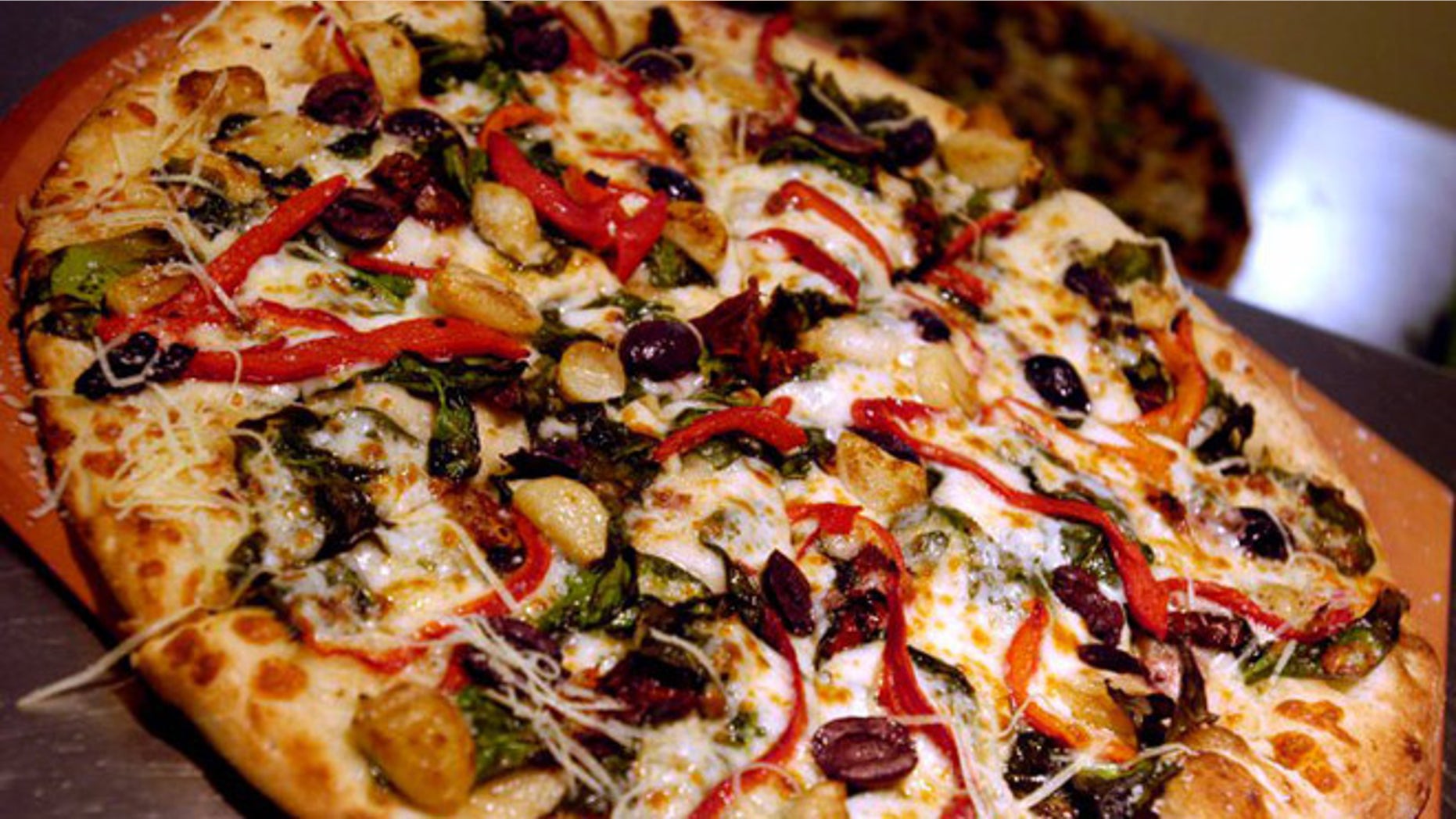 Pizza! If you grew up obsessed with it — postgame pizza, movie pizza, baby-sitting pizza, college pizza, pizza, pizza, pizza! — and followed that American passion for cheese, sauce, and bread with an adult pursuit of the best slice, the finest pie, the Platonic Neapolitan, then the idea of naming America's best is likely contentious.
"A best pizza list? I know pizza. That's not great pizza!" Yes, pizza is tough to rank responsibly. Consider that just years ago, The New York Times' then critic Sam Sifton said Motorino "serves the city's best pizza." It was enough to make you roll your eyes and call him out for knowing better, right? City's best? Not its best artisanal or Neapolitan pie? What about its best slice? And what is a "best" slice or pie anyway? After all, you could argue that great pizza can be many different things.
Given America's current love affair for Neapolitan pies, some might argue great pizza must meet the requirements of the Associazione Vera Pizza Napoletana, the international nonprofit founded in the 1980s by a group of pizzaiolos to cultivate and protect the art of making Neapolitan pizza. Their rules? Fresh tomatoes as long as they're San Marzano dell'Agro Sarnese-Nocerino D.O.P., Pomodorini di Corbara, and Pomodorino del Piennolo del Vesuvio D.O.P. Canned, peeled tomatoes (Pomodoro Pelato San Marzano dell'Agro Sarnese-Nocerino D.O.P.) as long as they're strained, broken up, and homogenized. And depending on whether you're making a Margherita or marinara, you ladle "sauce" (according to the organization's founder Antonio Pace, technically it's not a sauce) on and top it with oil, mozzarella or fior di latte, grated cheese, and basil; or just tomato, oil, oregano, and garlic.
Things get more contentious.
Maybe great pizza means the use of the freshest ingredients and seasonal toppings? Does it involve a structural integrity to the underlying dough that ensures you can lift a slice without experiencing droopage? Is it an airy, charred cornicione that makes even the most ardent crust-chucker certain not to leave one pizza bone behind? Must it employ artisanal sausage, or does old-school pepperoni count? Does it involve fresh mozzarella? Or just the expert scattering and sauce to cheese ratio of good old-fashioned, low-moisture aged mozzarella and sauce made from canned San Marzano tomatoes? Does a bar pie count? And how do you stack those up against deep-dish pies?!
These are all questions you could get lost debating for hours. For me, great pizza doesn't include deep dish. That's not pizza. It's a casserole for crying out loud. Great pizza is a thin-crust New York slice right out of the oven that you can fold and that keeps its structural integrity despite the generous cheese, sauce, and orange oil on top about to burn the roof of your mouth that you're compelled to bite into anyway. It's a bar pie topped with hot pepper oil at Colony Grill in Stamford, Conn., or Eddie's in New Hyde Park — pizza so thin that it's more like a hot cracker with your favorite toppings. It's the best renditions of Long Island's much-overlooked pan-crisped genre: the grandma pie. It's the charred, airy crust of Da Michele that inspires devotion and poetry, and the renditions in San Francisco, Los Angeles, Seattle, and New York City that aspire to and almost achieve that level of greatness. It's South Brooklyn Pizza (the East Village location), Little Vincent's incredibly saucy and bubble-crusted pie in Huntington, Long Island, Bianco's pistachio pie in Phoenix, and Great Lake's chewy crust in Chicago. For me, in its purest form, great pizza is fresh pizza: thin, cheesy, saucy, and with an airy bubbled crust. I could go on, but this isn't my list.
You could argue that all of these things should be taken into account when compiling a list. When it comes to pizza, there are so many nuances, there should be niche lists detailing the best in each category. The Daily Meal will take that approach next year. In 2012, we did the next best thing: we assembled a panel of experts across America, and asked them to vote for the country's best pies.
How did this list of 35 places come to be? The Daily Meal's editors racked their collective pizza memory. We consulted venerable texts and online sources, sought out old-school Formica-table joints and brazen newcomers alike. We carefully considered the stalwarts of the country's two pizza capitals, New York City and (cough) Chicago, but not so closely that we couldn't look beyond them. We ended up with a list of more than 140 places for pizza, most any of which, you'd be very happy with stopping in for a pie.
Knowing that it might still be possible to miss quite a few local gems across the country, we then asked each member of our panel to write in with five suggestions of their own. Altogether, we turned 140 places over to our panel and asked them narrow things down to five spots for each of seven regions: West Coast; Southwest and Texas; Midwest; South; Washington, D.C., Pennsylvania, and New Jersey; New England and Rhode Island; and yes, New York City.
There were hundreds of votes cast by a venerable panel of about 20 American chefs, restaurant critics, and pizza authorities, most of whom, besides the Los Angeles Times' Jonathan Gold and Chicago Magazine's Penny Pollack, requested anonymity. These are people who, like you (and us) live and die pizza. And you know what? The results are probably going to really bubble your crust, and burn your upskirt. That's just the nature of a list like this.
Panelists voted on places that you'd expect to make a best pizza list, like Bianco in Phoenix, Di Fara in Brooklyn, Pizzeria Mozza in LA, New Haven's Frank Pepe, and Una Pizza Napoletana in San Francisco. But they also put these places side by side with deep-dish pies in Chicago, and... wait, is that the jumbo slice from D.C? (Man, you've got to think that The Washington Post's Tom Sietsema and Tim Carman are going to be so mad.)

No $1-slice joints made the list. Neither probably, did several of your, or our favorites. Consider that in New York City alone, Roberta's, Kesté, Paulie Gee's, and South Brooklyn Pizza (that East Village outpost) didn't make the list. Neither did Pizza Moto (arguably, New York City's most underrated pizza — seriously, New York, how have you not acknowledged this as one of Gotham's best?).
That's the way these things go, until everyone can attest to having visited every reputable pizza place across the country. Below is the complete list of 2012's winners organized by region. Check out the slideshow for the countdown to number one. Think we missed a few great places? We're sure we did. Clue us in in the comments below and they'll be sure to be considered next year.
West Coast
Pizzeria Mozza, Una Pizza Napoletana, Gjelina, Flour + Water, A16
Southwest and Texas
Bianco, Pizaro's, Roppolo's, Antonio's Ristorante, Fireside Pies
Midwest
Gino's East, Great Lake, Spacca Napoli, Vito & Nick's, Pizano's
South
EVO, Monza, Scuola Vecchia, Anthony's Coal Fired Pizza, Reginelli's
Washington, D.C., Pennsylvania, and New Jersey
Osteria, 2Amys, DeLorenzo's, Jumbo Slice Pizza, Papa's Tomato Pies
New York
Co., DiFara, John's, Motorino, Joe's
New England
Frank Pepe's, Al Forno, Regina Pizzeria, Sally's Apizza, Santarpio's
Papa's Tomato Pies (Trenton, N.J.)
Lombardi's may generally be considered to be "America's first pizza," but as Nick Azzaro, owner of Papa's Tomato Pies, isn't shy about telling you, Papa's  — founded in 1912 — is actually America's longest continuously owned family-owned pizzeria. With so much tradition, Papa's had to make the list of 35 Best Pizzas in America, especially since this year Papa's celebrated its centennial anniversary. For Papa's, the family behind the pie is just as important as the slice, as the recipe has been passed down through generations.
The Azzaro family cooks up the made-to-order pies that can be customized in a variety of ways. Customers can choose from everything from garlic to mushrooms and pepperoni to meatballs, or add some anchovies for the extra kick. But for the Azzaro's it's the tradition that makes their restaurant unique. Speaking of which, for a Papa's original, check out their mustard pie.
Pizaro's (Houston)
This Houston pizza joint is inspired, like many others on this list, by the Neapolitan version from Italy. But what others can't boast is that Pizaro's pizza is made by Bill Hutchinson, a Neapolitan pizzaiuolo — an Associazione Verace Pizza Napoletana-certified pizza maker. Along with his wife and son, Hutchinson runs Pizaro's in an effort to bring the flavors of Italy to Houston.
The Italian government officially recognized Neapolitan pizza as a traditional food back in 1998 to preserve and continue the historic dish. They granted the style of pizza D.O.C (Denominazione di Origine Controllata) status to ensure that chefs adhere to the guidelines of what this pizza should be.
Spacca Napoli (Chicago)
Spacca Napoli stands out from the rest of the Chicago pizza pack due to its unique take on Neapolitan-style pizza. The restaurant has garnered a laundry list of accolades, from the 2012 Michelin Bib Gourmand Award to a 95 percent "like" rating on Zagat.
The pizza is consistently applauded for its authenticity, as owner Jon Goldsmith travels to and from Naples regularly to study the flavors of the region. The menu differentiates pizze rosse (made with traditional red sauce, tomatoes, and topped with olive oil) from the pizze bianche (made without red sauce and topped with olive oil). Customers can dine on the prosciutto e rucola, bianca con bufala, diavola, or salsiccia when they're looking for an expertly prepared pie.
Great Lake (Chicago)
You shouldn't plan on hitting Great Lake with a large group of your friends because the small space doesn't take reservations and only has enough seating for 12. Groups are limited to a maximum of four guests and seating is available at a first-come, first-served basis. Still, unlike some pizza pilgrimages, Great Lake's wait isn't unmanageable. The owners themselves will tell you it's actually a myth that you can't get seated.
But the Great Lake is very popular and for good reason. It uses meat and dairy products derived from pastured and humanely raised animals on family owned farms only. Their pies are known for their gourmet flair, and the cremini mushroom, Dante aged cheese, and black pepper pie is a customer favorite, as is their tomato sauce, Dante lamb cheese, and fresh herb pizza.
Al Forno (Providence, R.I.)
On South Main Street in the heart of Providence, R.I., Al Forno offers a quintessential Italian dining experience for those who can't afford the flight. Husband-and-wife owner-chefs George Germon and Johanne Killeen received the Insegna del Ristorante Italiano from the Italian government, a rare honor for Americans, attributable to their informed passion for pasta along with their invention of the grilled pizza. The restaurant bakes their pies in wood-burning ovens as well as on grills over hardwood charcoal fire. Their grilled pizza margarita, with fresh herbs, pomodoro, two cheeses, and extra-virgin olive oil is probably their most notable pie.
Pizzeria Mozza (Los Angeles)
Renowned baker and chef Nancy Silverton teamed up with Italian culinary moguls Mario Batali and Joe Bastianich to open Osteria Mozza, a Los Angeles hot spot where the famous clientele pales in comparison to the innovative, creative fare.
The pizzeria, which is attached to the main restaurant, offers a variety of Italian specialties, from antipasti to bruschetta, but the Neapolitan-style pizzas steal the show. Their list of 20 different pies ranges from $11 for a simple aglio e olio, a classic cheese pizza, to $24 for a more unique pie with squash blossoms, tomato, and burrata cheese.
DeLorenzo's Tomato Pies (Trenton, N.J.)
DeLorenzo's serves up some serious tradition with their pies — 65 years worth. Customers can top their small or large tomato pies by selecting from a range of different toppings including anchovies, artichokes, spinach, sausage, and pepperoni. DeLorenzo's also offers a clam pie, albeit one with tomato sauce. New Haven pizza purists, beware!
Osteria (Philadelphia)
Nominated for the best new restaurant by the James Beard Foundation in 2008 and winner of the James Beard Foundations best mid-Atlantic chef in 2010, Osteria has some super credentials, and quite a bit of hype to live up to. Marc Vetri, Jeff Michaud, and Jeff Benjamin conceived the idea while on a trip in Tuscany, and we're glad they followed through.
The pizza at Osteria is very traditional, with a gourmet twist, offering pies like polpo, made of octopus, tomato, red chile flakes, and smoked mozzarella, or lombarda, with baked egg, bitto cheese, mozzarella, and cotechino sausage for a creamy and mild flavor. And the wine list isn't half bad either, with more than 100 Italian wines to accompany your award-winning pie.
Sally's Apizza (New Haven, Conn.)
Sally's Apizza is a New Haven classic, operating from the same location where they opened in the late 1930s in New Haven's Wooster Square. Their pizza is traditionally thin crust, topped with tomato sauce, garlic, "mozz." The pies look pretty similar to what you'll find down the street at Frank Pepe, which any New Haven pizza believer will note is because the man who opened Sally's is the nephew of the owner of Pepe. The folks at Sally's will be the first to tell you that Pepe makes a better clam pie, but their tomato pie, well, they might have the original beat there.
Regina Pizzeria (Boston)
It may now sport some 20 locations, but the original Regina Pizzeria has been a local hot spot since 1926 when it first opened in the North End of Boston. Their pizzas are made from dough with an 80-year-old family recipe, sauce, whole-milk mozzarella, and natural toppings with no preservatives or additives, and all cooked in a brick oven.
They offer a variety of nearly 20 different pies, some made in a more traditional manner, while others, like the St. Anthony's pizza with regina sausage, sausage links, roasted peppers, and garlic sauce, are unique.
Flour + Water (San Francisco)
Although this San Francisco restaurant claims to specialize in housemade pastas, their pizza is nothing to scoff at. Baked in a wood-fired oven, the thin-crust pizza at Flour + Water blends Old World tradition with modern refinement, according to chef and co-owner Thomas McNaughton. Pizza toppings vary depending on what elements are in season, making each dining experience truly unique, but classics like the textbook Margherita (heirloom tomatoes, basil, fior di latte, and extra-virgin olive oil) and market-fresh salsiccia (sausage, nettles, caramelized onions, treccione cheese, and horseradish) are always available.
Anthony's Coal Fired Pizza (Various Locations)
Chef and company founder Anthony Bruno brings classic flavors with an urban spin to pizza lovers with Anthony's Coal Fired Pizza at his 34 different locations spanning Florida, New York, Pennsylvania, New Jersey, Delaware, and Connecticut.
The pizza is cooked at 800° in a coal-burning oven for a crisp crust that provides a "well done favor," the chain's trademark phrase. Unlike many restaurants on this list, Anthony's was inspired by Brooklyn-style pizzerias that value ambiance almost as much as the taste of the pie. Bruno opened his first location in South Florida and quickly expanded throughout the state before expanding nationally.
Reginelli's (New Orleans)
New Orleans is known for its gumbo and po'boys, but in 1996 the city was introduced to a soon-to-be local favorite with the opening of Reginelli's Pizzeria. Darryl Reginelli and Bruce Erhardt offer a varied menu that includes much more than pizza, but the pies are what keep people coming back.
"The goal of Reginelli's Pizzeria was to add some variety and sense of humor to the New Orleans 'eating out' experience," according to their website.
Customers start with either a 14- or 10-inch pie and can build from scratch what they want for their ideal pizza. Reginelli's offers nearly 35 toppings, among them: black olives, roasted garlic, artichokes, eggplant, goat cheese, gorgonzola, chicken, portobellos, and pancetta.
Monza (Charleston, S.C.)
The town of Monza houses an historic Italian speedway where every year since 1922, owners of the finest cars, from Alfa Romeo to Ferrari, drive around the curves of the 6.25-mile track. Monza in Charleston, S.C., feeds off the history of their namesake city to offer their handcrafted pies to city residents.
Monza uses imported San Felice wheat flour, Neapolitan yeast, and filtered and pH-balanced water to develop their version of the most traditional style pizza possible. The pies are baked in the wood oven at a sweltering 1,000°, allowing for a thin and crispy crust, and are topped with mozzarella with fresh and usually regional ingredients.
Co. (New York City)
Located in the heart of Manhattan's Chelsea neighborhood, Co. (pronounced Company) opened in 2009 in a competitive pizza market. With nearly a dozen different restaurants at every corner, Co. was up against some stiff competition. But these quality pies proved to have staying power. Jim Lahey, owner of Sullivan Street Bakery, opened Co. to offer his spin on Roman-style pizza to Chelsea residents, and focusing on the communal dining experience.
Co. serves up the traditional options but also offers pies with flare. The mushroom and jalapeño pie gives some kick, while the ham and cheese is almost decadent with pecorino, Gruyère, mozzarella, prosciutto, and caraway. And when Lahey goes egg? Order two.
Gino's East (Chicago)
Gino's may be the ultimate in Chicago deep-dish, with a history dating back nearly 50 years. The story starts with two taxi drivers and their friend, who became frustrated with rush hour traffic and decided to open up their own pizza place. Just off the famed Michigan Avenue strip in the heart of downtown, the restaurant has been considered a city mainstay since its conception. The walls of the restaurant are covered with graffiti, as it's a tradition of Gino's to carve your name on the wall if you're a dedicated patron.
Pies begin with a buttery crust that crumbles as soon as you take a bite, and it's then stuffed with a layer of fillings (ranging from sweet Italian sausage to pineapple), then topped with a more-than-healthy serving of mozzarella cheese, and finished with crushed vine-ripened tomatoes. Their success has led them to open 11 locations, even expanding into neighboring Wisconsin for all those cheese lovers.
Joe's (New York City)
Joe's Pizza is as synonomous with New York City as the Statue of Liberty or the Empire State Building. The infamous shop has placed in nearly every Best Pizzas list, including GQ's Top 25 Pizzas, Shecky's Best in New York, and New York Magazine's Best Pizza in New York.
The key to Joe's success is their traditional New York City-style pizza with thin crust, great sauce, and just the right ratio of cheese, sauce, and crust (just a bit less of the first two). Since 1975, Joe's has served tourists and residents alike, making it a truly iconic New York landmark. Everyone has a slice joint, but if the city were to have just one, this would be it.
Pizano's (Chicago)
With four locations and another one on the way, you know that Pizano's has a loyal fan following among Chicago's intense deep-dish market. But Pizano's offers both deep-dish pizza and a thin-crust version that many would claim to even make most New Yorkers happy.
For the deep-dish crowd, the restaurant offers the Rudy's Special, a pie that the restaurant requests guests' patience for in advance. This monstrous concoction, topped with cheese, sausage, mushrooms, onions, and green peppers, takes up to 30 minutes to cook all the way through.
John's Pizzeria (New York City)
Yes, John's of Bleecker is on the tourist rotation, but there's a reason this place has become such an institution. The pizza is cooked in a coal-fired brick oven, the same way it's been done there since 1929. You can choose from their available toppings (pepperoni, sausage, sliced meatball, garlic, onions, peppers, mushrooms, ricotta, sliced tomato, anchovies, olives, and roasted tomatoes), and you can scratch your name into the walls like the droves before you, but what you can't do is order a slice. Pies only, bud.
Motorino (New York City)
Some spaces are cursed. Others are blessed. When Anthony Mangieri shuttered Una Pizza Napoletana at 349 East 12th St. and headed out to San Francisco, Mathieu Palombino took over the lease, renamed the space Motorino, and the East Village pizza scene hardly seemed to skip a beat. In addition to the traditional varieties of marinara and Margherita pizza, Motorino offers a handful of more spirited pies, including one with cherry stone clams, and another with Brussels sprouts. (And while it has nothing to do with the quality of their pies, Motorino also happens to serve one of the best octopus appetizers in the city.)
Di Fara (Brooklyn, N.Y.)
Domenico DeMarco is somewhat of a local celebrity, having owned and operated Di Fara since 1964. Dom cooks up both New York and Sicilian-style pizza Wednesday through Sunday to hungry New Yorkers and tourists willing to wait on long lines, and brave the free for all that is the Di Fara counter experience. Yes, you're better off getting a whole pie than throwing down money on the $5 slice. Yes, it's a trek, and sure, Dom goes through periods where the underside of the pizza can trend toward overdone, but when he's on, Di Fara can make a very strong case for being America's best pizza. If you want to understand why before you make the trip, check out the great video about Di Fara called, The Best Thing I Ever Done
See all 35 of the best pizza's in America here
More from The Daily Meal
Guess That Food Product

America's Most Successful Chefs of 2012

The Best Restaurants for Reading and Dining

Mind-Blowing Pumpkin Dishes