Weird pizza ingredients that are hard to top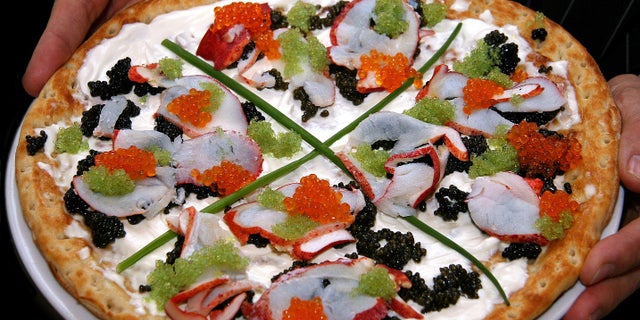 From crocodile to caviar, it seems pizza lovers will throw just about anything on top of their beloved pies. So pass on the pepperoni, make room mushrooms, it's time to tuck into some of the world's weirdest pizza toppings:
Caviar, caviar and more caviar
Topped with four of the world's priciest caviars, the "Luxury Pizza" will take a $1,000 slice of your savings. The decadent dish was the brainchild of New York restauranteur Nino Selimaj, who says well-heeled customers are quite willing to shell out for the prized pie. The four caviars involved are Imperial Special Reserve Persicus, Royal Sevruga, Alverta and Royal Transmontanus USA. And if that isn't opulent enough for you, it's finished with lobster tail, trout roe and wasabi.
Cookies, blueberry and shrimp
Cookies and shrimp sound like a match made in gastronomic hell, right? But hear us out because there's logic to this sweet and savory madness. The shrimp sits on the flat, cheesy expanse on the pie along with raisins, potatoes and pumpkin seeds, while the blueberry comes in the form of a dipping sauce. If you haven't figured it out yet, the Just Eat website points out you treat the shrimp as your entree then tear off the cookie crust and dip it into the blueberry for your desert. It's available in Mr. Pizza outlets across South Korea if you want a slice of the action.
Spiders, scorpions and snakes
One man's pizza is another man's poison for Swiss-based pizza chef Ismail Ertekin, who likes his pies laced with spiders, scorpions and snakes. The Croatian native believes tiny amounts of venom are harmless and takes his inspiration from homeopathic remedies. He even claims his poison-topped pies can cure people of arachnophobia. Sadly, you won't be able to sample them as health officials have banned him from serving the devilish dish at his Zurich restaurant. "Preservatives in foods are much more damaging than my poison pizzas," he protested to the Austrian Times.
Bacon-wrapped hotdogs and maple syrup
Take the most mouthwatering fast foods America has to offer, slap them on a pizza base, then drown the whole thing in a supermarket aisle's worth of cheese: we present to you the "Mega Pizza," a meaty monstrosity to render any nutritionist speechless. Available in Pizza Huts across Japan, it's loaded with hamburgers, sausage, bacon, bacon bits, mushroom, sliced tomato, onion, peppers and garlic chips. And in case you think the insanity stops there, the crust is stuffed with bacon-wrapped hotdogs and the whole thing is drizzled with maple syrup and ketchup.
Bananas and curry
If you're one of those folks who loves something sweet on your pizza, you'll feel like you've pied and gone to heaven with this banana-topped variation of the Hawaiian. The ham and pineapple are optional but the savory flavor -- curry powder -- is ever present. This dish is wildly popular in Sweden, where it features on many pizzeria menus and is seen as a routine taste combo. Even visiting diners seem enthused, and requests for the recipe are all over the internet. "I visited Sweden this past summer and I fell in love with the curry banana pizza that I had there," read a recent post on Yahoo! Answers. "It sounds strange but it tasted phenomenal."
Crocodile and kangaroo
The country that gave us Crocodile Dundee has now spawned the salt water crocodile pizza. The meat is thinly sliced and marinated in Thai herbs and spicy coconut cream to give it that extra bite. Snap up a slice at Sydney's Australian Heritage Hotel. The same venue also serves up pies topped with roast Peking duck, roast pork belly, and, you guessed it, kangaroo.