In Kansas City, Missouri everyone orders what's called burnt ends.
They are the most popular of Kansas City's barbecue offerings—the charred ends of a brisket, smothered in sauce and typically served up on white bread.
Today, you'll find burnt ends of pork, sausage and more at some of Kansas City's 100-plus barbecue restaurants, but the original dish stems back to the 1940s, explained Arzelia Gates, whose grandparents started Gates Barb-B-Q in 1946.
That storefront in what was then a segregated area of Kansas City has grown to six restaurants throughout the city. "We didn't want to waste anything," she explained, gesturing to a vintage sign that advertised snout and brains, along with barbecue.
Kansas City is famous for its barbecue style –slow-smoked meat over a variety of woods and then covered with a thick tomato- and molasses-based sauce –and also for having more barbecue restaurants per capita (roughly 100) than any other city.
"Kansas City is the epicenter of the barbecue universe," declares Carolyn Wells, executive director of the Kansas City Barbeque Society, which runs 500 contests around the world, including the world's largest, the American Royal, which attracted a record 618 teams to Kansas City last month. Wells said that several past winners of the American Royal now have popular barbecue restaurants in Kansas City, considered "the melting pot of barbecue styles."
She explained that barbecue traditions and methods from Memphis, Texas and the Carolinas have come together here to form the distinct Kansas City style. Barbecue chefs here use varied woods to smoke the meat (chefs in the Carolinas and Memphis typically use hickory while Texans opt for mesquite) and the sauce here is likely to be sweeter and slightly less spicy, though restaurants offer an extra spicy version.
You'll also have your choice here of chicken, turkey or mutton along with beef, sausage and pork. What really distinguishes one Kansas City barbecue restaurants is the blends of spices and the sauces, locals and aficionados say.
Figure a meal will cost you $10-$20. If you don't want a long wait on your barbecue crawl, go during off hours (1- 5 p.m.), Wells suggests, and pace yourself, opting for "sampler" platters to share, accompanied by a beer or the popular red crème or strawberry soda.
Here are six don't miss spots:
1. Arthur Bryant's Barbecue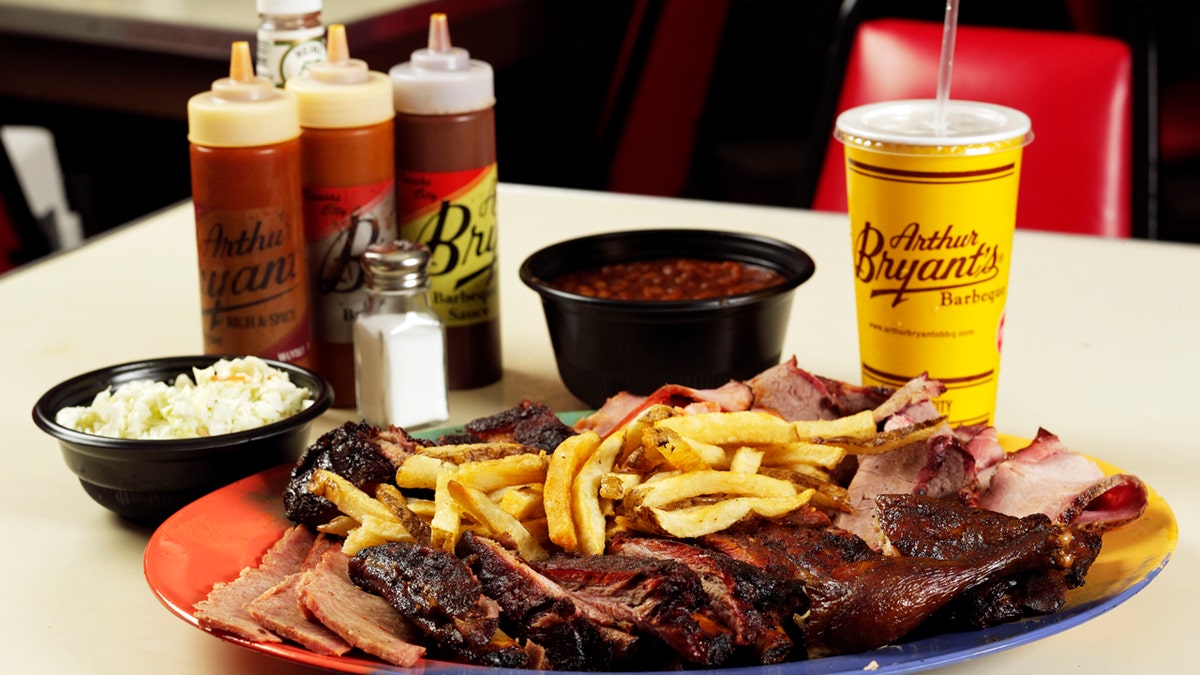 Arthur Bryant's Barbecue is the place where visiting candidates, presidents and dignitaries always stop --and the 1727 Brooklyn Ave. location has a wall of fame to prove it. Arthur Bryant, who died in 1982, took over the business in 1946 from his brother who learned from Henry Perry --the godfather of KS barbecue. He began serving slow-cooked ribs on pages of newsprint for 25 cents a slab in 1908. At Arthur Bryant's, you order at the counter and eat off a tray, though there is beer on tap. The burnt ends here were nice big chunks of meat doused in sauce and the perfect size to dip in Bryant's signature Original Sweet Heat and Rich and Spicy sauces. The fries and beans were hard to resist, as were the famous brisket sandwiches.
2. Gates Bar-B-Q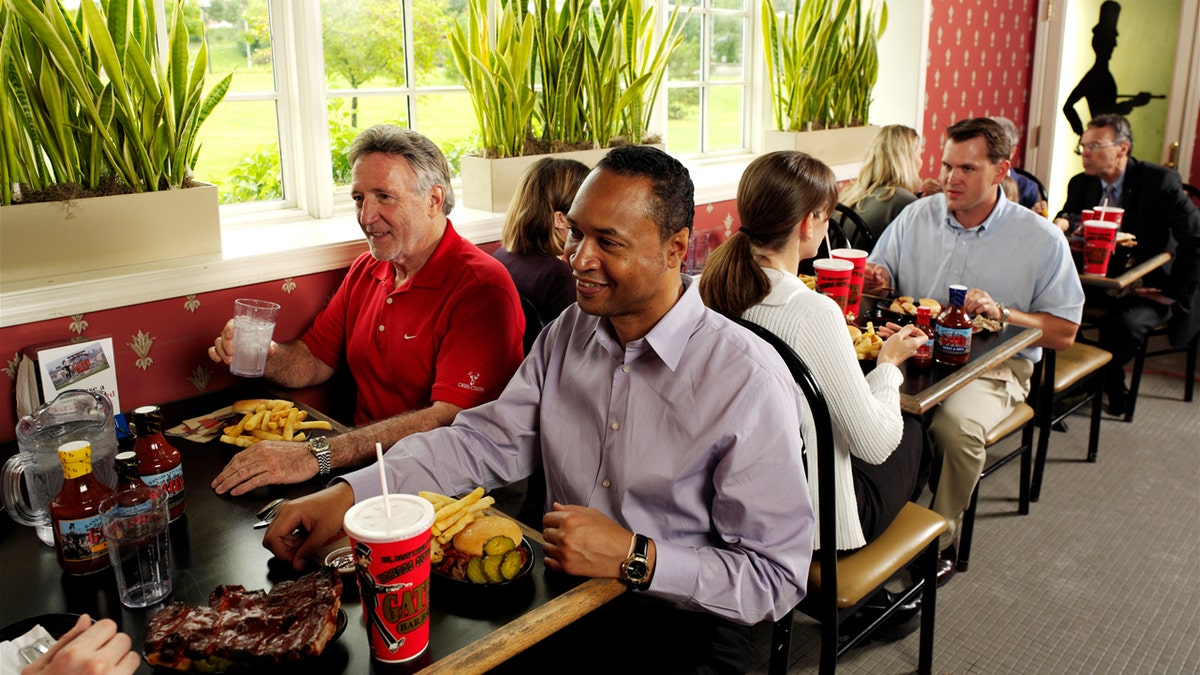 Gates Bar-B-Q is now run by the third and fourth generations in the family, though Ollie Gates, 83, still has his hand in it, said his daughter, Arzelia. Stop in at the Clover Boulevard and Paseo location to see vintage photos and a recreated storefront from the 1940s. Try their famous beef sausage—seasoned with the same spices as the rest of the barbecue, fantastic big ribs and of course, burnt ends served on a Hoagie. When Kansas City was segregated, Arzelia said, whites would flock to the area to eat barbecue and listen to jazz.
3. Joe's Kansas City Bar-B-Que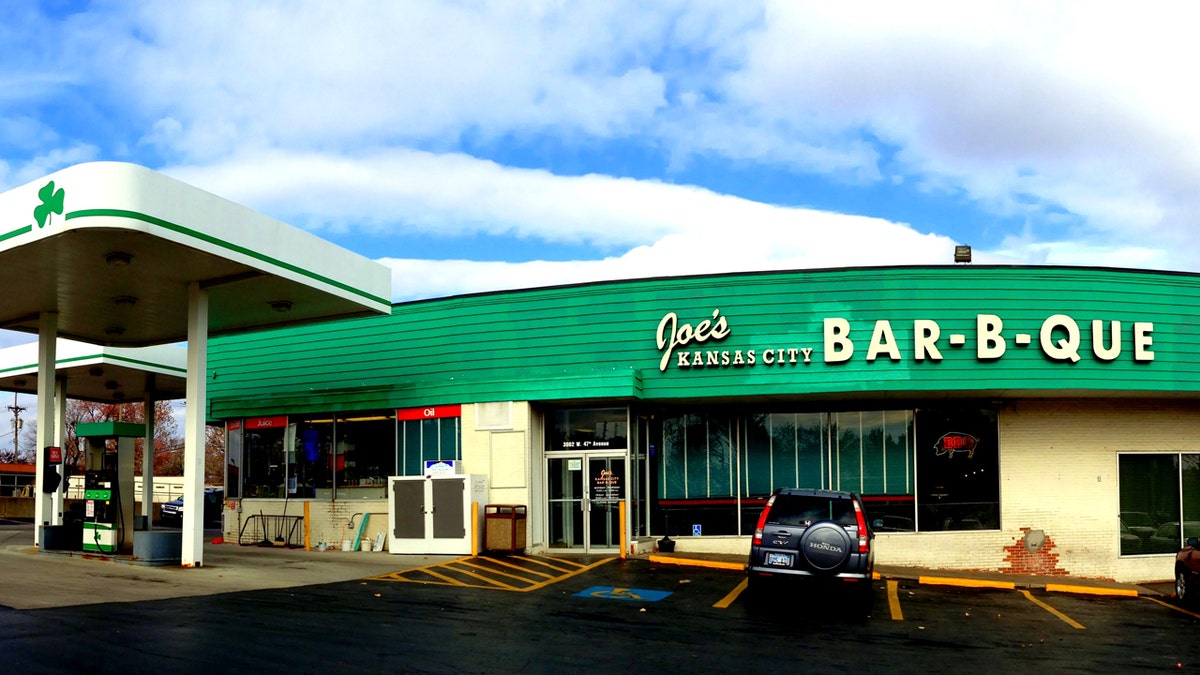 Joe's Kansas City Bar-B-Que is owned by Jeff and Joy Stehney, who headed a team that won many barbecue cooking contests, including the American Royal. Don't be surprised to find lines out the door at their first location in a gas station at the corner of 47th Avenue and Mission Road. USA Today declared theirs "America's Best Ribs" and their famous Z-Man sandwich (think slow-smoked brisket, smoked provolone cheese topped with onion rings) consistently wins kudos.
4. Q39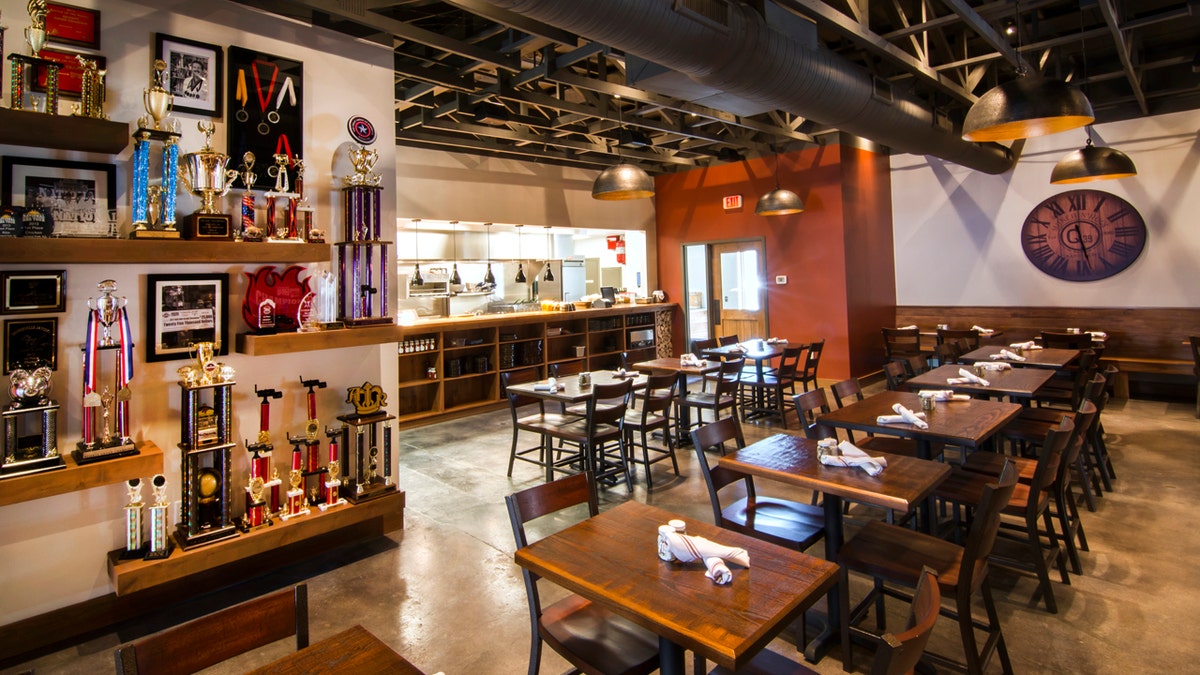 Q39 was also started by an American Royal winner, chef Rob Magee. His many trophies are showcased at the restaurant at 100 W 39th Street. This is an upscale spot with an open kitchen, outdoor garden with a fire pit, extensive craft beer and wine list-- and plenty of cocktail choices as well. Order one of the prize-winning plates with ribs, brisket, pulled pork, smoked chicken and sausage. Don't miss the apple coleslaw and beans or those burnt ends. No worries if you have vegetarians or those who don't eat meat in the crowd. This place also has veggie burgers, salads, mac and cheese, seasonal veggies and even cheese fondue served up with warm soft pretzels and apples. The kid's menu ($5.95) includes a "build your own barbecue sandwich").
5. Fiorella's Jack Stack Barbecue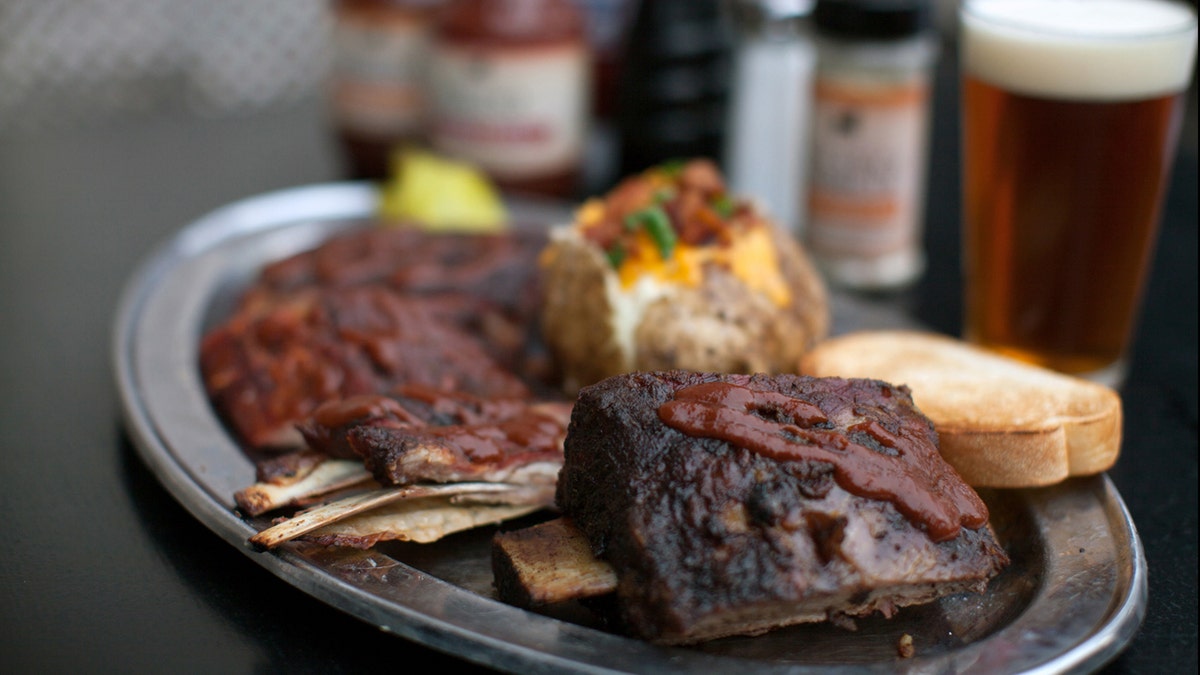 Fiorella's Jack Stack Barbecue began as a traditional barbecue storefront in 1957. By the mid 1970s, Jack Fiorella, the eldest son of the founder, began cooking gourmet meats and created the most extensive barbecue menu in the country. Today, there are five restaurants and the historic Downtown Freight House is considered the spot for business barbecue dinners with drinks like a Cucumber Jalapeno Margarita and Jack's Smokin' Mary. Consider the Crown Prime Beef or Lamb Ribs, burnt ends, or maybe a steak or grilled barbecue trout. They're famous for their cheesy corn bake and carrot cake for desert.
6. Char Bar Smoked Meats and Amusements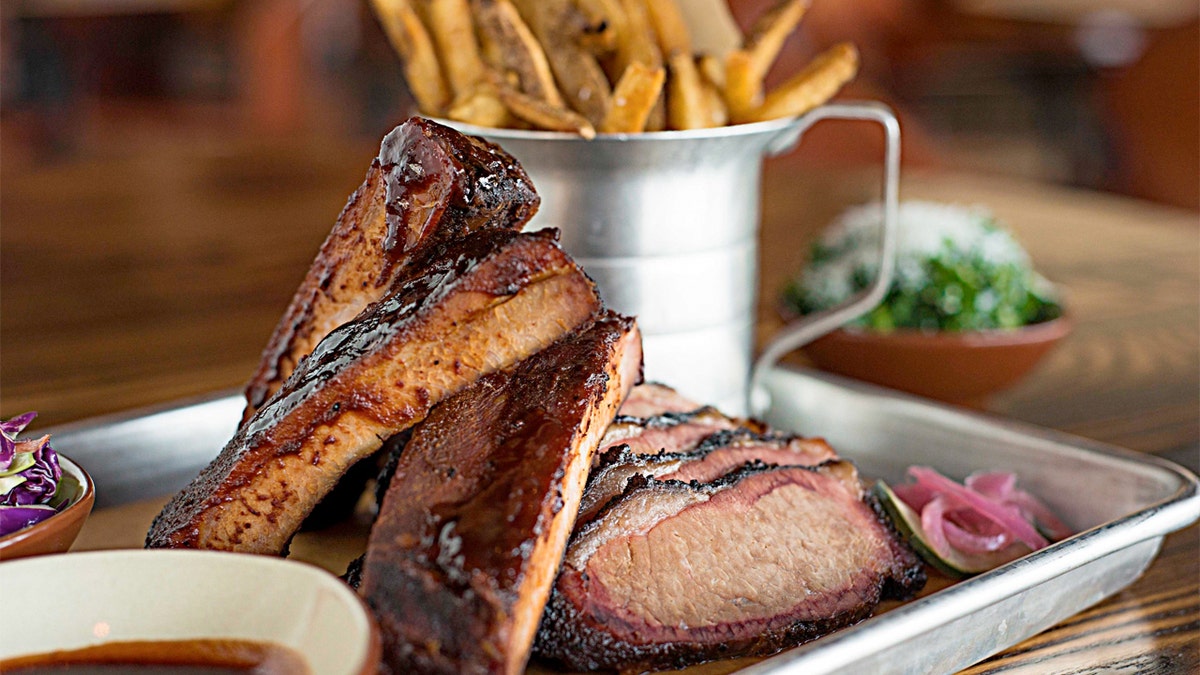 Char Bar Smoked Meats and Amusements is the place many locals go to watch their favorite teams on the big-screen TVs while chowing down on barbecue cooked "low and slow"—a combination of charring, smoking and grilling over wood. On the side is maybe a bourbon cocktail or beer. There's a big beer Garden where you can play croquet, bocce or ping-pong. Brunch on the weekends starts at 10 a.m. (cinnamon loaves, biscuits and gravy, poached eggs with burnt ends and hollandaise served up on a biscuit) and there's a Sunday Fried Chicken Lunch ($14 for a half bird with all the fixings). Chef Mitch Benjamin has won awards both for his barbecue and his "Meat Mitch" sauces, though there are plenty of options here too for the non meat-eaters, from smoked trout dip to beer-battered pickles and cheddar grits.