Best colleges for food in America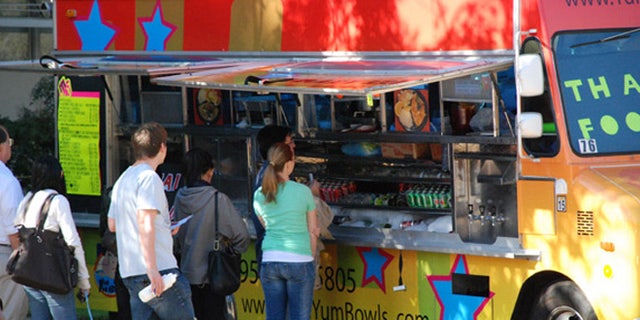 Ladies and gentlemen, welcome to the fall 2012 Semester.
By now, undergrads across America have moved into dorms, tossed the semester's first Frisbees on the quad, and played awkward ice-breakers on the first day of English 101. While making new friends, settling in, and paying attention in class are important pursuits, locating — and experiencing — the dining hall should be a top priority. And discovering which schools have the best ones has been ours.
This year, The Daily Meal went big, setting out to determine the best in campus dining across the nation — from small liberal arts colleges to Big Ten mega-universities. In an epic study that spanned the entire summer, we examined the dining programs at every four-year college in America — more than 2,000 of them. What we found was both frightening and impressive.
From blind taste tests to ensure the highest-quality products and locally sourced tofu to a schedule of rotating pan-Asian cuisine, when it comes to food at least, colleges are providing students with plenty to write home about. Many are even giving local restaurants a run for their money.
After connecting with surprisingly candid — and incredibly passionate — dining services directors, managers, and chefs, we learned that the evolution in college dining has birthed a few trends. Our version of CliffsNotes below:
• Today's undergrad is already educated about food when he or she arrives on campus
• He or she is generally interested in experiencing new spices, flavors, and cuisines — and wants the university to help this pursuit
• It's all about local, organic, and sustainable. Students want to know where their food is coming from, and more and more universities are happy to tell them
Our methodology? To come up with our list of the 52 Best Colleges for Food in America, we looked to several sources — college dining services awards, respected college lists like the Princeton Review, news stories, and our own interviews. Our focus was not only on the actual food, but schools' dining programs as a whole.
To narrow things down, we looked at a variety of factors. A few major trends prevented a large number of schools from even being considered for our list. Many schools failed to provide students with the most basic of options:
• Unsanitary Conditions or Health Code Violations: Students have found everything from thumbtacks to grasshoppers in their campus food. Completely unacceptable
• Lack of Variety: Certain menus listed the same meals each and every day, and many simply weren't healthy. Far less offensive, but still not OK
• Missing Service: The dining services teams at some schools appear to be far less accessible, and fail to create a community for students through food education and/or events.
To rank the schools that did make the cut, we graded them on a variety of criteria. Each could earn up to five points in each of the categories below.
• Healthy Food: Meals that are fresh, made from scratch, and cooked in small batches
• Events: Themed dinners, picnics, cooking classes — anything to engage undergrads
• Local: Programs that support the community with local purchases
• Sustainable: Incorporating eco-friendly practices into the dining program
• Accessibility and Service: How easy it is for students to connect with dining services, and how well they are taken care of
• The X Factor: Something that made our jaws drop
Where the occasional tiebreaker was required, the actual food — how good it is, how creative it is, how good the schools' students think it tastes — was the deciding factor.
While there's a clear hierarchy, we'd be happy to eat at any of the colleges on this list. The truth is that life can be pretty delicious if you're an undergrad. For example, campuses in Missouri, Maine, and Massachusetts are home to some stunning college food. And the Hokies, the Dukes, and the Big Red have it especially good.
Washington University in St. Louis, Mo., boasts tandoori ovens tended to by trained chefs from Pakistan and India; a Brunswick, Maine, college has an on-site bakery and meat shop; and Amherst, Mass., is the site of a food truck that sells burgers and tacos, seven days a week.

Hokies at Virginia Tech have the best of both worlds — multiple on-site gardens for the freshest of produce, and grills scattered around campus so students can BBQ on a whim. The dining services team at James Madison University, home of the Dukes, practically begs students for feedback, so they can make the program even better. At Cornell, undergrads can pick from more than 30 eateries, and have a team of trained chefs serving up meals that sound like Michelin-rated restaurant fare.
Our goal with this list is to highlight the most impressive, interesting, and plain-old fun elements of the dining programs we selected — so print out your class schedule, kiss summer vacation goodbye, and check out The 52 Best Colleges for Food in America.
Ohio State University (Columbus, Ohio)
With more than 20 dining options on campus, there's something for every craving. From eggs Benedict to blackened grouper to apricot-chipotle baked beans, the menu anything but dull. Gelato is available to students every day at EspressOH, and unique flavors are created for game days, which is a pretty sweet way to tailgate.
Oregon State University (Corvallis, Ore.)
Remodeled in 2010, the Arnold Dining Center provides students with plenty of options. Here, undergrads can wake up to cheese blintzes with berry sauce, break the day up with aloo gobi, and head to bed with a belly full of grilled salmon and cucumber. Not bad, right? Based in Corvallis, Ore., this university features a burger joint, a deli, a BBQ spot, an Italian caffè — and more!
University of Chicago (Chicago)
Vegetarian, vegan, kosher, halal, and gluten-free — UChicago's got it all. With three residential dining halls, 12 cafés, and two markets, this university certainly isn't lacking options. Each student is assigned a "house table" in one of the dining halls where they can share meals with friends.
Offering study-break orders for those unable to tear themselves away from the books, UChicago's menus include waffle bars, polenta with broccoli rabe and mushrooms, and Moroccan vegetable stew.
Want to "eat fresh"? The university has a Subway on campus, as well as Jamba Juice, Papa John's, and Einstein Bros Bagels — among other popular chains.
Committed to increasing the amount of locally sourced food on campus, the university also makes 25 percent of all retail and residential dining purchases from women-owned or minority-owned business.

College of William & Mary (Williamsburg, Va.)
Colonial Williamsburg is a great reason to head to this Virginia town, but we've found a tastier one: the dining halls at the College of William & Mary. Think chocolate-chip buttermilk pancakes, grilled Italian sausage with peppers and onions, and coconut-orange Asian noodle salad.
Engaging in "responsible procurement," this school uses herbs and spices from the dining hall gardens, offers fair-trade and organic coffee, and provides 100 percent recycled napkins in every dining hall. The college has been composting organic waste since 2010, employs trayless dining, and has a reusable to-go container program.
Colby College (Waterville, Maine)
What's the definition of local? For Colby College, it's using tofu made from soybeans grown less than 20 miles away. This Waterville, Maine, institution serves local, family-made Heiwa tofu, displaying its commitment to the community. In addition to buying local, the college also sends produce from its student-run garden, 2 Feet 2 Bedrock, to local food pantries — as well as on-campus dining facilities.
On the menu at Colby College: butternut squash and adzuki bean stew, meatball flatbread melt, and tomato grilled cheese. On the second Tuesday of each month, the dining halls will offer snacks at lunchtime to keep students energized throughout the day.
Vanderbilt University (Nashville, Tenn.)
Every March, the USS Rand, an imaginary cruise ship, travels the world to bring Vanderbilt students the best in food. To do this, the university decks out the dining hall with props, actors, and food stations.
"We allow [the campus chefs] to exercise their creativity," explains Camp Howard, director of Vanderbilt Dining. Other themed events have centered on Las Vegas and a Willy Wonka-inspired affair.
Keeping with the government's food guidelines, Vanderbilt's "menus and meals are really focused on the plate, rather than the stomach," shares Howard. What's featured? Sausage breakfast burritos, Texas Red chili, and chicken tikka masala. With a focus on community, Vanderbilt invites local farmers to chat with students over family-style meals. In addition, the institution donates food to the Dimas House, a local organization helping people recently released from prison get back on track.

University of San Diego (San Diego, Calif.)
With chefs trained at the Culinary Institute of America, Johnson & Wales, and the California Culinary Academy, it's no surprise this dining services program has been winning awards since 1992. The school's food truck, Torero Tu Go, serves up items like muffaletta sandwiches, grilled skirt steak tacos, and chicken skewers — and it won a National Association of College & University Food Services award this year.
Presenting a farmers market every Wednesday in the fall, USD dining services also hosts events like luaus, food fairs, and the chocolate dessert frenzy, which takes places on the 15th of each month — don't forget to mark your calendars.
Scripps College (Claremont, Calif.)
Ambrosia macaroons, cranberry Grand Marnier truffles, and filet mignon with prosciutto and mushroom tapenade — these are the things that Scripps College dining is made of. The school even posts the recipes online so students don't have to go without over breaks. Want in on the deliciousness? Click here, and see what you can whip up.
Sweet Deal: The Southern California women's college has a meal exchange with the other Claremont Colleges: Pomona College, Pitzer College, Claremont McKenna, and Harvey Mudd.
Mills College (Oakland, Calif.)
To this Bon Appétit-managed institution, sustainability is no laughing matter. The Tea Shop, a campus hub, presents students with bins for trash, recycling, and even composting — and serves items like chicken sandwiches and European-style chocolate.
Founders Commons, the main dining facility on campus, serves its all-you-care-to eat fare cafeteria-style. The Oakland college buys local — and lists the specific area or farm that items came from in the dining hall. Here, students are offered a variety of healthy options — even the salad bar presents various greens to choose from!
Brown University (Providence, R.I.)
Called "the Ratty" by students, the Sharpe Refectory is the dining hub of this Providence campus. Offering buffet-style dining, this spot is home to themed dinners several times a year, and doles out birthday cake on the last Fridays of each month.
Menu items include raspberry and white chocolate muffins, grilled Caribbean jerk chicken, and vegan roasted vegetable couscous. Observant Jewish and Muslim students: Brown's got your back. With plenty of kosher and halal dining options available, adhering to dietary laws is a no-brainer. Veggie lovers are also cared for with an exclusively vegetarian snack bar available in the evenings.
Reusable containers, farmer partnerships, and student composting are just a few of Brown's sustainability initiatives. The university also hosts a farmers market Thursdays in the fall that supports local food.
Duke University (Durham, N.C.)
Food truck fanatics, this is the university for you. Got a hankering for Korean barbecue, handmade pizza, or burgers? No need to leave campus. Duke features a variety of food trucks — and provides a Google calendar with times and locations — so students can get their favorite foods with ease.
With more than 30 eateries and delivery right to your dorm door — and an on-campus farm — the home of the Blue Devils is incredibly accessible. Another customer of Bon Appétit food management, Duke's menu items include breakfast all day, rotisserie chicken, and Asian stir-fry. The university also boasts a center for those with special diets, from kosher to Seventh Day Adventist.
Out late partying? Popular chains like McDonald's and Chick-fil-A are on campus for those in need of a greasy hangover remedy.

Emory University (Atlanta)
Tradition is huge at Emory, and that extends deep into the dining services philosophy. From the homecoming weekend barbecue to the Thanksgiving-inspired heritage harvest feast that highlights the season's produce, Emory strives to offer convenience, flexibility, and variety.
Kenny Hemmer, interim executive director of the Food Service Administration, is extremely proud of the dining facilities. Offering meals like lasagna, toasted grilled vegetable and balsamic sandwiches, and sushi, the university seeks to serve the freshest food possible. "It doesn't get shipped in every morning — it gets made here," says Hemmer of the sushi.
Home to chains like Chick-fil-A and Starbucks, the university recognizes the need to balance student wants with student needs. Emory's dining student task force illustrates the importance it places on customer feedback. "It's students talking to students about food," says Hemmer.
Pitzer College (Claremont, Calif.)
To silence your hunger pangs, this college serves lemon and dill salmon, Mediterranean bowtie pasta, and barbequed beef brisket, among other things. Based in Claremont, Calif., and managed by Bon Appétit, the main dining hall, McConnell, hosts theme nights like Mongolian Mondays, Wild Card Wednesdays, and Farm to Fork Fridays. From comfort food to a custom, cooked-to-order station, there is plenty to love at this school.
University of Pennsylvania (Philadelphia)
Forget to put National Peach Cobbler Day on your calendar? Penn's got an event for that. And for National Pretzel Day. And for many other days you've probably never heard of.
Run by Bon Appétit, a food management giant that emphasizes fresh, sustainable food, Penn's dining strives to employ the farm-to-fork philosophy. With on-site farmers markets and celebrity chef book signings, this institution takes its food very seriously.
Featuring five residential spots and seven retail locations, the campus has plenty of places for starving undergrads to get their munch on. What's on the menu? Omelettes made to order, fried chicken with garlic mashed potatoes and green beans, and roasted eggplant.
Bryn Mawr College (Bryn Mawr, Pa.)
If you crave special events, this Pennsylvania-based college may be the answer to your prayers. Each semester is packed with events like the Milkshake Mania lunch, where students can create their own milkshake, or the French Peasants lunch, which serves up assorted cheeses, breads, grapes, and sparkling cider. Dave Chase, the associate director of Dining Services, says the college is proudest of the high quality and integrity of the overall program, which is run by 55 full-time employees, 300 student workers, and 12 managers or supervisors. "What sets us apart is the innovative approach we take to ensure we are progressive in meeting the needs of our overall campus community," he explained. The philosophy seems to be working: Bryn Mawr is consistently ranked in the top 10 on Princeton Review's best college food list.
Harvard University (Cambridge, Mass.)
With events like "Top Chef Harvard," a competition between dorms to see which can create the best dish using only the ingredients found in the dining halls, this university makes food fun. So what's on the menu? Cage-free eggs cooked to order, tomato quiche, and quinoa and vegetable jambalaya, just to name a few. Vegetarian, vegan, local, and organic items are all available.
With 13 undergraduate dining halls, a kosher kitchen, and 14 retail spots, Harvard is certainly is no slouch when it comes to options. Thanks to a podcasts announcing each week's menu, it's pretty easy to plan ahead in Cambridge. Those on the meal plan can place orders online up to a week in advance.
Heading off campus? The Crimson will even pack you a lunch, just like mom used to — sans the handwritten napkin note. Linked to each collegiate's ID number, the system keeps track of each student's food preferences.
Middlebury College (Middlebury, Vt.)
Director of Dining Services, Matthew Biette, has been told by many students that the food at Middlebury was the deciding factor when debating between schools. On the enticing menu are dishes such as vegetable tempeh stew, seasoned crispy cubed fries, and fiery lentils.
"Most of our food is made from scratch," says Biette, who has been with the university for nearly 15 years. "We have people with pride and the culinary ability to create many different cuisines. And, if we have someone with a special need, we cook for them separately as they need it."
Employing 86 staffers in three different dining rooms, (including a bakery and a laundry operation), the Vermont college really places an emphasis on the origins of food. It buys local for everything from eggs to maple syrup, and seeks to educate students about the economics of food. Created by a former student, the food mapping project at Middlebury allows students to "visualize connections to their food system in a fun and compelling way." Featuring favorites like the chicken Parmesan dinner, it shows the campus community exactly where their food comes from. Very cool.
Kennesaw State University (Kennesaw, Ga.)
If cranberry cornbread muffins, vegetarian pho soup, and Louisiana seafood gumbo sound like your thing, this Georgia school may be just right for you. Gary Coltek, the director of culinary and hospitality services, shares that freshness is a top priority. "Everything we do is in small batches — we cook nothing in advance." Incredible, considering the number of colleges that rely on heat lamps to keep food palatable.
Campus dining is run by about 250 people, and gets rave reviews from students. With 132 countries represented on campus, dining services is eager to get recipes from home to incorporate. Organic vegetables are used, and the meat — beef, pork, lamb — all come from single source farms.
In addition, the university puts together events like Sundae Sunday, the KSU famers market, and a lunch celebrating the cuisine of India.
On the evolution of college dining, Coltek says, "…the Food Network has made our business a sexy business." He explains that students know what they want to eat, and that KSU strives to teach them where their food comes from.

Gettysburg College (Gettysburg, Pa.)
Let's play a little Jeopardy. Answer: Swordfish steaks with lime butter over orzo, served with asparagus; Hawaiian chicken; and grilled zucchini gratin are all found at this Pennsylvania institution of higher learning. Question: What is Gettysburg College?
Gary Brautigam, dining services director, confirms that the demand for healthier options has increased over time: "More recipes are cooked to order not only at action stations, but the actual procedures in the kitchen are designed to prepared in smaller portions at a time. Today's menu items must include as many healthy choices as comfort foods. Students are eating healthier — it is that simple."
Made up of about 60 people, the dining services team is committed to doing a great job and reaching out to students, says Brautigam, who started more than 20 years ago as executive chef, before moving up the ranks to his current position.
He shared that the most popular dinner event at Gettysburg College is the Thanksgiving meal, where each table of 10 to 12 guests is served an entire turkey to carve — yum. We can see why more than 2,000 people attend, and why the dining services team gets compliments all the time.
Future plans: a food truck set to be unveiled on campus in November.
University of Massachusetts Amherst (Amherst, Mass.)
Pork carnitas with raisin and poblano crema. Irish coffee bread pudding with Kahlúa sauce. Gold rush tomato fennel soup. Yes, this is but a sample of what UMass has to offer co-eds. Fun fact: As long as their child is on the meal plan, parents can eat with them for free in the dining hall.
For social butterflies, this university hosts several events each semester. Last May students enjoyed the Spring Fling BBQ by filling their bellies, then burning off the calories by playing Dance Dance Revolution in the quad. Another event from last semester — Thanksgiving in April, which featured local items like apple cider, squash bisque, and of course, roasted turkey.
By bringing in guest chefs to featuring ingredients like blueberries and avocados, this college works to make food both tasty and fun. Oh, and they have Baby Berk — a food truck that features burgers and tacos seven days a week.
Tufts University (Medford, Mass.)
"We serve a butternut squash bisque that is practically legendary, and our Magic Cookie Bars have quite a following!" says Patti Klos, the director of dining services since 1992. Other menu items include tortellini with sun-dried tomatoes, bourbon baked ham, and quiche Lorraine.
Committed to both the local and sustainability movements, this Massachusetts-based university buys produce from family farms within the New England area, and serves sustainable fish like wild Alaskan salmon, tilapia, and others. Tufts also uses 100 percent cage-free eggs in the dining centers, and does not serve veal.
In addition to hosting about 30 events in the dining centers each year, Tufts presents a farmers market filled with the goods from the School of Nutrition's sustainable nutrition project, every Wednesday through mid-October. Offering items like kale, hot peppers, and basil, the market is home to special events like cooking demonstrations by chefs with featured ingredients.
So what's Tufts secret to success? "We're not only responsive, but we strive to anticipate the needs of our customers and then exceed their expectations," says Klos. "We set our standards high and continuously work to improve on them, regularly raising our own bar."
Cornell University (Ithaca, N.Y.)
"We work hard to ensure that dining at Cornell is more than a meal — it's an experience," said Karen Brown, director of campus life marketing and communications for the university. Want to see the best of campus dining via video? Cornell presents CU in the Kitchen, a series that highlights the food, people, and things that set Big Red's food service apart from the rest. Think of it as Food Network, but hyper-local.
Big on student engagement, the university hosts events like "A Night at Hogwarts," which featured British cuisine, butter beer, and chocolate frogs. On a more typical day, students can dine on pancakes and sausage, Ethiopian vegetable stew, and pork stuffed with apples. The Ithaca- based institution has more than 30 eateries.
Cornell offers promotions to encourage students to jump on the sustainability bandwagon. If you buy a mug on campus, you can get a large coffee, tea, or hot chocolate for the price of a small one. What's next? "Two goals for the coming year are to offer more late-night dining options, and to communicate with our customers better using social media and smartphone technology," Brown suggested. Expect a new eatery in partnership with the Cornell Dairy as well.
UCLA (Los Angeles)
The dining services team at UCLA — which is made up of close to 700 people — is nothing if not committed to both the students and their products. Proof: Dining services managers here teamed up with "Bruins for Animals" and went vegan for a week to really understand the reality, and help them improve dining options.
Roger Pigozzi, UCLA's assistant director of dining and a corporate chef, did it for 90 days a couple of years ago and says it made him re-evaluate every recipe, and think about ingredients differently. It paid off — in 2012 UCLA won the PETA Award for most vegan-friendly university.
If you are still not sold, Pigozzi once gave his card to a student with instructions to call his cell directly, if there were any issues with food service. True story.
Pigozzi, who has been with the university for 10 years, is passionate about culinary training and recipe development. Practicing "just in time cooking," dining staff are sautéing, slicing, and grilling "as the customers come in," shares Pigozzi. "Our timeline is that nothing can sit there for more than five minutes," he adds. How is this possible? Attention to detail — and people with headsets.
The school aims to use the best quality ingredients at every turn, and make ethnic food as authentic as possible via student panels and field research.
Not to be missed: FEAST in Rieber Hall features a rotating pan-Asian menu that offers Chinese, Japanese, Thai, Vietnamese, Korean, Indian, and Hawaiian fare. Two cuisines are highlighted every night, and the facility has created more than 1,500 new recipes in only two years.
Washington University in St. Louis (St. Louis)
From moonlight breakfast to barbecues to "Dine with a Dietician" classes, this university goes the extra mile to provide students with the best of the best, hosting five to 10 events per week. Want to learn how to roll sushi? Check out Studio 40, an open kitchen where students can take cooking classes, meet with chefs, and watch demonstrations.
Run by food management giant Bon Appétit, WU's dining features dishes like blueberry crepes, vegetarian chorizo and potatoes, and orange pork stir-fry, with vegan, kosher, and halal options available. Two years ago, the university opened the new Bear's Den, a facility with authentic food concepts, including two tandoori ovens tended to by trained chefs from Pakistan and India.
Jill Duncan, director of marketing and communications for Bon Appétit Management at Washington University, told TDM that the school's sustainability measures set it apart from the pack — specifically regarding its conversion of waste oil to biofuel, the composting of food scraps, and the commitment to local food.
Attention to student feedback is another source of pride. "We have a very open communication environment and our managerial team is extremely visible and interactive with all of the students," said Duncan.
Bowdoin College (Brunswick, Maine)
Consistently ranked at or near the top of Princeton Review's "Best College Food" list, Bowdoin College in Brunswick, Maine, serves up dishes like massaman beef curry; roasted summer vegeetable and havarti panini; and roast loin of pork with Dijon, mushroom, and onion ragout. Most dishes are cooked in small batches to keep the food fresh for each and every student.
"Being a small college with 1,750 students, we are able to make dining a very personalized experience for our students. They know that when they walk through our doors they will find good food, good friends, and likely someone who knows their name and how they like their eggs!" says Michele Gaillard, the associate director of Operations and Dining Service-Administration, who has been with the college for 11 years.
"We're emphasizing regional cuisine and local foods, including hundreds of pounds of produce, herbs, and fruit that we harvest from our own organic garden," she adds. Fresh produce from The Bowdoin Organic Garden (everything from kohlrabi to watercress) is also available at on-campus farmers markets each season, and items from each harvest are donated to a local charity.
What's more? The on-campus bake shop and meat shops allow the college to ensure the highest level of quality. For students and faculty who crave the fare when home on break — the dining hall recipes are available online. Yeah, the food is that good.
At this college, food transcends the dining facilities. "We partner with student organizations to present theme meals and often work with faculty and academic departments to make our menus relevant to what's being presented in the lecture halls," says Gaillard.
Virginia Tech (Blacksburg, Va.)
This Blacksburg, Va., campus boasts an award-winning dining plan. No stranger to the National Association of College & University Food Service awards — the Academy Award of collegiate dining — this university features dishes like whole-wheat penne pasta with sun-dried tomatoes, sautéed chicken breast, prosciutto, and gorgonzola.
Want to discuss existentialism while you break bread with your philosophy professor? There's a way to do just that: VT's "Dine with Faculty" program allows students to take a faculty member out to eat on the university's dime once per month.
Passionate about sustainability, VT is home to the Farms & Fields Project, a venue that is completely local, sustainable, and organic. On the menu: apple chutney and Cheddar panini — organic Granny Smith apples with onion, red-wine vinegar, brown sugar, orange peels, fresh ginger, and local cheese served on locally made organic bread. In addition, VT dining partnered with the Virginia Tech Meat Science Center and serves meats produced and processed on campus. Um, wow.
For those with a green thumb, The Dining Services Garden at Kentland Farm is a great place engage in the community while growing the fruits and veggies that fuel Hokies. If you are more of a carnivore, VT has several outdoor grills for student use on campus. Undergrads can buy food and charcoal for a fun, backyard barbecue with their Flex Dollars.
This university topped our list for its incredible food, student engagement,and commitment to all things local and sustainable. It truly exceeded our wildest expectations for college dining.
See all 52 colleges with great food here

More from The Daily Meal

35 Best Pizzas in America

Best Cheesesteaks Outside of Philly

20 Instagram Photos That Are Actually Good

The Best Restaurants for Reading and Dining