America's top universities for food lovers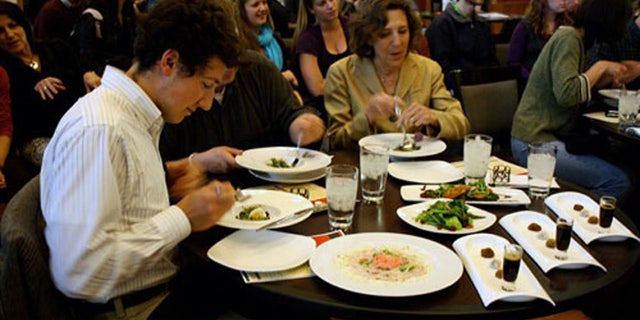 It's that time of year — anxious high school seniors around the country are hovering by their mailboxes praying for big, thick envelopes from the colleges of their dreams. Deciding which school to attend is one of the most important — if not the most important — decisions a teen will make. It's complicated. It's nerve-racking. And it's about to get a lot easier.
To help with the decision-making process, The Daily Meal re-ranked the nation's top colleges and universities (according to U.S. News & World Report's 2012 list) based solely on their food options. You're welcome.
College food, often compared to prison fare, is now becoming increasingly sophisticated and healthy. Gone are the days of mediocre pizza and limp salad, as universities are stepping up their game when it comes to dining services, even providing vegan meals. Universities today boast nutrition analysis, sustainable food initiatives, and even podcasts of the week's menu. Yes, podcasts.
To even the playing field, we compared 10 elements. Are nutrition facts available online? Score. Is it impossible to keep kosher? Move down a notch. Simple, right? This survey of university food services looked at the following: variety of cuisine; presence of chefs on staff; sustainability efforts; the availability of nutrition facts and ingredients information; options for those requiring kosher, halal, gluten-free, and vegan meals; food-related events; and the ability to order food online.
After careful study, here is a ranked list of the top-notch dining accommodations at the nation's most prestigious institutions. So grab a notebook, sharpen a pencil, and check out America's Top Universities for Food Lovers.
#1 Washington University in St. Louis (Originally #14)
From moonlight breakfast to barbecues to "Dine with a Dietician" classes, this university goes the extra mile to provide students with the best of the best, hosting five to 10 events per week. Want to learn how to roll sushi? Check out Studio 40, an open kitchen where students can take cooking classes, meet with chefs, and watch demonstrations.
Run by food management giant Bon Appétit, WU's dining features dishes like blueberry crepes, vegetarian chorizo and potatoes, and orange pork stir-fry, with vegan, kosher, and halal options available. Two years ago, the university opened the new Bear's Den, a facility with authentic food concepts, including two tandoori ovens tended to by trained chefs from Pakistan and India.
Jill Duncan, director of marketing and communications for Bon Appétit Management at Washington University, thinks the school's sustainability measures set it apart from the pack — specifically regarding its conversion of waste oil to biofuel, the composting of food scraps, and the commitment to local food.
Attention to student feedback is another source of pride. "We have a very open communication environment and our managerial team is extremely visible and interactive with all of the students," explains Duncan.
#2 Massachusetts Institute of Technology (Originally #5)
What has more than 30 food spots, including dining halls, restaurants, cafés, and food trucks? MIT's campus, that's what. The university uses Bon Appétit, the food management company dedicated to sustainably raised and regionally sourced food. Vegans rejoice! Bon Appétit's commitment to quality means that produce is typically prepared and served within 48 hours. Kosher, halal, vegetarian, and vegan options abound. For those who prefer to cook their own grub, MIT has "Cook-for-Yourself Communities," located in seven residences. The university also has a weekly produce market.
From decorating cupcakes to pigging out at the late-night nacho fest, there is an event for everyone. Offering food-related events every day, MIT helps undergrads celebrate international cuisine with the "Taste of the World" series, which features the food of a selected country on a rotating basis. Every Thursday, the university offers cooking classes for those known to burn water.
On tap: Chocolate chip pancakes, chicken in coconut red curry sauce, and truffled roast beef with buttered leeks.
#3 Northwestern University (Originally #12)
The Evanston, Ill., campus has six dining facilities that serve up eats like Western scrambled eggs; peanut butter, bacon, and apple sandwiches; and Tuscan kale salad.
Passionate about student engagement, the university hosts events like Moroccan Dinner and Reggae Night Dinner. "Last quarter we hosted our Global Chefs, chef Tomo Irsic from Slovenia and chef Joachim Suarez from Columbia for a week. They cooked menus from their cuisines in each of the dining halls," says Steve Mangan, managing director of Sodexo and Northwestern University's food service partnership.
Northwestern is also home to a branch of The Campus Kitchen, an initiative that helps students give back to the community by preparing meals and sharing them with the less fortunate. The university works toward sustainability by recycling its cooking oil and using bio-degradable bags on campus.
Predictions? "I've been telling my team that the next five years will be taking us back to the future, as we see more local, seasonal, fresh, simpler, and tastier menus and products come back into the marketplace," says Mangan. Sounds delicious.
#4 Cornell University (Originally #15)
"We work hard to ensure that dining at Cornell is more than a meal — it's an experience," says Karen Brown, director of Campus Life Marketing and Communications for the university. Want to see the best of campus dining via video? Cornell presents CU in the Kitchen, a series that highlights the food, people, and things that set Big Red's food service apart from the rest. Think of it as Food Network, but hyper-local.
Big on student engagement, the university hosts events like "A Night at Hogwarts," which featured British cuisine, butter beer, and chocolate frogs. On a more typical day, students can dine on pancakes and sausage, Ethiopian vegetable stew, and pork stuffed with apples. The Ithaca- based institution has more than 30 eateries.
Cornell offers promotions to encourage students to jump on the sustainability bandwagon. If you buy a mug on campus, you can get a large coffee, tea, or hot chocolate for the price of a small one. What's next? "Two goals for the coming year are to offer more late-night dining options, and to communicate with our customers better using social media and smartphone technology," hints Brown. Expect a new eatery in partnership with the Cornell Dairy as well.
#5 University of Pennsylvania (Originally #5)
Forget to put National Peach Cobbler Day on your calendar? Penn's got an event for that. And for National Pretzel Day. And for many other days you've probably never heard of.
Run by Bon Appétit, a food management giant that emphasizes fresh, sustainable food, Penn's dining strives to employ the farm-to-fork philosophy. With on-site farmers markets and celebrity chef book signings, this institution takes its food very seriously.
Featuring five residential spots and seven retail locations, the campus has plenty of places for starving undergrads to get their munch on. What's on the menu? Omelettes made to order, fried chicken with garlic mashed potatoes and green beans, and roasted eggplant.
#6 Vanderbilt University (Originally #17)
Every March, the USS Rand, an imaginary cruise ship, travels the world to bring Vanderbilt students the best in food. To do this, the university decks out the dining hall with props, actors, and food stations.
"We allow them to exercise their creativity," explains Camp Howard, director of Vanderbilt Dining, of the campus chefs. Other themed events have centered on Las Vegas and a Willy Wonka-inspired affair.
Keeping with the government's food guidelines, Vanderbilt's "menus and meals are really focused on the plate, rather than the stomach," shares Howard. What's featured? Sausage breakfast burritos, Texas Red chili, and chicken tikka masala. With a focus on community, Vanderbilt invites local farmers to chat with students over family-style meals. In addition, the institution donates food to the Dimas House, a local organization helping people recently released from prison get back on track.
#7 Princeton University (Originally #2)
"When I arrived at Princeton in 1992, we had one chef. Today we have 15 chefs in our campus kitchens," says Stu Orefice, director of dining services.
The home of the Tigers hosts themed dinners and holiday meals throughout the year. According to chef Brad Ortega, "These meals allow us to produce and present our product in a manner that is fun for staff and students. For us, these meals typify the idea of the breaking of bread being an enjoyable social experience."
The focus is always on quality. Princeton offers dishes like chocolate French toast, corn bisque soup, and Brazilian roast chicken.
Menus indicate which foods are vegan, which contain pork, and even label the level of carbon emissions for each item. As of February 2012, the university began providing ice cream, juices, and jams that are free of high-fructose corn syrup.
And the crown jewel? The Visiting Chefs Program, which features a re-creation of a chef's restaurant fare, served buffet-style. Past participants include: Ditka's, Tribeca Grill, and Smith & Wollensky.
#8 Duke University (Originally #10)
Food truck fanatics, this is the university for you. Got a hankering for Korean barbecue, handmade pizza, or burgers? No need to leave campus. Duke features a variety of food trucks and provides a Google calendar with times and locations so students can get their favorite foods with ease.
With more than 30 eateries and delivery right to your dorm door, the home of the Blue Devils is the most accessible campus on this list. Another customer of Bon Apptit food management, Dukes menu items include breakfast all day, rotisserie chicken, and Asian stir-fry. The university also boasts a center for those with special diets, from kosher to Seventh Day Adventist.
Out late partying? Popular chains like McDonalds and Chik-fil-A are on campus for those in need of a greasy hangover remedy.
#9 Stanford University (Originally #5)
Stanford can't be beat when it comes to community outreach. The university donates leftover food to the community's underserved residents, hosts holiday meals for those in need, and employs part of the staff from Abilities United, an organization for people with developmental and physical challenges.
Serving 3 million meals per academic year, Stanford's dining accommodations include 11 dining halls and 22 dining locations. Sample menu items include sweet potato bisque, meat lovers calzones, and dill-roasted carrots and parsnips. Vegetarian and vegan options are available, and the university has instituted a pilot program for kosher dining that offers dinner three times per week.
The university even encourages students to play with their food. Stanford's annual "Cardinal Cook-Off" lets students compete in an Iron Chef-like format using main ingredients like halibut and tofu. Think you have what it takes to compete?
#10 Dartmouth College (Originally #11)
Cod steamed in soy ginger broth, baked eggplant with miso dressing, and steamed Jasmine rice. Sounds like restaurant-quality fare, right? Nope, just dinner at Dartmouth, where vegetarian, vegan, halal, and kosher food is readily available. In fact, the college does all of the catering for the local synagogue.
Featuring guest chefs two or three times per term, and hosting a community picnic at the beginning of the year, Dartmouth knows who its audience is. Dave Newlove, director of dining services, is proud of the service provided. "We work for the student," he says of the 400-person staff that includes students and special needs employees.
Dartmouth has six main dining spots, and recently renovated one — Class of 1953 Commons — for a staggering $28 million. A gift from the class of 1953, the facility was originally built in 1927 and was ready for a makeover, according to Newlove.
Menu options include bacon, egg, and cheese biscuits; lemon-pepper salmon with roasted red potatoes and veggies; and artichoke and roasted pepper pizza. An online menu lists nutritional info, and an allergen filter allows students to customize the meal options to fit their needs.
Click here to see more top universities for food lovers.
More from The Daily Meal:
12 Most Bizarre Pizza Toppings
America's Greenest Restaurants