Ben & Jerry's signs agreement promising to improve pay, working conditions of its dairy farmers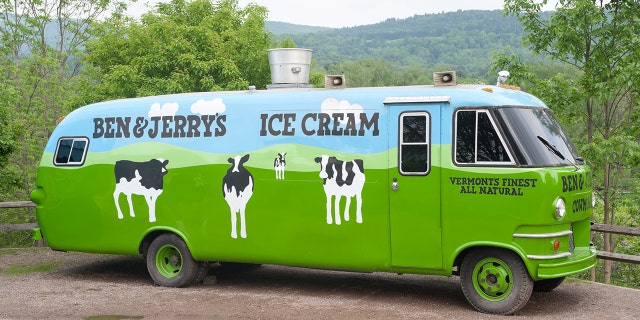 Ben & Jerry's is promising to improve the pay and working conditions of the dairy farmers who provide milk to the Vermont-based company — but it comes more than two years after they initially expressed interest in doing so.
The ice cream makers and the Migrant Justice Group announced on Tuesday that they had signed an agreement in support of the new Milk With Dignity Program, a worker-driven initiative to bring together farmworkers, farmers and dairy buyers to ensure just and dignified working conditions in Ben & Jerry's dairy supply chain, according to a press release.
BEN & JERRY'S BANS SAME-FLAVOR SCOOPS TO PUSH MARRIAGE EQUALITY, TWITTER IS SUPPORTIVE, CONFUSED
The agreement comes several months after dairy workers and activists marched to the Ben & Jerry's factory in Waterbury, Vt. to protest what they say were "slow negotiations" in reaching the Milk With Dignity deal, and more than two years since the company initially agreed to implement the campaign.
According to the Will Lambeck of Migrant Justice, Ben & Jerry's had first committed to work with Migrant Justice in 2015 to implement changes to their supply chain, but had not not actually implemented any of the programs as of the April 2017
"In 2015, the commitment that was signed [between Ben & Jerry's and Migrant Justice] was a commitment to work with Migrant Justice to implement that program in their supply chain, and that's what they've yet to do," said Will Lambek of Migrant Justice in an April 2015 statement to Huffington Post.
A 2014 survey of about 170 dairy workers in Vt., many of whom tend to be undocumented migrants, found 40 percent didn't get a day off and 40 percent weren't paid a minimum wage. They often worked grueling schedules that didn't allow for more than a few hours of sleep at a time and were living in substandard housing.
The new agreement, however, requires Ben & Jerry's to acquire its milk from farms that adhere to the standards of the Milk With Dignity program, which ensures workers are paid at least $10 an hour, Vermont's minimum wage. Workers will also be guaranteed one day off a week, at least eight consecutive hours of rest between shifts and housing accommodations that include a bed and access to electricity and clean running water, New York Times reports.
"It's an agreement that puts the worker in charge of workers' rights," he said. "It's a worker-led movement, but it's a very clever system. It's a system that really does create a win, win, win," said Jostein Solheim, Ben & Jerry's CEO.
The workers, who will be informed of their rights, will help uphold the program. They are encouraged to report any violations to a 24-hour hotline, according to the Times.

FOLLOW US ON FACEBOOK FOR MORE FOX LIFESTYLE NEWS
But while Ben & Jerry's has committed to sourcing 100 percent of its dairy ingredients through this program "over a period of years," it won't affect the purchase price of the final product. Stolheim said the extra money paid to farmers would not result in more expensive ice cream and the company will absorb the cost as a part of doing business.
Associated Press contributed to this article