Beer lover sues Pabst Brewing Co., says he was 'deceived' by false advertising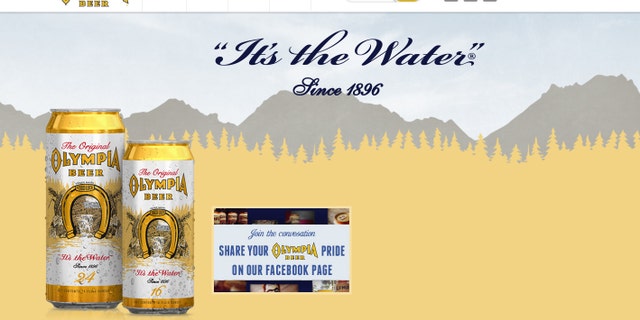 The Olympia Brewing Company frequently boasts about "the water" it uses to brew its namesake beer, but one man from Sacramento says their claim doesn't hold any.
Brendan Peacock, 37, has reportedly filed a lawsuit against the Pabst Brewing Co. — which owns Olympia — over what he believes to be misleading advertising and false implications about the beer's ingredients, the Sacramento Bee reports.
SEE IT: BEER AD PULLED FOR 'VILLIFYING' REDHEADS
According to the lawsuit, Peacock says he purchased some Olympia beer in April 2017 after being "deceived" by the brand's advertising, which suggests Olympia is brewed with water from a spring near Tumwater, Wash. He subsequently learned that the beer is, in fact, brewed with water derived from the city of Irwindale in California's San Gabriel Valley.
"It is unclear where the water is actually from," reads the lawsuit, per the Bee. The court documents also say the San Gabriel Valley's water supply had "been contaminated by industrial solvents in the past," a claim backed up by earlier EPA reports.
PRINCE HARRY AND MEGHAN MARKLE ARE GETTING THEIR OWN 'ROYAL WEDDING' BEER
Olympia's website, meanwhile, describes its product as containing a blend of "nature's finest raw materials from the fields of the Great Northwest" as well as "pure mountain water and golden barley." The site's "History" section also boasts about Olympia founder Leopold F. Schmidt, whot "first discovered the artesian spring near Tumwater Falls," and thought, "with this water, I believe I can brew better beer than ever."
The Pabst Brewing Co. was not immediately available for comment.
This also isn't the first time that Peacock, described in the lawsuit as "a beer, and craft beer, consumer," has taken umbrage with a beer brand's advertising.
In April 2017, he filed a lawsuit against the 21st Amendment brewery for suggesting its beer was made in San Francisco's Bay Area, when some is actually brewed in Minnesota. That particular case is being settled, though details of the settlement were not immediately available, the Sacramento Bee reports.
FOLLOW US ON FACEBOOK FOR MORE FOX LIFESTYLE NEWS
Olympia Brewing was founded in 1896, but was acquired by the Pabst Brewing Company in 1982 for just under $70 million. Olympia's operations were subsequently moved from Tumwater to Irwindale.