Barbecue staples go beyond burgers and ribs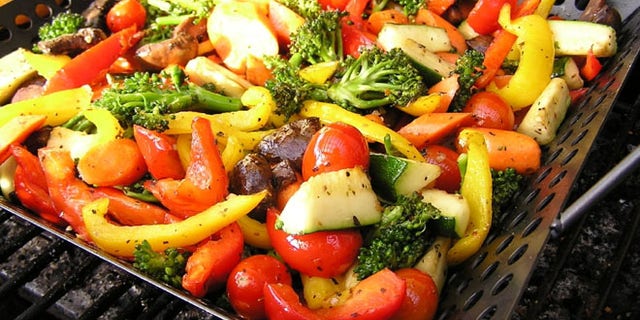 Summer is the perfect season to pop open a cold beverage, feel the cool breeze on warm nights and enjoy conversation with close friends. It's also the perfect time to serve some delicious and fun barbecue food.
Cheeseburgers
The burger is the ultimate barbecue food. If you aren't serving burgers, your gathering doesn't truly qualify as a barbecue!
In addition to American cheese, give your guests a plethora of options: blue, pepper-jack, gruyère, asiago, Gorgonzola, provolone, goat, cheddar, Swiss, brie and mozzarella.
Likewise, don't settle for lettuce and tomato -- offer a variety of toppings: mushrooms, hot sauce, crab meat, steak sauce, onion rings, mayonnaise, ketchup, avocado, mustard, friend egg, barbecue sauce and grilled onions.
If you really want to wow your friends, offer a few different types of bread. There are many delicious kinds other than the standard bun that will distinguish your barbecue from the rest this summer: pretzel bun, brioche loaf, sourdough loaf, dark rye, french bread, kaiser roll, Italian roll, potato roll and ciabatta roll.
Vegetables
Barbecues are usually a red meat affair, but make sure you give your guests other options, for vegetarians and the health-conscious.
Anthony Meidenbauer, corporate executive chef for Block16 Hospitality in Las Vegas, thinks that nothing beats a basket of farm fresh vegetables from the local farmers market, grilled over high heat with olive oil, sea salt and fresh cracked black pepper. One of his favorites is Casar salad with grilled romaine lettuce.
"Romaine is a perfect lettuce to grill," he explains. "Just slice the heads in half and brush with olive oil -- the key is having a very hot and clean grill."
Fish
As with vegetables, all kinds of fish can contribute to an excellent barbeque, though many people don't think of it.
"Don't be afraid to stray from burgers and hot dogs," chef Eric O'Neill from Smart Kitchen.com suggests. "There are many, many items that can be grilled. I love all sorts of fresh seafood on the grill, including oysters and fish wrapped in banana leaves."
Sweet potato fries
Sweet potato fries live up their name. Cover them in Cajun spices to give them a serious kick. They are also the perfect supplement to the above entrees.
Homemade ice cream sandwiches
If you save room for desert, homemade ice cream sandwiches will do the trick. They are easy to make. First bake cookies as you usually would, only try your best to make them rectangular rather than circular. If you would prefer you can always use store-bought cookies.
Robin Ross, the associate director of Kraft Kitchens, said, "Wrap them individually and place in the freezer over the weekend. On the day of the party, you'll have a decadent dessert ready to go."
Use your imagination
After you have the barbecue staples down, think of different ideas to make your party different. Not many things are off limits. Ribs, fruit, cornbread, deviled eggs, grilled chicken and kebab can all make this summer a little bit better.