Baker creates life size 'Fifty Shades' Christian Grey cake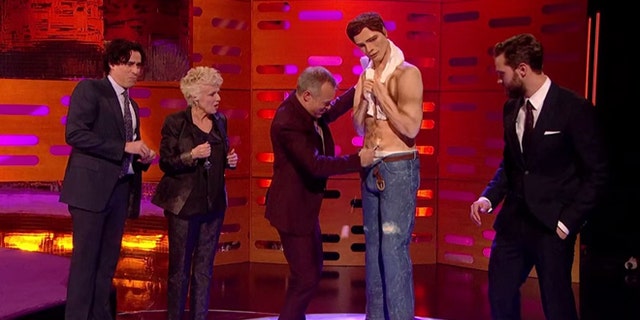 NEWYou can now listen to Fox News articles!
Hope you like your frosting whipped.
It was only a matter of time before the world got a taste of Jamie Dornan, the star of steamy blockbuster "Fifty Shades of Grey."
Baker Rosie Dummer of Rosie Cake Diva assembled a mini army of cake makers create a life size, edible version of Christian Grey, the billionaire financier with a sexual appetite for whips and chains of the popular E.L. James series. The cake version of Grey stands shirtless and ready for action with his belt unbuckled and zipper slightly come undone. It also comes complete with handcuffs and a set of edible licorice whips.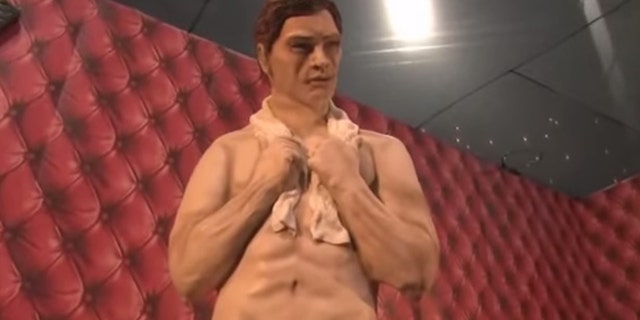 The behemoth pastry was created for the Cake International Baking Show and took four bakers almost three weeks to complete. Standing six feet tall, the cake is constructed of 10 rectangular cakes, shaped into a body form. Dummer estimates she used over 55 pounds of flour, 340 eggs and 440 pounds of sugar paste to decorate the smooth exterior.
The creepy yet massive structure has been making the Internet waves among hungrily loyal fans, before finally landing on the U.K.'s "Graham Norton Show" where it was presented to an awe-struck Dornan.
After cutting into the structure's pristine abs, Dornan gingerly took a bite while the show's audience laughed.
"How do you taste?" asked fellow show guest, actor Stephen Mangan.
"Better than I imagined," the Irish actor replied.