Avocado thieves steal $300K worth of fruit from California ripening facility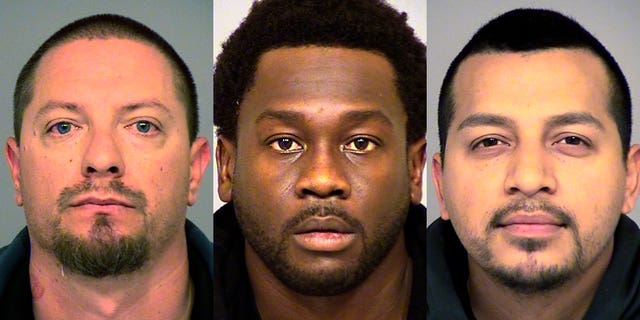 NEWYou can now listen to Fox News articles!
Given that the price of avocados has skyrocketed in recent months, it no wonder a few criminals in California started dealing in black-market avocados.
Three workers at the Mission Produce ripening facility in Oxnard, Calif. have been arrested and charged with grand theft of up to $300,000 worth of avocados, says the Ventura County Sheriff's Office.
The men — 28-year-old Joseph Valenzuela, 30-year-old Rahim Leblanc and 28-year-old Carlos Chavez — had reportedly been conducting unauthorized cash sales from the facility itself, perhaps for several months.
SHOPPER FIND BULLET LODGED IN AVOCADO
According to the Los Angeles Times, Mission Produce recently began delivering avocados to its customers — rather than having customers pick them up — but some clients continued to show up at the facility for their shipments. Seeing an opportunity to make a few quick bucks, the thieves simply continued to conduct the transactions and pocketed the cash, says Mission Produce president Steve Barnard.
Barnard believes they were offering the avocados at a discounted rate of $20 or $30 per box, when they normally go for around $50. All total, the company estimates its losses at about $300,000.
Barnard says surveillance footage confirmed his suspicions. The men were arrested by the Ventura County Sheriff's Office on Wednesday.
FOLLOW US ON FACEBOOK FOR MORE FOX LIFESTYLE NEWS
"We take these kinds of thefts seriously," Sgt. John Franchi told the Los Angeles Times. "It's a big product here and in California."
Valenzuela, Leblanc and Chavez are being held in jail on bail of $250,000 each.
The Associated Press contributed to this report.