Australian restaurant facing backlash for hanging dead cow from ceiling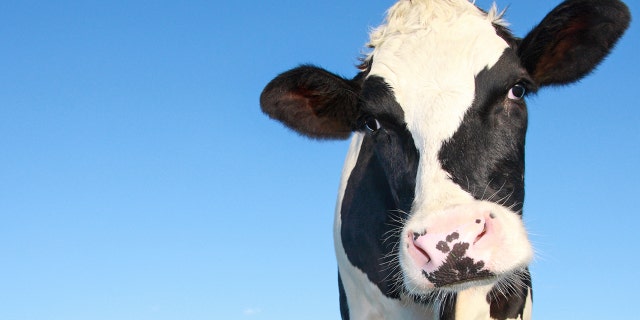 A pizza restaurant in Australia is facing backlash for displaying a taxidermied cow to promote a conversation about eating animals.
"Schvitzy" hangs by her hooves from the ceiling at Etica Pizza in Adelaide. The owners of the restaurant say the display "is purposely confronting" and that the installation "aims to draw a connection to the true consequence of consuming dairy."
While Etica serves both meat and dairy products, the restaurant claims they come from farms with the "highest welfare standards."
PIZZA HUT WORKER SAYS HE WAS SUSPENDED FOR DEFENDING STORE IN AN 'OLD-FASHIONED GUNFIGHT'
But not everyone agrees with the restaurant's mission. Many are outraged by the display, demanding it be removed. People have expressed criticism on the restaurant's Facebook page, and a woman in Fla. even started a petition to have Schvitzy taken down.
"This is unspeakable, atrocious, and shocking to see. It is a grand display of the cognitive dissonance in our society and creates a space for people to get more comfortable with the death and torture of other species. This is obscene and we wish for them to take her down ASAP," the petition reads. As of Wednesday afternoon, it had over 5,000 supporters.
FOLLOW US ON FACEBOOK FOR MORE FOX LIFESTYLE NEWS
Etica addressed the attention Schvitzy has garnered, posting a photo of the cow (presumably Schvitzy) when she was alive on social media.
"Our purpose is to educate consumers on the origins of our food. It is designed to make consumers stop and think about the realities of the dairy industry," the restaurant wrote. "The project highlights information that is not readily available to consumers. More broadly, it is a challenge to the way in which our society tends to obscure from the origins of food."