Army veteran's BBQ truck goes up in flames, but he says 'the fire will not win'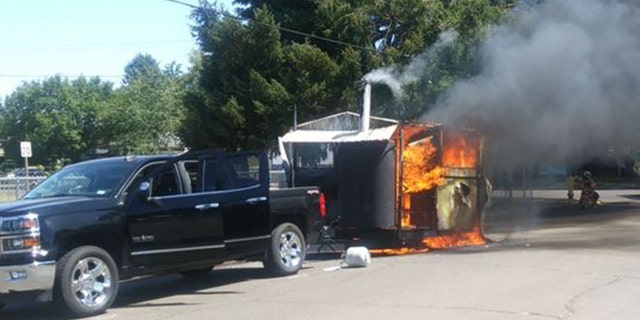 An Army veteran and his wife refuse to let their barbeque dreams go up in smoke in the wake of a devastating fire that destroyed their mobile food trailer and livelihood.
On July 15, Jason and Julie Lorraine, the proud owners of Squatchy's BBQ, were driving to a food truck rally in Stayton, Ore., when they noticed smoke rising from their BBQ trailer hitched to the back of their four-door Chevy pickup truck.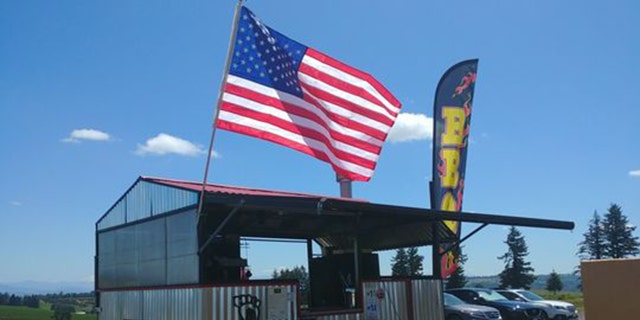 "I originally thought I could put it out with the fire extinguisher, but the minute I got out of the truck I realized, that's not gonna work," Jason later told the Statesman Journal of the scary scene. "I grabbed whatever I could think to grab out of the truck, our phones, our cash," before realizing "I just had to stand there and watch it burn."
RESTAURANT FACES BACKLASH AFTER SHAMING TEEN WHO PAID BILL WITH QUARTERS
Seconds later, the trailer and attached grill, smoker and miscellaneous equipment ─ including refrigerators, slow cooker and signs ─ went up in flames. Though Jason was able to unhitch his truck from the blazing trailer, the vehicle itself sustained damage as well, the Journal reports.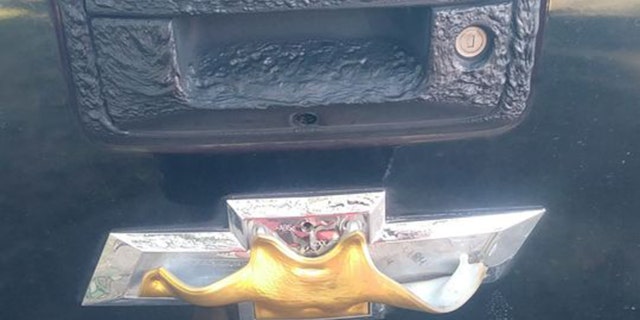 "Unfortunately, the entire thing was so consumed with fire that there was no discernible source," Silverton Fire District Assist Chief Ed Grambusch told the outlet, further divulging that the fire was ruled as non-suspicious.
Though it's not yet been a year since the Oregon family launched their business, Jason doesn't have high hopes that insurance will be able to cover all of the damage.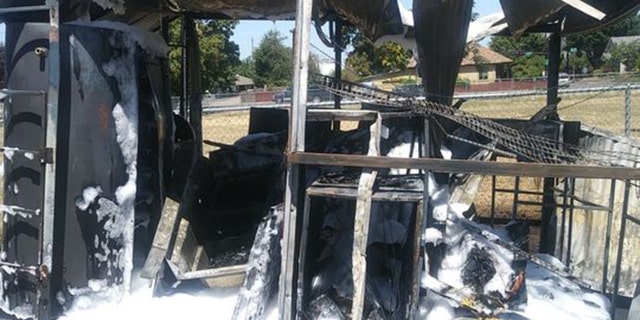 "The amount of loss is going to be way greater than the trailer itself ... when you're building a food truck you don't think about the amount that goes into it ... you don't picture it going up in flames," the Army vet mused, noting that the smoker, slow cookers, and all other equipment within the trailer will likely not be covered.
FOLLOW US ON FACEBOOK FOR MORE FOX LIFESTYLE NEWS
The fire comes as a devastating blow to the Lorraine family, after beginning the business upon Jason's retirement from military service. He served for 20 years, completing four tours in Iraq and Afghanistan, before retiring in 2016. Now, his two teenage daughters have enlisted — Kelsey, age 19, is in the Air Force, while Courtney, age 18, leaves for basic training for the Army next week.
"Now, we're left without a trailer or any way to make money and the time frame to build a trailer and get it inspected or anything," Jason mused.
Fortunately, friends of the Lorraine family and Squatchy's have started a GoFundMe page, which has raised nearly $5,000 of a $25,000 goal as of early Wednesday afternoon.
As evidenced by the comments section of the crowdfunding page, fans of the affectionately nicknamed "Squatch Shack" are eager to help them get back on their feet.
"So sorry this has happened to you!! For now this is what I have to donate but I will be doing more when I can!" one supporter wrote.
"Vets helping Vets," another agreed.
As the Lorraine's wrote in a Facebook post detailing their story — "The fire will not win. Squatchy's will rise again!"