America's favorite burger chain is no longer In-N-Out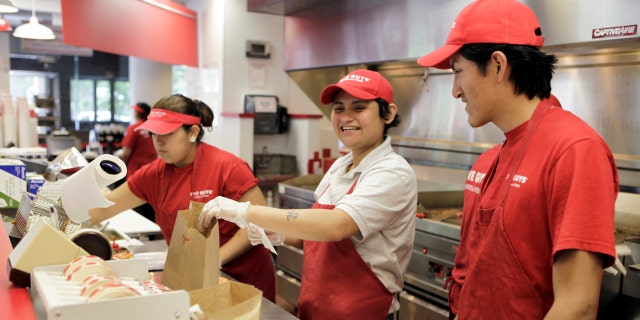 Five Guys has unseated In-N-Out for the title of America's favorite burger restaurant brand.
In The Harris Poll's annual EquiTrend Study, the Virginia-based burger company triumphed over the West Coast chain with a cult like following. In-N-Out, which only has locations on the West Coast and in the Southwest, has held the coveted title for two years.
5 THINGS YOU DIDN'T KNOW ABOUT FIVE GUYS BURGERS
"The burger brand category has become less fragmented, as regional brands expand and become available in more parts of the country," Joan Sinopoli, vice president of brand solutions at The Harris Poll, said in a statement.
"This is certainly the case with Five Guys, who has shed its 'small regional player' designation as it expands its footprint and marketing budget along with its fandom, which is a tremendous contributor to brand equity."
The study asks respondents to rate brands based on familiarity, quality and how likely they are to consider buying its food.
Though McDonald's earned the top ranking for familiarity, overall, the world's largest fast food chain by revenue ranked seventh, behind Shake Shack, Wendy's and even Whataburger. Burger King, Jack in The Box and Carl's Jr. didn't crack the top 10 list.
FOLLOW US ON FACEBOOK FOR MORE FOX LIFESTYLE NEWS
Five Guys, which first opened its doors in 1986, in Arlington, Va. is best known for its straightforward burger offerings with limitless toppings and fresh-cut fries cooked in peanut oil.
As the chain has expanded over the years, the EquiTrend study says Americans' familiarity with the brand has grown as well. In 2013, just 48 percent of survey respondents said they were familiar with Five Guys. Four years later, that figure is at 68 percent among all survey respondents , while 81 percent of millennials said they knew about the chain.
Five Guys, which is now headquartered in Lorton, Va., now has over 1,000 locations in the U.S.
America's favorite burger restaurant brands, 2017
1. Five Guys Burgers and Fries
2. In-N-Out Burger
3. Shake Shack
4. Wendy's
5. Culver's
6. Whataburger
7. McDonald's
8. SONIC America's Drive-In
9. Smashburger
10. Steak 'n Shake