America's best potato chips you've never heard of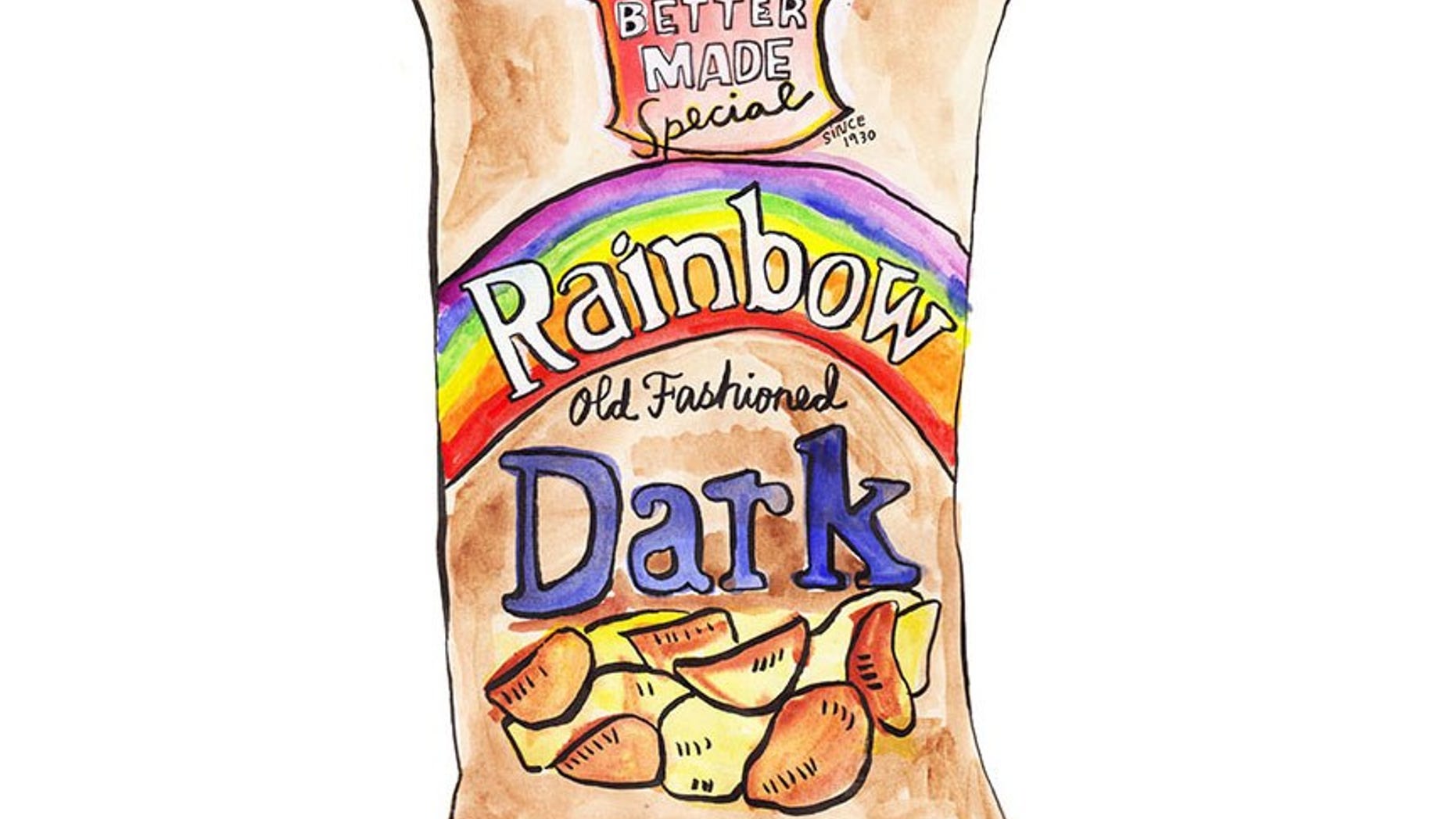 Frito-Lay may rule most supermarket snack aisles, but once upon a time, regional potato chips dominated the American snacking scene.
A visit to West Virginia wasn't complete without a crunchy bag of Mister Bee. Headed to Ohio? Pick up a greasy handful of rippled Ballreich's "Marcelled" chips. Many local titans aren't the powerhouses they once were and countless others less fortunate have gone the way of the Marathon Bar, but their deep-fried legacy continues to bubble away on a smaller scale, thanks to online stores.
Here are nine you should try, because there's nothing more patriotic than supporting small businesses while stuffing your face with potato chips.
Better Made (Detroit, Michigan)
Back in the 1930s, Detroit wasn't known only as Motor City. It was also the potato chip capital of the world, with more than 40 different chip outfits across the metropolitan area at one point. Better Made, founded in the first year of the Great Depression by a pair of entrepreneurial Italian immigrants, is amongst the last remnants of that golden-fried era. Don't worry, the company is still going strong: As of 2015, it employed 250 employees and processed 50 million pounds of potatoes a year. Rainbow chips, an extra-browned variety with a deep, almost burnt flavor, are a particular favorite of Better Made diehards. They're a callback to the once-discarded "burnt" slivers produced when potato sugars over-caramelized during frying. Customers "missed the dark chips and would often ask for the 'burnt' chips," explains the Better Made website. At first, the company collected "rejected" dark chips from regular batches and packaged them as Rainbows, but when demand outstripped supply, it started "burning" chips on purpose. Rainbows and other flavors are available online.
Tim's Cascade Snacks (Auburn, Washington)
As potato chip companies go, Tim's Cascade Snacks is a spring chicken, warming up its kettles only in 1986. Given that other brands with devoted followings have decades on Tim's, the rabidness of its followers across the Pacific Northwest and beyond, who swear by its signature thick-and-crunchy chips, is exceptional. According to co-founder Jeff Leichleiter, the secret is to begin cooking the potatoes at a lower temperature then slowly raising the heat. Other chips, in contrast, are fried at one temperature from start to finish. Also important? Using taters sprung from Washington State soil, which, Leichleiter explained to the local Daily Record News, enriches them with more salt and less sugar. Available online, flavors include cheddar and sour cream, sour cream and onion, sea salt and vinegar, as well as the quirkier Vlasic dill pickle, and "Big & Bold Buffalo Blue."
Mikesell's (Dayton, Ohio)
According to its website, Mikesell's Snack Food Company has "been around longer than almost every other potato chip company in the United States." Founded in 1910 with a dried-beef-and-sausage model (whelp!), Mikesell's soon got into the potato chip game and never looked back. At Mikesell's, chips aren't ridged or rippled—they're "groovy"—and newer flavors include the zingy "Cincinnati Style Chili", which boasts notes of allspice, cinnamon, and cumin with a tangy tomato-vinegar undercurrent. Beyond the company's native Ohio, you can find Mikesell's bags in Indiana, Kentucky, Illinois, and online.
Mister Bee (Parkersburg, West Virginia)
"The Only Potato Chip Made in West Virginia," proclaim bags of Mister Bee alongside a blocky map of the state and a natty cartoon bee in a top hat and tails. Founded in 1951, Mister Bee produces chips that are famously imperfect, with the thickness of one batch varying from the next. It's indicative of "something that's craft, something that's boutique," current co-owner Greg Reed told a local publication last September. "They almost taste like something you could have made on the stove at home." In addition to the classic salt flavor, Mister Bee chips also come in barbecue, honey barbecue, sour cream and onion, and jalapeño. They're available at these West Virginia locations and the Mister Bee online store.
Sterzing's (Burlington, Iowa)
When Sterzing's calls its chips "small batch," it really means small batch. According to the website, in the mid-1930s, founder Barney Sterzing began slow-cooking thin wheels of potatoes one batch at a time to supplement his candy business. Today, the family-run operation makes its chips exactly the same way—slow and steady—with workers stirring vats of oil by hand. "That helps keep employment, as far as I'm concerned," co-owner Craig Smith told a local television station in 2014. "We could automate the entire process, but we choose not to." Unlike most other producers in this list, Sterzing's only makes one variety of chips and is fanatical about limiting the recipe to three key ingredients: potatoes, oil, and salt. Find them online here.
Guy's Snacks (Overland Park, Kansas)
Founded in 1938, the operation today known as Guy's Snacks—long famous for its spiced barbecue chips—was once reportedly worth $100 million with a sprawling plant in Liberty, MO. But those days are gone. "In my mind, we aren't competing so much as hanging on by our fingertips," current owner Janine Joslin told the *Kansas City Star* last year. Yet love for Guy's runs deep—very deep—as evidenced by the rabbit holes that are Web 1.0 message boards. "Guy's BBQ chips were the BEST," writes a user named Doris in a surprisingly exhaustive thread on the website Inthe70s.com. "Kitty Clover was good too"—another potato chip business of yesteryear—"but my loyalty is to Guy's." The reason for such fervor? Guy's claims its signature flavor is "the first BBQ potato chip ever invented." Get Guy's chips while you still can through the company's online shop.
Ballreich's (Tiffin, Ohio)
Now a fourth-generation family-owned business, Ballreich's sprang from a dirt-floor garage in Tiffin, OH, in 1920. Today, they have an online shop and everything—but the name for its rippled style of chip, "Marcelled," shows its age: It's a reference to the hot-curled, wavy hairstyle popular in the twenties. But hey, if it ain't broke, don't fix it. Last year, Ballreich's regular Marcelled chip took home a gold medal in the Best Plain Potato Chip category at the first annual Chip Festival in Saratoga, NY. Ballreich's chips also come "flat," and in flavors including smokey sweet mesquite, salt and vinegar, sweet potato, and spicy "Hot 'N Sassy."
Laura Scudder's (Newport Beach, California)
You can thank Laura Scudder the next time you pop open a bag of chips. Sometime after founding her potato chip company in 1926, Scudder—who as a female entrepreneur, struggled to earn the respect of male peers—reasoned that wax paper bags would prevent chips from crumpling at the bottoms of tins and barrels and keep them fresh and crisp for longer. The bags, popular in the 40s and 50s, paved the way for the potato chip to become the mass market treat it is today. The Laura Scudder's brand changed hands several times over the years, but its chips are still found all over California and online and come in varieties like Maui onion, salt and vinegar, stuffed jalapeño, and chile limon.
Golden Flake (Birmingham, Alabama)
As backstories go, the one behind "The South's First Potato Chip" is about as juicy as they get. Frank Mosher, who founded in the company in 1923 with Mose Lischkoff, was riding high by the early 1940s. He'd successfully gotten his wife, Helen Friedman, to buy out Lischkoff, and Golden Flake had become a thriving enterprise with Helen serving as company spokesmodel, "The Golden Flake Girl." Too bad the marriage went south and Helen, ever the shrewd businesswoman, got the entire company in the divorce. Helen later sold it to the Bashinsky family, who years later, had its own drama. Things got dark: The heir apparent staged his own suicide to look like a murder in 2010 (in which he put a Golden Flake potato chip label in his mouth so that it appeared to be a business-related crime).
The unsavory happenings didn't put off Utz, though, which bought the company last year and probably wants you to forget about all that unpleasant stuff. On a much brighter note, Golden Flake's "thin and crispy"-style chips—the ones that Frank Mosher originally developed nearly 100 years ago—are still a favorite, these days joined by other flavors like "Tangy Pickle BBQ," "Sweet Heat Barbecue," and "Buffalo Ranch." You can find Golden Flake at shops across the South or online.
More: 12 Pretzel Recipes to Satisfy Your Undeniable Salt Cravings