'All About That Baste' parody video goes viral for Thanksgiving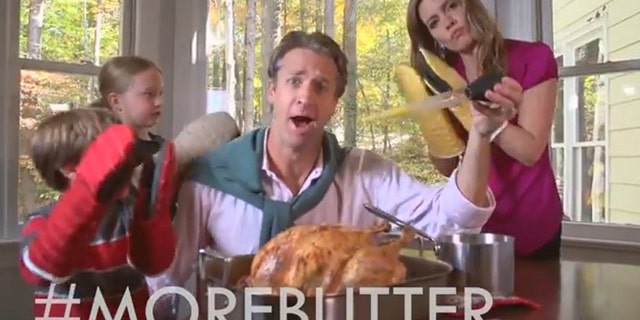 Can dear old dad handle Thanksgiving meal prep all by himself?
According to the Holderness family of Raleigh, N.C., --made famous last year for dancing around in the Christmas jammies --not quite.
The musical foursome—who have created numerous family-friendly knock-offs of popular songs—are back with a Thanksgiving edition of Meghan Trainor's hit "All About That Bass," appropriately retitled "All About That Baste."
Dad Penn, a former news anchor, sings: "On Thanksgiving day... I think it's pretty true us dads can't make it make it... like we're supposed to do the dining room room... we have no taste we put all the wrong forks in all the wrong places."
Mom Kim, with kids Lola and Penn Charles join in as backup singers.
Perhaps most fitting is the parody's hook which substitutes "more butter" for Trainor's sassy "no treble." An amusing nod to the original song's celebration of curvy figures.
The video, shot at the family's home, was posted on Monday and has already been viewed over1.2 million times.
The playful lyrics accompany the video in the video description so you can't help but sing along this holiday season.
Check out the full video below.