A Grown-Up Easy-Bake Oven for Cupcakes and More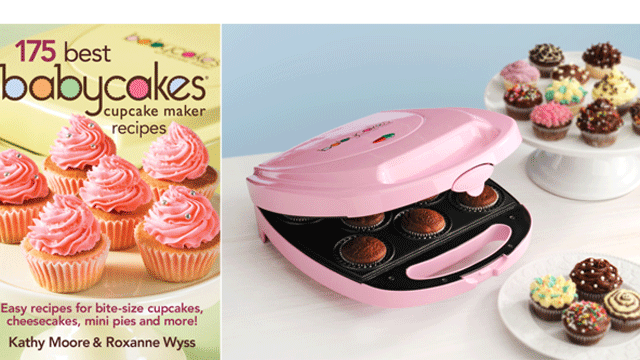 Given the choice, most people would rather cook on a "lean, mean, fat-reducing machine" rather than a "grown-up Easy-Bake Oven"--especially when the grown-up Easy-Bake is called the Babycakes Cupcake Maker and comes in hot pink.
You might change your mind if you knew that with a minimum of mess and fuss you could use it to whip up Jalapeño Cheese Biscuits, Pumpkin Cheesecakes and Phyllo Mushroom Morsels.
"A grown-up Easy-Bake Oven," says Roxanne Wyss, who along with Kathy Moore, authored, The 175 Best Babycakes Cupcake Maker Recipes (Robert Rose). "We love that," she says.
The Babycakes Cupcake Maker looks like a Pepto-Bismal colored George Foreman Grill with the inside hollowed into eight cupcakes wells. Like the Foreman it cooks from top and bottom. Unlike the Foreman it makes foolproof appetizers or cupcakes in about 8 minutes without turning on an oven and without greasing and scrubbing muffin, baking and pie pans. A tempting thought with holidays looming.
Holiday cooking is both joyous and onerous. Joyous because there's nothing better than cooking and baking for the ones you love. Onerous because there's nothing more exhausting than cooking and baking for the ones you love. Moore and Wyss swear that can you easily make all of the above and you'll actually enjoy doing it.
"Remember those junior high Home Ec teachers who used slow-cookers and deep fryers? I knew I wanted to do that," says Wyss who earned a degree in Food Nutrition and Business. Moore got a BS in Family and Consumer Sciences. "That's a fancy way of saying 'Home Economics,'" she explains. They met decades ago when Moore hired Wyss to help her develop recipes for the Rival Crock-Pot. "We were blessed," says Wyss. "Even back then there weren't a lot of test-kitchen jobs."
They became small-appliance chefs, testing appliances dreamed up by engineers like slow-cookers and contact grills, then developing recipes and writing cookbooks for them.
Select Brands brought in Wyss and Moore to consult on what they called a mini-pie maker. "We said, 'No, no, that's a cupcake maker,'" says Wyss, "a two-bite cupcake maker." (They are two to three bites, not those one-bite minis that you eat like popcorn.) More than one million have been sold since it debuted last year, creating a new category in small appliances, the "treat" category.
After writing the initial recipe booklet, Moore and Wyss became obsessed. "I'd be eating an appetizer," says Moore, "look at the size and think, 'this could be made in a cupcake well.'" The two began adapting recipes. Savory muffins and biscuits were the next logical step, then appetizers with bases of bread, pie dough, phyllo dough and wonton wrappers.
From that came Curried Chicken Salad Cups (wonton), Chicken and Green Chile Hand Pies and Cheddar, Ham and Broccoli Quiches (home-made or store-bought pie dough), and Bacon and Cheese Crostini Cups (white bread.) "They just made sense," says Moore.
"We just couldn't stop thinking about what else it could make," says Wyss, whose 14-year-old daughter makes breakfast in it. She spritzes a well with Pam, cracks in an egg, "poaches" it for six minutes, then downs it with a piece of toast. "Breakfast can be hard but it's so easy to make kids a fast, healthy breakfast," says Wyss, explaining that the book has After School Snack and Gluten-Free chapters as well.
Wyss recommends Southern Pecan Pie Bliss and Caramelized Onion Fontina Phyllo Cups for the holidays. (She caramelizes big batches of onions in her slow cooker, freezing them in individual re-sealable bags to save time.) Her all-time favorites are Chocolate Buttermilk cupcakes. For New Year's she likes Champagne Cupcakes, made with champagne-infused batter and frosting.
If you ask Moore, she's gonna say something with pumpkin, says Wyss. "She's all about fruit. If she could eat fruit with her meat every night she would."
"For the holidays, I like the Pumpkin Mini Pies. I really like fruit," says Moore.
On the savory side Moore likes Shrimp Saute in Crisp Pita Cups and Goat Cheese and Honey Tarts. Press phyllo dough into the wells, bake for about five minutes, fill with crumbled goat cheese and drizzle with balsamic vinegar, honey, thyme, black pepper and toasted walnuts. "They're a great surprise," she says.
"We're all about getting dinner on the table quickly and easily and having families communing in the kitchen," says Wyss. We're passionate about this product for the simple reason, says Moore, "that we just couldn't stop using it."