A bunch of grapes sell for $5400 in Japan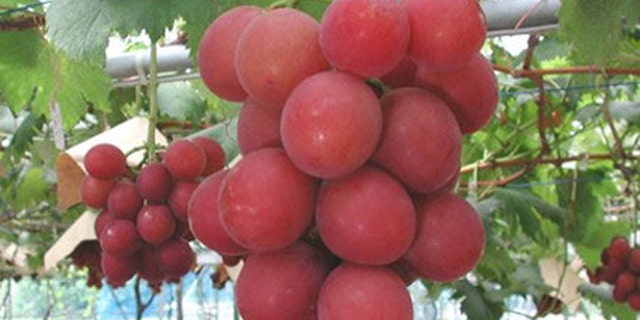 A lucky Japanese couple will be presented with a $5,400 bunch of the world's priciest grapes at their wedding.
Thirty Ruby Roman grapes – which cost around $180 a pop – were purchased at an auction by a wedding hall operator in Ishikawa, reports AFP.
The grapes weighed some 28 ounces and an individual grape can reach 1.2 inches in diameter –or about the size of a ping pong ball, according to public broadcaster NHK.
"I was surprised to see a higher price than I had originally imagined, but I would like bridal couples to savor them and have a great memory," the hall owner told NHK.
The grapes are considered good luck and their taste is sweet and fresh.
The Japanese are obsessed with perfectly-formed fruit that can fetch a fortune. Melons there sell for the price of a new car and a single peach can go for about $25.