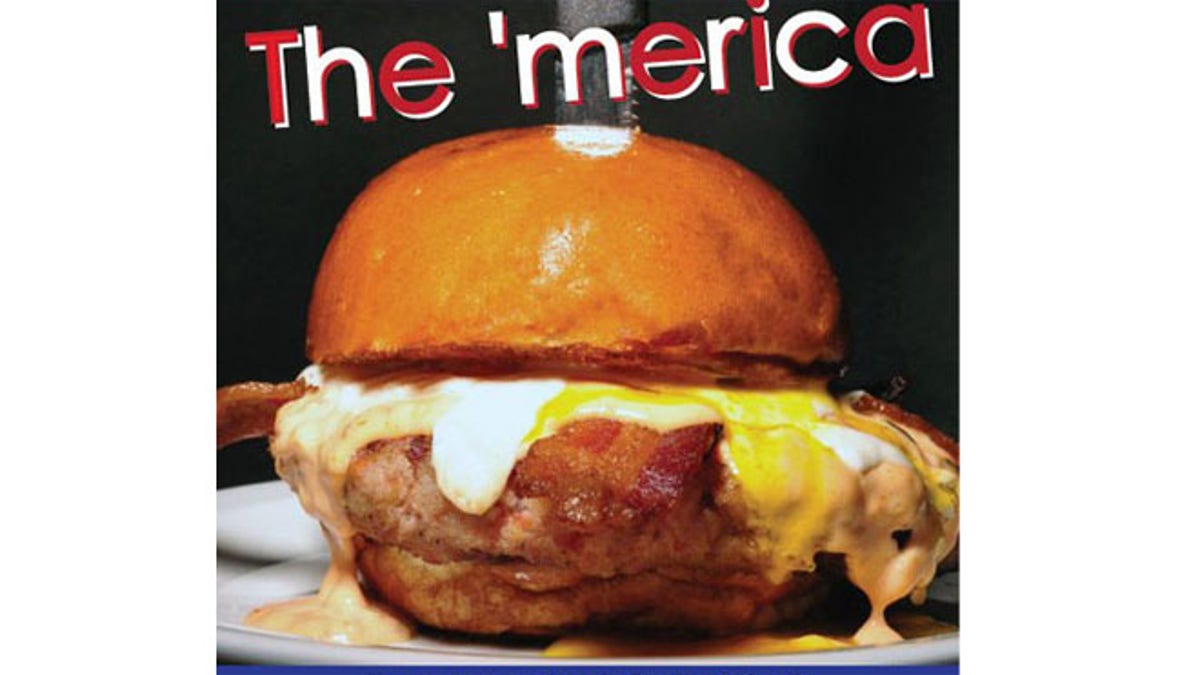 There are few foods that elicit the same passionate response as bacon. Crumbled over a wedge salad, fried up in thick strips and piled on a BLT, or whipped up into a frothy milkshake, fans of this porky product will eat it in almost anything. And when it comes to an ingredient this inspiring, it's no wonder chefs across the country are dreaming up dishes that showcase bacon in unique and outrageous ways.
These days bacon has moved light years beyond its classic post alongside scrambled eggs – it's intoxicating scent is being featured in a fragrance, it's essence is being used in lip balm (perfect for those trying to attract fellow bacon lovers), and some particularly devoted fans are even tattooing strips of the stuff on their bodies. For those who are not fully satisfied simply ordering a bacon cheeseburger or spritzing themselves with bacon-scented perfume, the folks behind Bacolicious.us have created an online toolbar that allows users to adorn any web page with a slab of bacon.
The dishes on this list range from the excessive (like the Bacon Bomb from Paddy Long's in Chicago, a pork sausage meatloaf wrapped in a woven blanket of brown sugar bacon and slow cooked in a pig roaster) to the downright surprising (like the Melba pancakes from Shopsin's in New York City, featuring lime, raspberry, and peach preserves, with bacon and cream cheese.)

Bacon-Wrapped Deep-Fried Hot Dogs – Crif Dogs, New York City
This New York hot dog joint is known for serving up intriguing hot dogs in a very low-key setting, one of their most famous techniques includes wrapping a dog in bacon and deep-frying it. You can get it as part of their Chihuahua and BLT dogs.
Bacon and Eggs Ice Cream – The Fat Duck, Bray, Berkshire, UK
This collection of mind-blowing bacon dishes would not be complete without mentioning chef Heston Blumenthal's bacon and eggs ice cream, a signature dish at his restaurant The Fat Duck. The item is made even more special because its prepared tableside using dry ice to create instant ice cream. The combination of creamy custard and back bacon is served in an egg cup with soldiers made from sugar-coated brioche bread.
The Breakfast Cone – The Cozy Cone Motel at Disney's California Adventure, Anaheim, Calif.
The Cars portion of Disney's California Adventure features a restaurant called The Cozy Cone Motel that serves up innovative cone-shaped treats. The breakfast cone features a cone made of crispy bacon that is filled with scrambled eggs.
Bacon Bomb – Patty Long's, Chicago
This self-described beer and bacon bar serves up a bevy of menu items featuring the porky treat, and none more impressive than the Bacon Bomb. This gluttonous monstrosity starts with a meatloaf made of ground sausage, pork, and beef then wrapped in a woven blanket of brown sugar bacon strips then slow cooked in a pig roaster. Invite some friends along to help you finish this dish, or if you're feeling extra hungry, take on the Bacon Bomb Challenge in which you'll have 45 minutes to devour the 5-pound bomb and a massive side of fries.
Bacon Confections – The Sticky Pig, Costa Mesa, Calif.
This sweets company is dedicated to one thing only – bacon confections. There are a variety of flavors of chocolate-covered bacon candies available; try the Rogue with spicy peanut butter and caramelized banana or the Lakshmi with sweet curry, coconut, kaffir lime, and white chocolate.
'Merica Burger – Slater's 50/50, Anaheim, Calif.
At Slater's 50/50 in Anaheim this specialty burger includes a patty made from 100% ground bacon topped with crispy strips of thick-cut bacon, a sunny side egg, Bacon Island dressing (a take on Thousand Island dressing) and melted bacon Cheddar cheese.
The Triple B Taco – The Bacon Bacon Food Truck, San Francisco
With a name like The Bacon Bacon Food Truck there's no disguising what they're serving up. While the entire menu features bacon-laden dishes, the Triple B Taco is especially noteworthy. This taco combines pork butt, pork belly, bacon, Momma Lil's peppers, and goat cheese. If you're more of a purist go for the bacon bouquet instead, a paper cone filled with perfectly fried strips of bacon.
Melba Pancakes – Shopsin, New York City
The menu at this restaurant has more options than you can possibly imagine, so to save the time and effort of sifting through the lengthy affair, just go ahead and order the Melba pancakes. These pancakes are topped with a combination of lime, raspberry, and peach preserves as well as crispy crumbled bacon and cream cheese.
See even more mind-blowing bacon dishes here
More from The Daily Meal

7 Essential Foods You Can't Camp Without

10 Most Famous Kid Food Critics and Cooks

9 Artsy Restaurant Menus

17 Cereals That Were Too Sweet to Last