5 must-have Thanksgiving kitchen gadgets
The success of every Thanksgiving celebration hinges on one crucial question: How was the turkey dinner? Seasoned home chefs spend decades perfecting their pan-roasting techniques, while novices shudder at the thought of an overcooked bird and lumpy mashed potatoes. However, we encourage you to hit the kitchen with confidence this Turkey Day with the assurance of these essential cooking tools.
From a stainless steel roaster to a high-quality carving set, our favorite kitchen gadgets are sure to help your holiday go off without a hitch.
1. Calphalon Stainless 16-Inch Roaster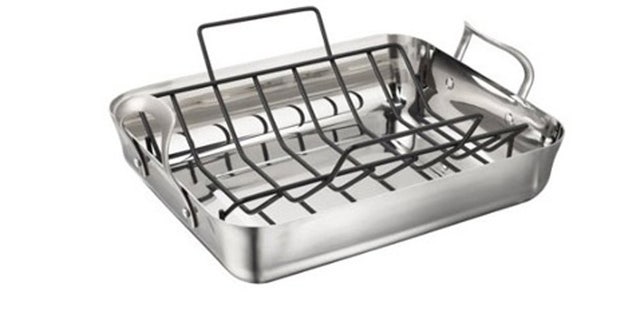 If you've had problems with unevenly cooked turkey in the past, it's time you tried the Calphalon Stainless Roaster. The 16-inch roasting pan is made of stainless steel with an aluminum core designed for high-quality conductivity, allowing your bird to cook at a consistent temperature. The pan comes with a V-shaped nonstick roasting rack and stay-cool handles that are extended high for easy transport in and out of your oven. Cleanup is easy—just put it in the dishwasher, grab a slice of pumpkin pie and hit the sofa for some much-needed R&R.
2. Proteak Cutting Board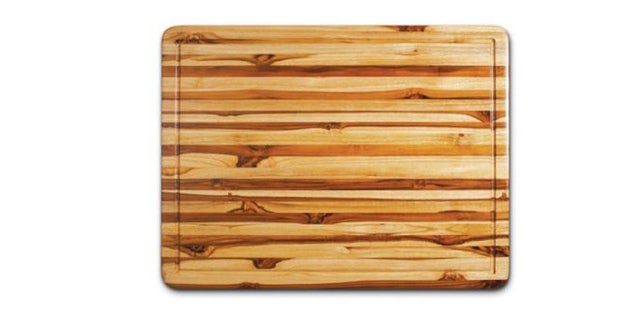 If you're shopping for a solid, reliable cutting board to hold your holiday bird, consider Proteak. The company uses teak wood grown on conflict-free, sustainable plantations. We also like that no two boards look alike. Plus, teak's distinct texture makes cutting efficient—the wood is hard enough to withstand blade cuts and soft enough to keep knives sharp. The Proteak Cutting Board is not only large enough to hold a 20-pound turkey; it also has a juice canal built into all four sides.
3. Wusthof Classic 2-Piece Carving Set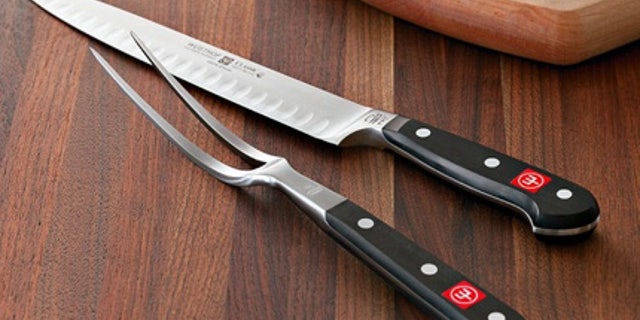 Made in Germany out of high-carbon stainless steel, the Wusthof Classic 2-Piece Hollow-Ground Carving Set helps you cut turkey with ease. The hollow-ground edge prevents food from sticking to the 8-inch blade, so you can slice up servings for the entire family without slowing down. The 6-inch fork, which is curved slightly to increase maneuverability, allows you to effortlessly lift and serve meat. The pair comes with a limited lifetime warranty, so you're guaranteed years of worry-free Thanksgiving dinners.
4. ThermoWorks Thermapen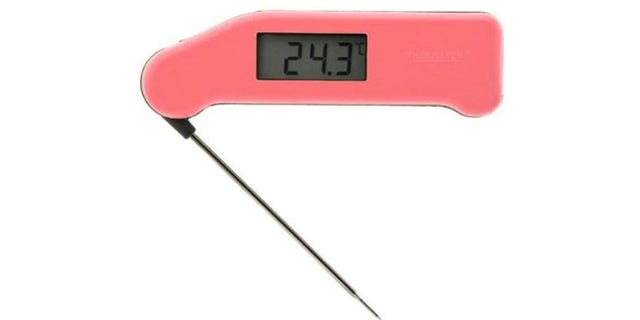 Popular among celebrity chefs, foodies and bloggers alike, the ThermoWorks Thermapen is the best way to know what's going on with your turkey as it cooks. It's one of the most precise water-resistant thermometers on the market and delivers readings in three seconds. No need to worry about dirtying any on/off buttons while you're cooking—simply opening the Thermapen turns it on. And with 1,500 hours of battery power, you can look forward to perfectly cooked turkey for years to come.
5. OXO Adjustable Potato Ricer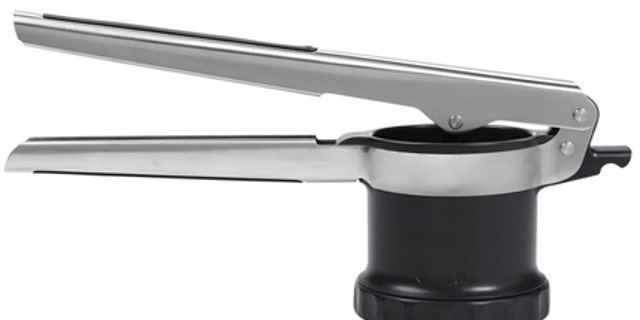 Never worry about lumps in your mashed potatoes again with the OXO Adjustable Potato Ricer. Three settings (fine, medium and coarse) allow you to whip up airy mashed potatoes and fruit purées without hassle. Once you've perfected your potatoes, switch to the ricer's medium setting to press water out of cooked greens, or the coarse setting for sides such as chunky applesauce and egg salad. The ricer is dishwasher-safe, easily comes apart for cleaning and features a grooved pot rest to sit securely over bowls and pots.
Discover more of the best Thanksgiving kitchen tools
More from Gayot
Best Thanksgiving Restaurants Near You
Find more kitchen gadget ideas