4,437-pound Wisconsin cheese board sets world record
Though a two-ton cheese board may sound too gouda brie true, one real life 4,437-pound smorgasbord has smashed a Guinness World Record for the world's largest cheese board.
On August 2, the Dairy Farmers of Wisconsin united 145 different varieties, types and styles of the beloved dairy confection atop a board measuring 35 feet long and 7 feet wide, housed inside a digitally fabricated barn that took up an entire street in downtown Madison.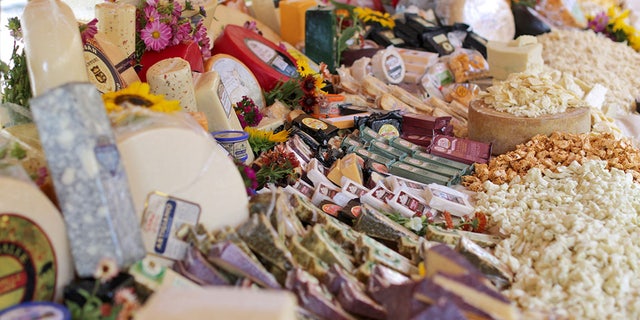 SENIOR CITIZENS AT SOUTH CAROLINA COSTCO GET INTO PHYSICAL FIGHT OVER FREE SAMPLES
"The ultimate cheese lover's fantasy was a true team effort- taking over 60 people to prep, transport, house, style and weigh all of the cheeses," a press release details, noting that the spectacle surpassed the previous European record holder by 1,000 pounds.
"We wanted to showcase the amazing breadth of the award winning cheeses in Wisconsin and we thought- what better way to do that than to create the world's largest cheeseboard,"  Suzanne Fanning, a Dairy Farmers of Wisconsin exec, said of the stunt.  "Wisconsin's licensed cheesemakers put the art in artisan, drawing from their rich European heritage, cheese making traditions and impressive innovations, and we're thrilled to share their masterful creations with the world in a unique and fun way."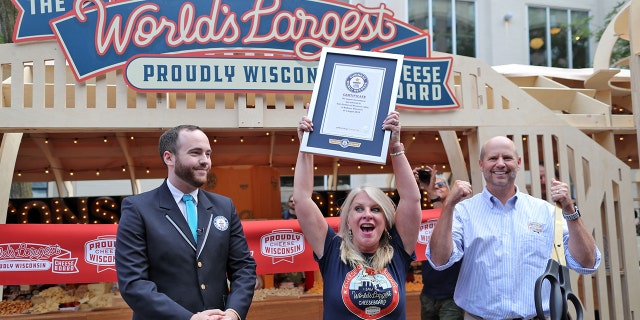 Grandly centered around a 2,000-pound wheel of Henning's cheddar, other special cheeses on display included blue-veined and cave aged cheddars, fresh feta and squeaky curds, as well as hand-rubbed wheels and pungent Brick, the release states. The 2017 U.S. Cheese Champion, Sartori Black Pepper BellaVitano, also held a spot.
FOLLOW US ON FACEBOOK FOR MORE FOX LIFESTYLE NEWS
Over 45,000 cheese lovers gathered to see the extreme cheese board, and the lucky first 2,000 in attendance received a "curated cheese plate to-go."
Thankfully, no cheese went to waste, with spectators entering a charitable raffle to win cheese, benefitting the Great American Milk Drive. The remaining cheese was then donated to the Second Harvest Foodbank of Southern Wisconsin.