$31G raised for stiffed pizza delivery man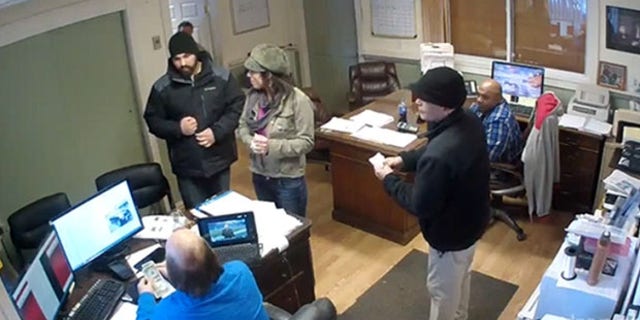 A fundraising campaign has pulled in more than $31,000 for a Massachusetts pizza delivery stiffed out of about $7 after a viral video shows him being treated rudely by his customers.
Jarrid Tansey delivered pizza to F and R Auto Sales, a used car dealership in Westport, Mass., where staff there handed him two $20 bills and two $5 bills on a $42 tab.
When he returned from the delivery, someone from the car dealership called Tansey's employer, Pizza Palace, asking for the driver to return with change — roughly $7 and some coins.
Surveillance video footage shows Tansey returning to the car dealership to give back the money, and asking why they would hand him the extra $5 bill if they didn't want to provide a tip.
"It just doesn't make sense why you would hand me a bill if you're just going to have me drive back here to give it back anyway," Tansey can be heard saying to an unidentified man sitting at a desk.
The man says to Tansey, "I gave you everything they gave me so we would get the correct change."
Other workers then began berating and threatening Tansey.
"The manager apologized once for you, do you want him to apologize again for you?" the man at the desk says, before threatening to shame Tansey by releasing the security footage of the conversation.
"I'm not mad, I just had to waste my resources coming back here," Tansey says as he starts to leave.
As Tansey leaves the room, a female staff member can be heard saying, "Out the door before I put my foot in your ass."
The video, which was originally posted on YouTube with the headline "irate pizza driver," was later made private –but not before it went viral.
Amanda Rogers, a former waitress who saw Tansey's video on LiveLeak, decided to start a fundraising campaign for the stiffed delivery man. She set up GoFundMe page, entitled "Get Jarrid his tip money!" --where she posted copy of the original video, which had gotten nearly 700,000 views on YouTube.
"I believe Jarrid should be rewarded for dealing with such crappy people," the GoFundMe webpage read. "Even if it is $1, it will make up (maybe a little) for him having to deal with idiots like this."
As on Monday morning, the page has earned over $31,000, many donations given in $7 increments.
Meanwhile, F and R Auto Sales, which reportedly been flooded with negative comments on online business reviews, has apologized "for the actions" of employees caught on camera "belittling" the delivery driver.
The dealership's owner said that he plans to offer Tansey a cash donation, though he didn't specify how much.