25 best restaurants in Italy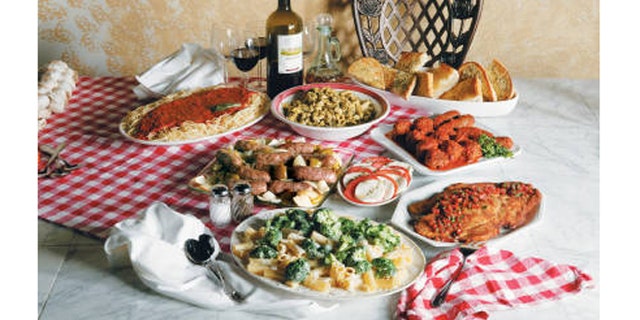 First came The Daily Meal's 101 Best Restaurants in America, then 101 Best Hotel Restaurants Around the World. Now, The Daily Meal has set its sights on Europe. Each week this fall, The Daily Meal will highlight the best restaurants in various regions in Europe, culminating with the debut of our first list of the 101 Best Restaurants in Europe in December.
Perennially on the quest to find the best places to eat and dine in cities large and small, The Daily Meal continues its European culinary tour in Italy.
The Daily Meal's list of the 25 Best Restaurants in Italy was carefully curated through a two-month-long nomination process; we consulted the Michelin Guide and other trusted sources and gathered recommendations from The Daily Meal's editors, who have traveled and dined extensively around the world.
Once we compiled a preliminary list of more than 100 restaurants, we reached out to a panel of knowledgeable judges, comprised of restaurant critics, food and lifestyle writers, and bloggers with wide restaurant-going experience. They added their own favorites, and then voted for the winners. Some of our judges requested anonymity. Among those we can thank publically are Libby Andrews, Kathy Bechtel, Jonell Galloway-White, Elizabeth Minchilli, Agusti Jausas, Roger Morris, Chiara Pannozzo, and Joe Ray.
Panelists voted in two categories: cuisine and style/décor/service. From innovative menu options to plating and presentation to freshness, quality, and taste, panelists evaluated each restaurant's cuisine and only voted for the restaurants which they believe are extraordinary. For the second category, panelists evaluated the dining experience, from the restaurant's interior and dining room ambiance to the service, voting for the restaurants which they believe offer an unrivaled experience. Each restaurant had the chance to be voted on twice during the survey. Finally, the percentage scores from each category were averaged to arrive at the final ranking.
With dozens of restaurants to choose from, it was a culinary challenge to whittle the list down to a select 25. Restaurants offering a variety of cuisines, from classic French to fusion were considered. We did not discriminate on location; no village, town, or island was off the table. The list is populated entirely with Italian restaurants. Interestingly, La Pergola at Rome Cavalieri, which appeared on The Daily Meal's 101 Best Hotel Restaurants Around the World, also made this list, while Loggia Restaurant at Villa San Michele in Florence and Restaurant Terrazza Danieli at Hotel Danieli in Venice — though outstanding — did not.
While The Daily Meal's first list of the 101 Best Restaurants in Europe won't be revealed until December, The Daily Meal 25 Best Restaurants in Italy are sure to whet your appetite for more.
L'Etoile d'Or (Catania, Italy)
Open 24 hours a day, LEtoile dOr isn't really a restaurant, but rather a traditional, low-key Sicilian bar with standout regional snacks like arancini rag (rice balls stuffed with meat) and cartocciata (a calzone-type savory treat), as well as some of the best sweet ricotta-filled cannoli in Italy all of which help keep LEtoile dOr packed day and night with locals. It belongs on a list of Italy's best because it does what it sets out to do with consistency and perfection.
Gusta Pizza (Florence, Italy)
No, it's not Naples, but Florence's Gusta Pizza, about a six-minute walk from the Ponte Vecchio, features delightfully blistered crusts that line pizzas that, if a bit smaller in circumference than their Neapolitan cousins, offer fair competition to them, and have been called the best in town.
La Madia (Licata, Italy)
A madia is a larder, but at his bright 40-seat La Madia, chef Pino Cuttaia and his team of eight draw not just from a cupboard full of fine ingredients but on the bounty of the surrounding countryside and adjacent sea to prepare Sicilian dishes he recalls from his childhood — Licata is his hometown — but with enough refinement to earn him two Michelin stars. Diners won't find liquid nitrogen and the like here. Instead, they're are treated to such specialties as arancini with red mullet and wild fennel sauce, calamari ravioli with green squash leaf tips and anchovy sauce, and sweet-and-sour skate wing, as well as seven types of bread, baked on the premises each day. "There is one ingredient that more than any other defines my idea of cooking," said Cuttaia on his website. "One that is never missing from my dishes and that allows you to easily recognize them. My secret ingredient is my memory," said Cuttaia.
Masseria Barbera (Puglia, Italy)
One of the stars of Italy's extensive agriturismo system — working farms that offer meals and/or accommodations — this large property in Puglia offers not only rustic but comfortable guest rooms, a spa, and a shop selling local food products, but also a spacious farm-themed dining room serving a daily menu of superb traditional local specialties. The majority of foods and wines served by any agriturismo must come from the property itself, which in this case means homemade pastas, farmyard chicken, just-baked breads, and specialties like acquasale, a cold soup of ice water, olive oil, and raw tomatoes, onions, and cucumbers that is much better than it sounds.
Da Vittorio (Brusaporto, Italy)
Yes, the charming boutique hotel La Dimora, a 10-minute drive from Bergamo in Lombardy, has a cooking school and patisserie, but its soul is Da Vittorio, a restaurant dedicated to traditional Italian cuisine. Opened in 1966 in the center of Bergamo and four years later moved to the resort in nearby Brusaporto, chef Enrico "Chicco" Cerea has updated Italian classics while staying true to tradition, a feat that has earned Da Vittorio three Michelin stars for dishes like ox with truffled polenta, mini leeks, and white truffle and ravioli with onion, sausage, and pistachio.
Alle Testiere (Venice, Italy)
This tiny Venetian hideaway, its walls decorated with testiere — headboards — is dedicated to seafood, with well-chosen wines to match. The short menu changes every day, but the kinds of things you are apt to find here include shrimp and raw asparagus salad, bay scallops on the half shell with wisps of orange and onion, zotoeti (the tiniest squid you can imagine) in a sauce improbably but deliciously accented with cinnamon, spaghetti with bavarasse clams, and four or five kinds of simple grilled fish.
Il Pellicano (Porto Ercole, Italy)
Chef Antonio Guida is continually changing the menu at his Michelin two-star Il Pellicano, part of the luxurious Relais & Châteaux hotel property of the same name on the Tuscan coast. Guida's exotically accented six-course Calamandino tasting menu includes things like roasted blue lobster with marsala, barberries, and smoked potatoes; hake with oysters and shiso sauce; risotto with verbena, red prawns, pig's ear, and sumac; and pigeon breast with foie gras and pineapple cream.
Madonnina del Pescatore (Senigallia, Italy)
Moreno Cedroni invented "susci" (pronounced "sushi" in Italian) — his take on the elemental Japanese specialty, involving such dishes as warm sea bass carpaccio with lime purée and raw tuna with iced mustard and toasted almonds. It's hardly surprising, then, that the seafood at his Michelin two-star Madonnina del Pescatore, which he has run with his wife, Mariella, since 1984, is highly innovative. The menu includes things like "slightly mixed" fried seafood with quinoa, sweet-and-sour onion granita, and raspberry broth; octopus with bread and vinegar gelatine and mayonnaise; smoked potato gnocchi with raw salt cod and sauce of sunchokes and snowpeas; and turbot with light beer cake, wild herbs, and monkfish liver. The sleek, modern dining room includes a glassed-in patio overlooking the azure Adriatic.
La Ciau del Tornavento (Treiso, Italy)
In the middle of Piedmont's red wine and white truffle country, La Ciau del Tornavento in an unpretentious looking country inn serves food that is intelligently conceived and beautifully cooked, marrying traditional ingredients and flavors with contemporary techniques. Eel is served in a combo plate: marinated in sweet-and-sour sauce and grilled on olive branches. Tortelli is filled with burrata and sauced with tomatoes and white anchovies, while buttery rice is served with a scallop of foie gras in chocolate sauce. Sweetbreads are glazed with marsala and served with porcini and peaches. If you are fortunate enough to visit in white truffle season — approximately October through early December — splurge on the hand-chopped steak tartare, the poached eggs, the tagliolini, or the traditional Piedmontese fonduta (fondue), all generously covered with grated tartufi bianchi.
Enoteca Pinchiorri (Florence, Italy)
The chef at this pioneering Italian three-star in the heart of Florence is Annie Féolde, from Nice — but the menu at Enoteca Pinchiorri is modern Italian at its best: a "composition" of asparagus (in salad, sautéed with poppy seeds, and puréed with red shrimp); risotto with onions, capers, and taleggio fondue; artichoke ice cream with prosciutto mayonnaise; quail eggs with cuttlefish and cauliflower; sea bream with fennel, basil, and ginger-flavored quinoa; pears with licorice, coffee toffee, and cacao bean biscuits… The dining room is warm and handsomely furnished, with a delightful atrium patio, and the wine list is legendary.
La Rosetta (Rome)
If you find yourself in Rome (a very nice place to find oneself) and have a hankering for seafood, your first stop should definitely be the comfortably contemporary-looking, nautically-themed La Rosetta near the Pantheon. Whether it's giant red shrimp cooked in grape must, crisp-fried mussels and squid in spicy gazpacho, spaghetti with clams and zucchini, or whole grilled fish (whatever's in season and in the best condition) or giant scampi — or even Rome's best and freshest oysters, even though they're imported from France — you will feel connected vividly and authentically with the Mediterranean, even though you're miles from its shores.
Acquolina (Rome)
Angelo Troiani's place in Flaminio by the Grand Hotel Fleming outside the city center features the fare of chef Giulio Terrinoni, whose on-point seafood speaks for itself. A renowned vermicelli carbonara, Roman classics, and wonderful crudos at Acquolina make what may have been a bit of a trek the worthwhile effort you'll hardly remember.
Don Alfonso 1890 (Sant'Agata Sui Due Golfi, Italy)
One of Italy's legendary hotel properties, this Michelin two-star in a picturesque village overlooking the Mediterranean on the Sorrentine Peninsula has long offered solid, flavorful food based largely on ingredients from the sea or from their nearby organic farm. A risotto tower with baby shrimp on a bed of spinach, miniature gnocchi with smoked scamorza cheese, and local goat chops with fresh herbs are among the specialties at Don Alfonso 1890 evoking the surroundings.
See the rest of Italy's best restaurants here

More from The Daily Meal
What Are the World's Best Hotel Restaurants?

Dine Like the US President

The Ultimate BBQ Road Trip

12 Tips for Eating Healthy While Traveling