10 ultimate dude foods for Dad
Nearly every holiday comes with its own set of recipes and traditions, why should Father's Day be any different? This year we've rounded up a selection of the best recipes to celebrate Dad. From a MANhattan to a bacon-wrapped hot dog, here is our list of the tastiest eats for Dad's special day.
1. Mac n' Cheese Burger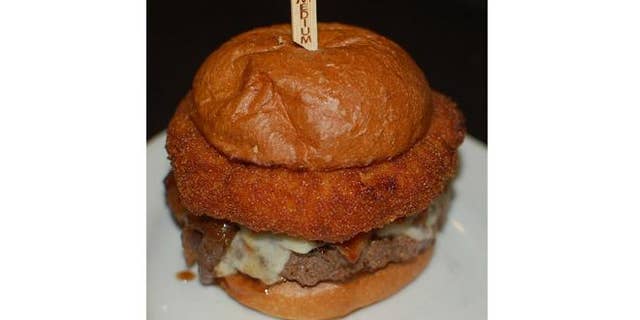 This dish is a marriage made in Father's Day heaven. Here, in perfect matrimony, the hamburger and macaroni and cheese come together at last to celebrate Dad in all his glory.
2. French Toast Peanut Butter and Jelly Sandwiches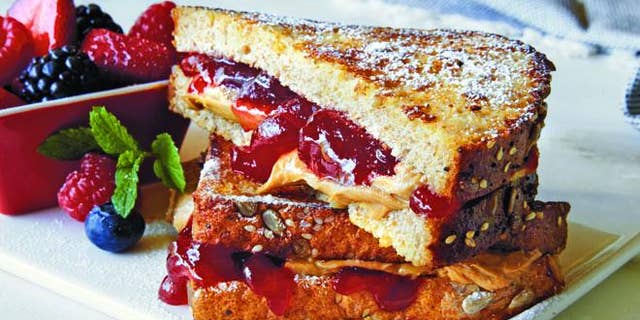 Dad will appreciate the simplicity in this dish. It's just the good stuff, a classic peanut butter and jelly and home-cooked french toast.
3. Bacon-Wrapped Sonoran Hot Dogs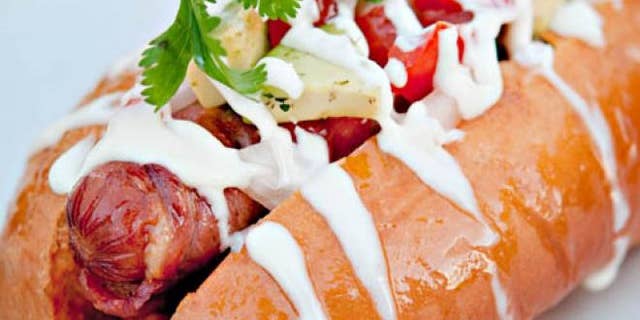 If you're looking for a way to spice up the hot dogs at your backyard Father's Day BBQ, think "south of the border." Bacon-Wrapped Sonoran Hot Dogs load all the flavors of the old Southwest inside a single bun. The refried beans, avocado salsa and Mexican crema (don't forget the bacon) are layered high. Throw some jalapenos on top just for fun.
4. Cookies & Cream Cheese Football Dip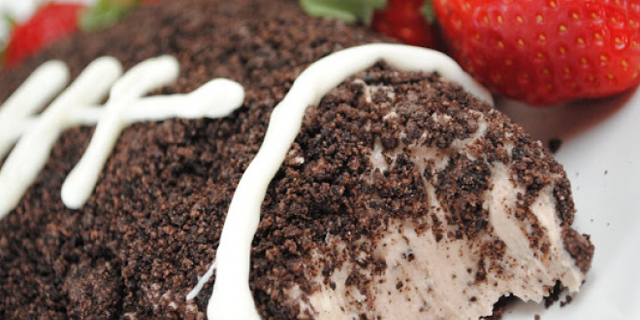 This cream cheese dip is crafted to be eaten during football season, but recipe is so simple to make that it's perfect for any event. Not to mention, it's delicious. The sweet cream cheese dip is full of white chocolate chips and Oreo chunks, then rolled in crushed Oreos. Yummo.
5. Mole Coloradito Chicken Wings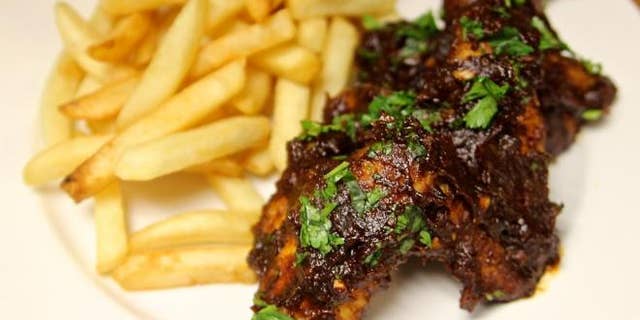 The list wouldn't be complete without a recipe for wings. This one has a special spicy twist. The combination of mole coloradito paste, tamarind and hot sauce, complement each other perfectly, making it a sure hit at any party. These wings are crunchy, savory, and have a subtle hint of sweetness.
6. Father's Day MANhattan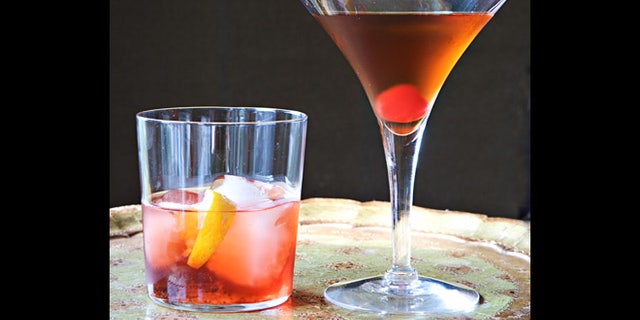 The slightly rougher edge of Jack Daniel's works perfectly against the sweet vermouth and the booze soaked cherry in this classic manly cocktail. Dad will thank you for pouring him a stiff drink to celebrate his day.
7. Guinness Beef Stew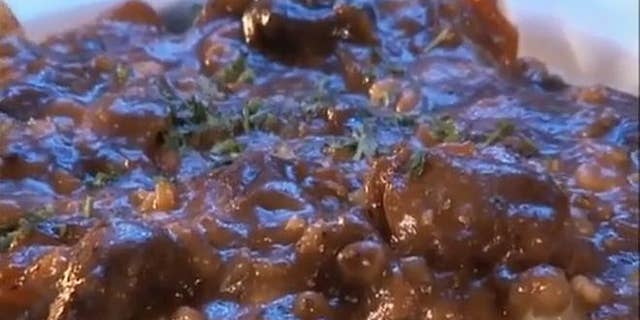 It tastes like beer and like stew at the same time. Try this Guinness beef stew recipe straight from the Emerald Isle created by the sisters at Culhane's Irish Pub in Atlantic Beach, Fla. This recipe is featured in Guy Fieri's Diners, Drive-ins, and Dives: The Funky Finds in Flavortown cookbook.
8. Potato Chip Omelet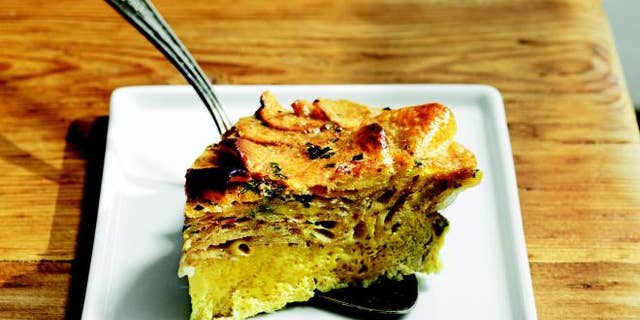 This recipe is a great last-minute Father's Day brunch dish that does not require much preparation and is simple for home cooks to throw together with ingredients they already have in the house. By simply using a leftover bag of potato chips, you can create a delicious and innovative brunch dish that will excite the whole family.
9. Junk in da Trunk Cookies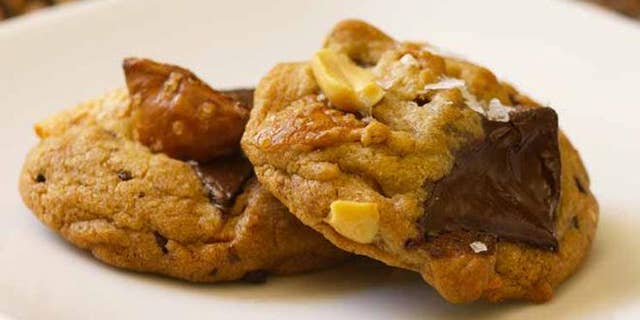 Gooey, chewy and well worth the calories, these cookies, which are from pastry chef Hedy Goldsmith's "Baking Out Loud: Fun Desserts with Big Flavors" cookbook, are best if slightly undercooked. And because it's his day, let Dad lick the batter bowl.
10. Bacon Waffle Topped with Buttermilk Fried Chicken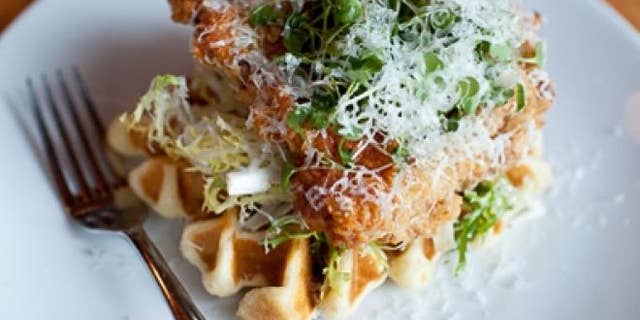 This Father's Day recipe was provided by Chef Harrison Keevil. He says:
Waffles have always been a very familial and comforting dish for me – my father would make them for me and my brother most mornings. My restaurant (Brookville Restaurant) is very meat-centric. I make no apologies for that – it's what I like to eat and what I like to cook. So it made every bit of sense me for to incorporate bacon into waffles for our brunch menu. It doesn't get more meat-centric than that.