Columbia student group accused of anti-Semitic imagery to promote Israel Apartheid Week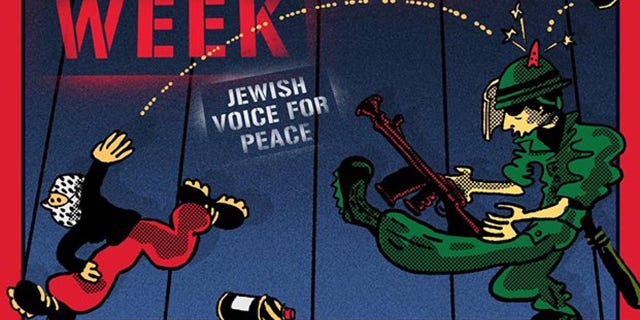 Columbia University's chapter of Students for Justice in Palestine (SJP) has been accused of using anti-Semitism for a poster promoting Israel Apartheid Week on campus, but the SJP chapter denies it as a "false accusation."
The poster, according to Columbia Students Supporting Israel (SSI), depicts an Israeli soldier with horns on his head.
COLUMBIA PROFESSOR UNDER FIRE FOR BLAMING ISRAEL FOR EVERY PROBLEM 'IN THE WORLD'
"This kind of repugnant caricature of Jews is a sore reminder of blatant anti-Semitism from the dark ages of medieval Europe when anti-Semitic propaganda depicted Jews as satanic consorts and an incarnation of absolute evil," SSI posted on Facebook. "Physically, Jews were portrayed as menacing, hirsute, with boils, warts and other deformities, sometimes with horns, cloven hoofs and tails. It is extremely painful to see that the same rhetoric is being used on the campus of an Ivy League university in the United States."
But SJP says it's a cartoon bump, not a horn, like from the show "Tom and Jerry."
SSI filed an official complaint against SJP with Columbia officials for using "blatantly distasteful and anti -Semitic imagery." The university did not respond to questions from Fox News.
"An Israel Apartheid week flier depicting such typical antisemitic imagery only reinforces and reveals the true colors of the anti-Israel community," the SSI chapter told Fox News. "While they may claim their efforts are simply against 'injustice,' a broader look at their programming, rhetoric, and messages shows the anti-semitism inherent in their movement. And images such as this one perpetuate the already anti-Israel and anti-Semitic environment that is Columbia's campus."
TRUMP CAMPAIGN PRESS SECRETARY: FAR-LEFT DEMOCRATS' RADICALISM, GROWING ANTI-ISRAEL SENTIMENT ASTONISHING
Israel Apartheid Week, which itself has been criticized as anti-Semitic, is a series of lectures, rallies, and events portraying the Jewish State as an apartheid state like South Africa once was. Held at Columbia April 1-4, it is seen as a large part of the Boycott, Divestment, and Sanctions (BDS) movement targeting Israel, which has been described as a soft form of anti-Semitism.
The Columbia SJP chapter says this is a further attempt by pro-Israel students to slander their movement.
CHRISTIANS MUST FIGHT GROWING ANTI-SEMITISM IN AMERICA
"Real anti-Semitism is a serious problem in this country and we should spend our time addressing that instead," the SJP chapter told Fox News. "It's harder to combat anti-Semitism if we falsely conflate criticism of Israel - a state that has policies that impact real people's lives -- with an entire people. Supporting Palestinian rights, and the rights of all people, goes hand-in-hand with fighting anti-Semitism."
The anti-Israel events are being sponsored by SJP and Jewish Voice for Peace.
CLICK HERE TO GET THE FOX NEWS APP
"Both groups condemn anti-Semitism in all its forms and decry bigotry and discrimination in all its manifestations," SJP added. "Given that SSI never sends out emails decrying acts of anti-Semitism, we are concerned that they care about calling out anti-Semitism only when it is productive of slandering anti-Zionist organizations, which is shameful, frankly. Not once have they sent out an email blast condemning white supremacists responsible for real violence against Jewish communities."